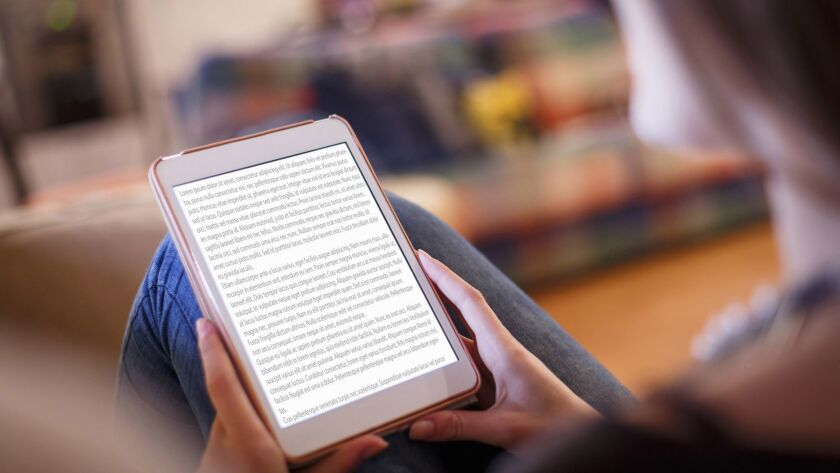 If you've bought e-books from the now-defunct book section of the Microsoft store, you might not have long to read them.
Microsoft has informed customers that the books they have accumulated in the past several months will be made unreadable this month, due to the company's decision to shut down the digital rights management (DRM) servers tied to the books, according to Vice.
Book lovers! Sign up for the new L.A. Times Book Club for upcoming author events »
On a Microsoft Store FAQ page, the company writes, "Starting April 2, 2019, the books category in Microsoft Store will be closing. Unfortunately, this means that starting July 2019 your e-books will no longer be available to read, but you'll get a full refund for all book purchases."
Customers who preordered books prior to April 2 won't be charged for the books they'd hoped to get, Microsoft said.
While the refunds mean that customers can buy elsewhere the books they've already purchased, readers who made notes in the books they bought from Microsoft won't be able to access their annotations.
"Mark-ups and annotations made in books acquired from Microsoft Store will be available until early July 2019 when your books are removed from Microsoft Edge," the company said. "If you have made mark-ups or annotations in any of your acquired books prior to April 2, 2019, you'll receive an additional $25 credit to your Microsoft account at the same time refunds are processed."
At Gizmodo, writer Matt Novak criticized the use of DRM by companies who sell e-books, music and movies.
"This entire debacle shows just how ridiculous our current media landscape can be when we're all purchasing movies, games and books through companies using DRM," Novak wrote. "Few people expect the Apple Store to go away anytime soon, but what happens 10 or 20 years from now when a competitor comes along and Apple decides that it's too expensive to maintain its own servers?"
Wired news editor Brian Barrett made a similar point, adding that while Microsoft was able to offer refunds to its customers, that might not be the case for other companies in the future.
"The next time a platform folds — and takes its ecosystem with it — those affected might not be so lucky," Barrett wrote. "Which is maybe the real lesson of Microsoft obliterating its e-books: This has all happened before, and not nearly enough is being done to stop it from happening again."
---