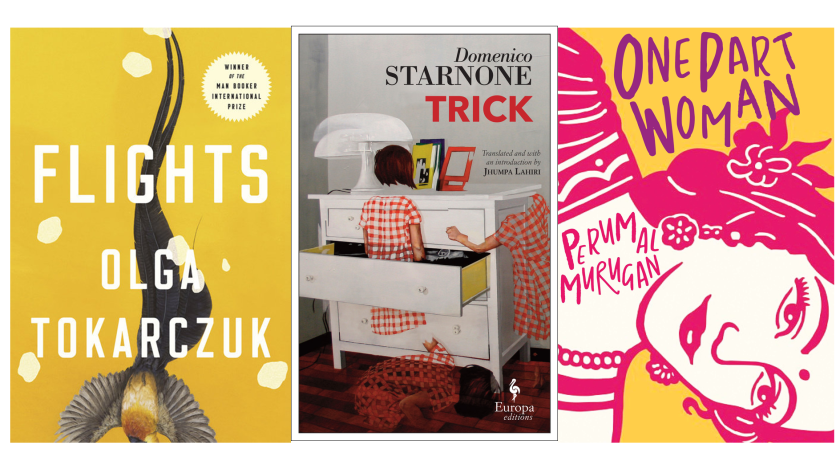 The National Book Foundation announced the longlist for the National Book Award for Translated Literature on Wednesday, with 10 titles eligible to win the very first award in that category.
Seven of the nominated books were published by independent presses. Two small publishers, Europa Editions and New Directions, each had two books make the longlist.
Fiction dominated the longlist, with just one nonfiction book, Dunya Mikhail's "The Beekeeper: Rescuing the Stolen Women of Iraq," making the cut.
Notable books longlisted for the award include Olga Tokarczuk's "Flights," which won this year's Man Booker International Prize, and Domenico Starnone's "Trick," which was translated by Pulitzer Prize-winning author Jhumpa Lahiri.
Nine languages are represented on the longlist, with two books written in Norwegian — Hanne Ørstavik's "Love" and Gunnhild Øyehaug's "Wait, Blink: A Perfect Picture of Inner Life" making the final ten (not, as some fans might have guessed, popular novelist Karl Ove Knausgaard).
Books originally published in Arabic, French, Italian, Japanese, Polish, Spanish, Tamil and Russian complete the longlist.
This is the first year that the National Book Award for Translated Literature will be awarded. The National Book Foundation did present awards for translation starting in 1967, but the prize, which was only for works of fiction, was phased out after 1983. Both fiction and nonfiction are eligible for the new award.
The longlist will be whittled down to five finalists, which will be announced Oct. 10. The winners of the awards will be revealed Nov. 14 at a ceremony in New York.
The full list of nominated authors and translators is below:
"Aetherial Worlds," Tatyana Tolstaya, translated from the Russian by Anya Migdal (Alfred A. Knopf)
"The Beekeeper: Rescuing the Stolen Women of Iraq," Dunya Mikhail, translated from the Arabic by Mikhail and Max Weiss (New Directions)
"Comemadre," Roque Larraquy, translated from the Spanish by Heather Cleary (Coffee House)
"Disoriental," Négar Djavadi, translated from the French by Tina Kover (Europa Editions)
"The Emissary," Yoko Tawada, translated from the Japanese by Margaret Mitsutani (New Directions)
"Flights," Olga Tokarczuk, translated from the Polish by Jennifer Croft (Riverhead)
"Love," Hanne Ørstavik, translated from the Norwegian by Martin Aitken (Archipelago)
"One Part Woman," Perumal Murugan, translated from the Tamil by Aniruddhan Vasudevan (Black Cat)
"Trick," Domenico Starnone, translated from the Italian by Jhumpa Lahiri (Europa Editions)
"Wait, Blink: A Perfect Picture of Inner Life," Gunnhild Øyehaug, translated from the Norwegian by Kari Dickson (Farrar, Straus and Giroux)
---