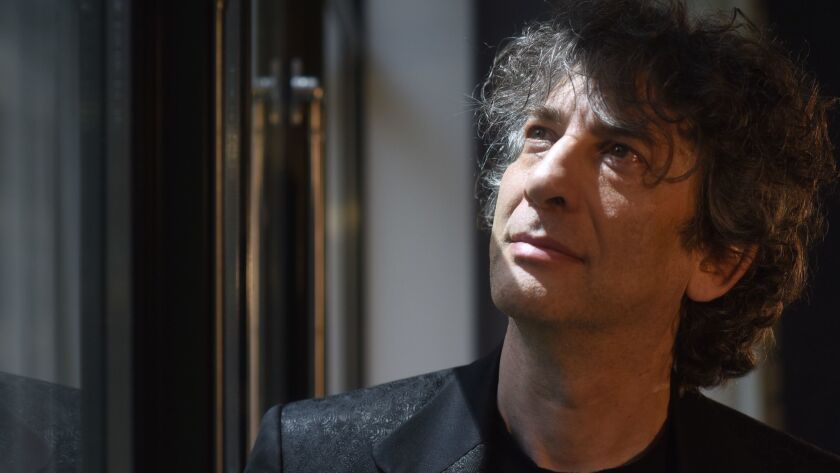 Author Neil Gaiman's beloved comic book series "The Sandman" is headed to the small screen.
Warner Bros. TV is set to produce a live-action series for Netflix based on Gaiman's influential comic books, according to unnamed sources cited by the Hollywood Reporter, who describe it as the most expensive television deal in DC Entertainment history.
"The Sandman," published from 1989 to 1996, is one of the best known and most admired comic book series of recent decades. The story follows a godlike entity known variously as Dream, Morpheus and Oneiros, who seeks to rebuild his kingdom after being held prisoner for decades.
The series was a commercial and critical hit. In a 1995 profile of Gaiman for the Times, Steve Erickson called it "the best monthly comic book in the world," and wrote, "Literate and sophisticated by any measure, let alone that of comic books, 'The Sandman' is complex to the point of labyrinthine, non-linear to the point of vertiginous. Reading the whole thing, the reader wants to layout all the pages in a field somewhere, and look at it from the vantage point of a bird circling overhead."
Book lovers! Sign up for the new L.A. Times Book Club for upcoming author events »
Studios and producers have made attempts to adapt the series into a movie or television show for years. Roger Avary and Joseph Gordon-Levitt were both set to direct film adaptations of the comic books, but neither project ever came to fruition.
In 2008, Gaiman told the Times he wasn't in a rush to commit to an adaptation, preferring the project be done correctly rather than quickly.
"My feeling today is that I would so much rather there be no movie than there be a bad movie," Gaiman said. "The only thing I hope for is that whoever it goes to has the same amount of passion for it that Peter Jackson brought to 'Lord of the Rings.' I want someone who will make the film because he loved it and he cared about it and if anybody was going to screw it up, it was going to be him. ... There is someone out there. Or there will be someone out there in five or 10 years."
The new planned adaptation of the series is set to be written by Allan Heinberg ("Grey's Anatomy," "The Scandal") with Gaiman and David S. Goyer ("Batman Begins," "Man of Steel") serving as executive producers, according to the Hollywood Reporter.
Gaiman's books have been the basis for several films and television series. Film versions of his novels "Stardust" and "Coraline" received largely positive reviews, with the latter movie earning an Academy Award nomination in the animated feature category.
In 2017, a television adaptation of Gaiman's novel "American Gods," starring Ricky Whittle, Ian McShane and Crispin Glover, debuted on the cable network Starz; the series has run for two seasons with a third on the way.
This May, a miniseries based on "Good Omens," based on the comic fantasy novel by Gaiman and the late Terry Pratchett, was released on Amazon Video. The show, starring David Tennant and Michael Sheen, gained mostly positive reviews by critics.
---