Patton Oswalt will finish his late wife Michelle McNamara's book about a California serial killer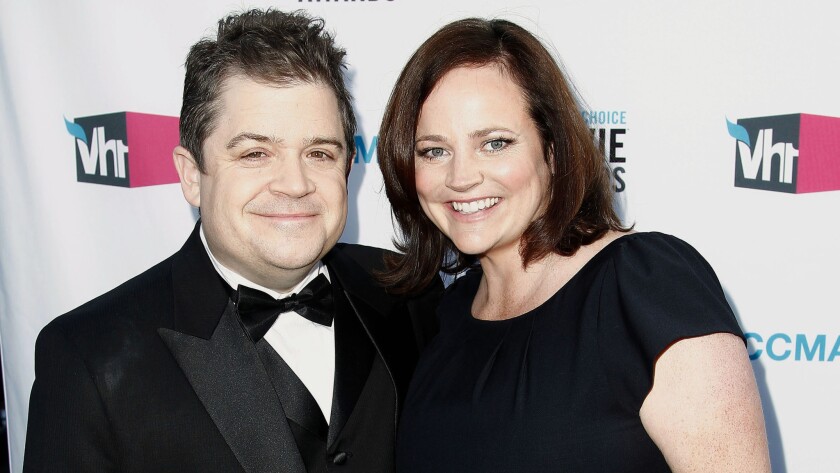 Actor and comedian Patton Oswalt will finish writing his late wife Michelle McNamara's book about a California serial killer, he revealed in a long Facebook post this week. Oswalt is the author of two books, "Zombie Spaceship Wasteland" and "Silver Screen Fiend: Learning About Life from an Addiction to Film."
McNamara, a true crime writer and blogger, had been working on a book about a series of unsolved rapes and murders that occurred in California between 1976 and 1986. The book was based on an article she wrote for Los Angeles magazine, "In the Footsteps of a Killer."
McNamara died April 21 at the age of 46 at home in Los Angeles. The cause of her death has not yet been determined.
In his Facebook post, Oswalt wrote: "She left behind an amazing unfinished book, about a horrific series of murders that everyone -- including the retired homicide detectives she worked with -- was sure she'd solve. The Golden State Killer. She gave him that name, in an article for Los Angeles Magazine. She was going to figure out the real name behind it.
"Any spare energy I've managed to summon since April 21st I've put toward finishing Michelle's book," he continued. "With a lot of help from some very amazing people. It will come out. I will let you know.
"It's all her. We're just taking what's there and letting it tell us how to shape it. It's amazing."
McNamara was the founder of the website True Crime Diary, a blog dedicated to unsolved murder cases. In the months before her death, she had been increasingly determined to uncover the identity of the Golden State Killer.
"By day I'm a 42-year-old stay-at-home mom with a sensible haircut and Goldfish crackers lining my purse," McNamara wrote in her Los Angeles magazine article. "In the evening, however, I'm something of a DIY detective. I delve into cold cases by scouring the Internet for any digital crumbs authorities may have overlooked, then share my theories with the 8,000 or so mystery buffs who visit my blog regularly."
In his post, Oswalt also said that he planned to return to comedy. "And I'm going to start telling jokes again soon," he wrote.
"And writing. And acting in stuff and making things I like and working with friends on projects and do all the stuff I was always so privileged to get to do before the air caught fire around me and the sun died. It's all I knew how to do before I met Michelle. I don't know what else I'm supposed to do now without her."
ALSO:
Patton Oswalt has a thing for the movies
Michelle McNamara, writer and wife of Patton Oswalt, dies at 46
Carolyn See, award-winning Southern California writer, dies at 82
---
Get the latest news, events and more from the Los Angeles Times Book Club, and help us get L.A. reading and talking.
You may occasionally receive promotional content from the Los Angeles Times.