Sandra Cisneros to receive PEN/Nabokov Award for international literature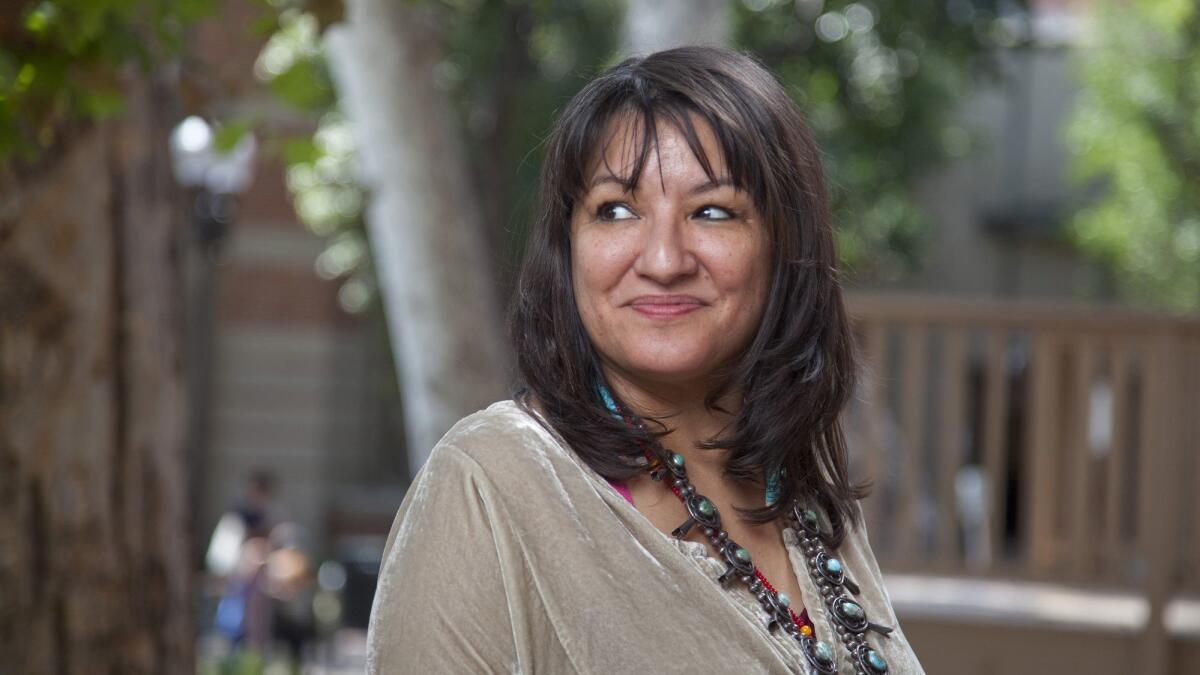 Sandra Cisneros, the Mexican American novelist whose books "The House on Mango Street" and "Woman Hollering Creek" are widely considered contemporary classics of American literature, has won the PEN/Nabokov Award for Achievement in International Literature.
Cisneros is the third author to win the annual award, after Syrian poet Adonis in 2017 and Irish novelist Edna O'Brien in 2018.
In a telephone interview with The Times, Cisneros said she was surprised to receive the award from the literary foundation PEN America.
"It's astonishing," she said. "I truly don't feel that I've arrived at where I want to be yet. I feel that I'm just getting started."
The PEN/Nabokov Award, a collaboration between PEN America and the Vladimir Nabokov Literary Foundation, is given each year to "a living author whose body of work, either written in or translated into English, represents the highest level of achievement in fiction, nonfiction, poetry, and/or drama, and is of enduring originality and consummate craftsmanship," according to PEN America's website
This year's award was judged by authors Alexander Chee, Edwidge Danticat and Valeria Luiselli. "In a formidable and awe-inspiring body of work, which includes fiction, memoir, and poetry, Cisneros brings us astounding and lyrical voices from burning, maligned, devastated, as well as reassembled houses, and nations," the judges wrote. "It's hard to imagine navigating our world today without her stories and her voice guiding us toward needed much reclamation and endurance."
"What an honor to get an award from these three writers," Cisneros said. "What an honor. I'm so thrilled to get this award from them."
PEN America Literary Awards program director Nadxieli Nieto credited Cisneros with "inspiring a new era of Latinx writers we see emerging today."
"A focus on cross-cultural dialogue, translation and international literature has long been at the heart of PEN America's Literary Awards program, and it is especially fitting that a binational writer with such an impressive and lyrical body of work is the PEN/Nabokov honoree this year. We are immensely honored to present this award to Sandra Cisneros," Nieto said.
Cisneros was born in 1954 in Chicago, and made her literary debut in 1980 with a poetry chapbook called "Bad Boys." Four years after that, she published "The House on Mango Street," a novel inspired in part by her upbringing in Chicago. The novel remains a staple on school reading lists, and is considered a classic of Latina literature in the United States.
Her other books include the 1991 short-story collection "Woman Hollering Creek," named after an actual waterway near San Antonio, where she lived for many years, and the 2002 novel "Caramelo." Her most recent book, an illustrated chapbook called "Puro Amor," was published by Sarabande Press last year.
Cisneros now lives in the Mexican town of San Miguel de Allende. She told The Times that her move from the U.S. to Mexico was spurred by a need for solitude.
"I almost became too much of a nurturer when I was living in San Antonio," she said. "I started two foundations, and I kept finding myself distracted from my own writing by looking after the careers of other writers. I really needed to find a house with a good wall around it, and some place that I could retreat and recharge, and I find that here in Mexico."
The PEN/Nabokov Award comes with a $50,000 cash prize, which Cisneros said she is planning to use to buy a house for her employees.
"I'm so happy to be able to do this," she said. "I just love them, and they are my family here, my spiritual family, and I always wanted to buy them a house and now I can."
Cisneros is scheduled to accept her award at the 2019 PEN America Literary Awards Ceremony in New York on Feb. 26, which will be hosted by comedian Hari Kondabolu. Special guests at the ceremony are to include Tara Westover, Jamel Brinkley, Jennifer Egan and Alexander Chee.
Sign up for our Book Club newsletter
Get the latest news, events and more from the Los Angeles Times Book Club, and help us get L.A. reading and talking.
You may occasionally receive promotional content from the Los Angeles Times.