Merriam-Webster announces 2018's word of the year — and it's not 'pansexual'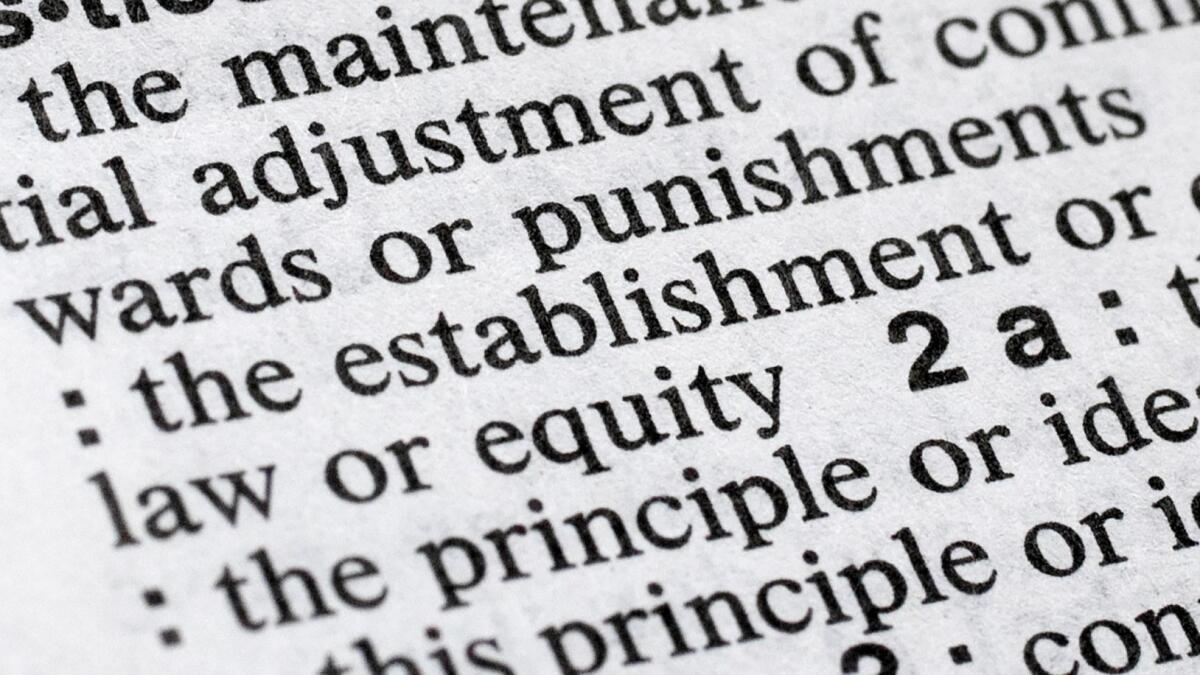 Dictionary publisher Merriam-Webster announced on Monday that its 2018 "word of the year" is "justice."
The word saw a spike in searches on the publisher's website this year, which was looked up 74% more than in 2017, Merriam-Webster said in a news release.
The publisher cited several possible reasons for increased interest in the word, chiefly attributing the frequent searches to news regarding the Department of Justice, which is overseeing special counsel Robert S. Mueller III's investigation into possible Russian interference with the 2016 presidential election.
Other reasons for the searches included a renewed push by some politicians for criminal justice reform, and the public's interest in the Supreme Court because of President Trump's appointment of Brett Kavanaugh as associate justice.
"'Justice' has varied meanings that do a lot of work in the language — meanings that range from the technical and legal to the lofty and philosophical," according to Merriam-Webster. "For many reasons and for many meanings, one thing's for sure: 'justice' has been on the minds of many people in 2018."
The publisher listed 10 other words that inspired increased searches this year, including three others that appear to be linked to politics. "Nationalism" saw a spike in searches, which might be related to Trump's statement in October that he is "absolutely a nationalist."
Another frequently searched word was "lodestar," which was used in an anonymous New York Times op-ed commenting on President Trump, and which is a favorite word of Vice President Mike Pence. Dictionary users also were curious this year about the word "maverick," a term heavily associated with Sen. John McCain, who died in August.
Other popular words included "pansexual," which Merriam-Webster defines as "characterized by sexual desire or attraction that is not limited to people of a particular gender identity or sexual orientation," and "feckless," which means "weak [and] ineffective."
Merriam-Webster is one of a few major dictionaries to name a word of the year in recent weeks. Last month, Dictionary.com gave the honor to "misinformation," citing the rise of fake political ads and conspiracy theories. And Oxford Dictionaries named "toxic," frequently used to describe the political climate and sexist masculinity, its word of the year in November.
Sign up for our Book Club newsletter
Get the latest news, events and more from the Los Angeles Times Book Club, and help us get L.A. reading and talking.
You may occasionally receive promotional content from the Los Angeles Times.