Night Vale comes to Brentwood with 'It Devours!'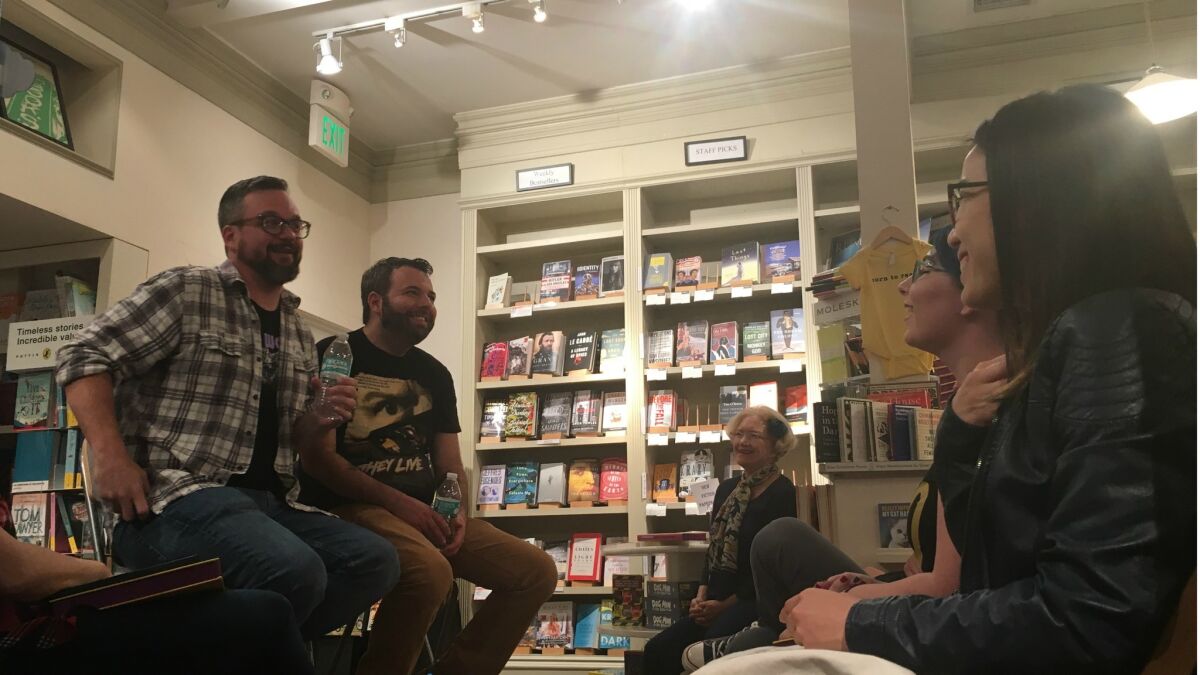 Fans of "Welcome to Night Vale," the long-running, twice-monthly podcast that dispatches community news from a fictional desert town where mysterious lights flash in the night sky and even the most implausible conspiracy theories are real, were surprised Tuesday night at Diesel Bookstore to hear of co-creator Joseph Fink's artistic influences. Or rather, the absence of one show in particular.
"I'm not a huge 'Twin Peaks' fan," he said, prompting a few small gasps from the audience. Brandi Lantz, who sported a "Welcome to Night Vale" tattoo on her right shoulder, had posited her own theory from the front row: the town's community radio host is named Cecile Palmer, and the mystery of "Twin Peaks" revolves around Laura Palmer's death. Could it really be coincidence?
"It might have been more about Amanda Palmer than Laura Palmer," Fink said. His co-creator, Jeffrey Cranor, joked that the two dozen or so fans that had arrived that night to hear the team read from their second "Welcome to Night Vale" spinoff novel, "It Devours!" might leave in protest.
No one did. The podcast's fans eagerly heard from Fink and Cranor about their process when transitioning the world of Night Vale from audio to prose (the writers outlined chapters and divvied them up) and their ambition in "It Devours!" to pen a suspenseful, self-contained narrative.
Their interviewer for the evening, Gennifer Hutchinson, co-executive producer of "Better Call Saul," asked what they love most about writing.
"Making people," responded Fink, citing Stephen King's ability to make even minor characters feel real as an inspiration.
Blake Jackson, who had his copies of both "Night Vale" novels signed, as well as two published books of episode transcripts, had been a Stephen King fan when he discovered "Welcome to Night Vale" in high school. His description of the show — part sci-fi mystery, part satirical performance art — sums up its appeal. "It took that kind of feeling," the mood of his favorite sci-fi and horror novels, "but also made it funny."
The love story between the show's narrator, Cecile Palmer, and town scientist Carlos, however, is what kept drawing him back. "I don't think they ever say the word 'gay' in the podcast," said Jackson, "they just fall in love." He loved how "it was normal."
During the question-and-answer period, Jackson asked the authors how they are able to reconcile normalcy within the weirdness of Night Vale. How do they make a strange world so comfortable for listeners and readers to inhabit?
"I think it's the same way I reconcile my real world," said Cranor. Life can be terrifying and placid in equal measure — not so different from Night Vale. There is something reassuring in its bizarre familiarity. ("The suffocation of the ego," began a recent episode. "The eternal silence of the void, faceless yet screaming.… And now serving orange wine on tap!)
In fact, it took Cranor a few years to hear the compliment in a particular, recurring piece of feedback from fans. "'I love your podcast'" he said he heard time and again. "'It puts me to sleep.'"
Get the latest news, events and more from the Los Angeles Times Book Club, and help us get L.A. reading and talking.
You may occasionally receive promotional content from the Los Angeles Times.