ATGATT: All the gear, all the time — even in the dirt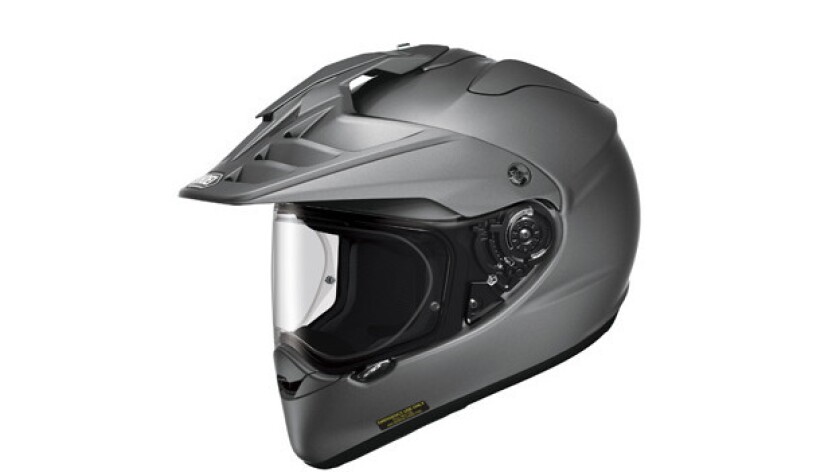 Like other specialized forms of motorcycling, adventure riding has its own particular gear. With every passing year, as the sport has grown, more companies are making clothing, boots, helmets and gloves to protect the adventurer from the fall that might be just around the corner.
Bell, Arai, Shoei and now Schuberth all offer ADV-style helmets designed specifically for mixed-use, dual-purpose riding on and off the highway.
They're all good helmets. They offer good protection, good visibility and feature a sun visor to reduce glare.
Each has its own particular appeal. The Bell is a good basic off-road helmet, a spin-off from its MX-9 motocross lid, and it's inexpensive: as little as $200 or so.
The Arai XD-4 is well-suited to mixed street and trail riding. Comfortable and well-ventilated, it has a particularly good face shield (with a tinted lens option) that keeps out the elements, but lifts out of the way and allows for the rider to wear goggles, too. The Arai costs $500 and up.
The Shoei Hornet X2, maybe my favorite of the batch, fit my head best. (I've worn Shoei helmets since the early 1980s, so maybe I'm just used to them.) It offers interchangeable clear and tinted face shield lenses — not all helmets do — but isn't quite as well-ventilated as the Arai. This helmet costs $650 or so.
Schuberth's E1, the latest arrival, is the most technically advanced of the bunch. It's the only one that has a built-in Bluetooth antenna, and the only one that is "modular": The lower half can flip up to create an open-faced helmet, and its visor is adjustable to three positions. It's also the most expensive of the lot, at $850 or more.
A broad variety of outerwear is also on the market. I was wearing a Tourmaster Transition jacket when I fell, and I don't know of any jacket on the market that would have protected me better from a broken collarbone. I've owned and liked several Tourmaster jackets, and pants.
But very high-quality jackets (and matching pants) are made by Aerostich, Alpinestars, Klim, Dainese, Firstgear and more. Buyers can expect to pay as little as $275 and as much as $1,500 for a good one. The Darien jacket from Aerostich costs about $600, and the Roadcrafter suit costs twice that. But I know riders who bought theirs new in the 1990s and are still wearing them.
Boot companies have also begun making specialized footwear for adventure riding, boots that combine some of the protection of motocross boots with the flexibility of a hiking boot.
Some of the best are made by Alpinestars, which combine great protection and comfort. I have also admired boots from Sidi and Gaerne. A good pair will cost $250 to $400.
If you fall off the bike, it's likely that the first thing to hit the ground will be your hands. And riding in the rough also exposes these extremities to encounters with sun, bad weather, and brushes with bushes and trees.
So gloves are essential, and the best ones cost a lot. The top brands can go for $350 a pair. But it's also easy to find good ones for half that.
Twitter: @misterfleming
---