L.A. Auto Show Editors' Picks: The top 5 cars on the show floor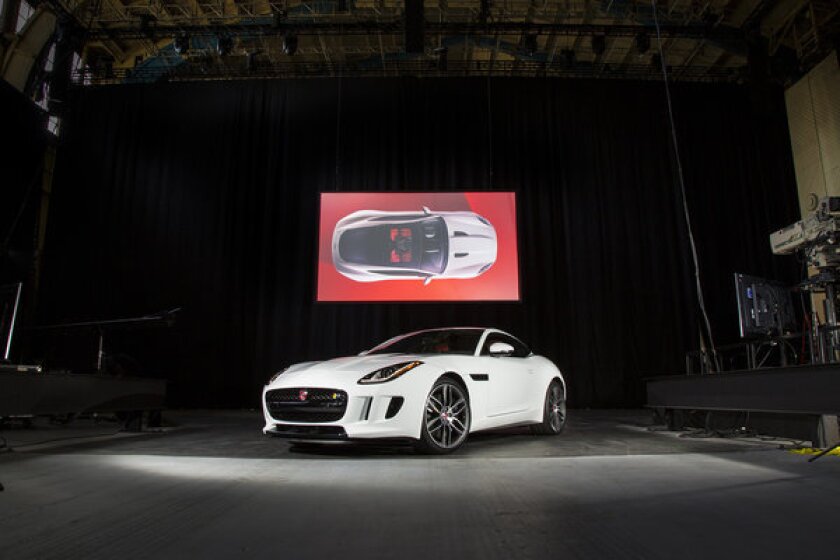 The all-new Jaguar F-Type Coupe on display ahead of the 2013 L.A. Auto Show.
(Jaguar)
Hyundai Tucson hydrogen-electric vehicle.
(Jerry Hirsch / Los Angeles Times)
Tennis player Maria Sharapova steps out of a new Porsche Macan shortly after its revealing during the 2013 LA Auto Show.
(Christina House, For the Times)
The Mercedes-Benz Vision Gran Turismo concept car at the 2013 Los Angeles Auto Show.
(Christina House / For The Times)
Of the scores of cars on display at the Los Angeles Auto Show, we've culled the herd down to five you definitely need to check out. The show, at the L.A. Convention Center, opened to the media on Tuesday and opens to the public on Friday.
Here are our five favorites (and one total loser):
Mercedes-Benz Vision Gran Turismo. Wow. Just … wow. Jaws dropped in unison as this over-the-top supercar concept rolled through a haze of smoke onto the Mercedes-Benz stage. You will never own this car, and it's not because you are not super-rich. Mercedes will never build another one or sell it. The automaker knew that going in. It simply wanted to give its top designers free reign to dream big – no limits. And we can respect that. Some of the radical design language will make its way into production cars later. (And you can drive a version, but only in the Gran Turismo video game.) Surely, the designers learned a thing or two about pushing limits in the process. Just look at this thing – it's hard to look away.
Porsche Macan. Porsche has been on a serious hot streak for many years now. The Macan, a smart play in the exploding compact crossover segment, could put the automaker over the top. Even in this awkward category – what is a crossover, anyway? – the Macan manages to look both aggressive and refined. It deftly mixes utility, luxury, breakneck speed and, almost assuredly, Porsche-like handling. The 400-horsepower turbo model turns zero-to-60 mph in 4.4 seconds, a truly ludicrous figure for a grocery-getter. The base model, starting at $50,895, isn't much slower. Expect waiting lists when the Macan hits dealers lots.
Chevy Colorado. The Chevrolet Colorado has huge potential. Here's an honest–to-goodness Chevy truck that won't kill you on gas but has plenty of utility and towing power. Think of it as the Goldilocks pickup – not too big but not too small. General Motors is packing the interior with the technology and amenities today's truck buyers demand and offering a smart selection of engine choices. We figure the four-cylinder will be gobbled up by businesses that need trucks but want to skimp on gas (and prefer their employees don't drive anywhere fast). The six-cylinder will be the choice for towing, or for buyers who just enjoy a beefier engine. The promised diesel engine could be a home run, offering the combination of power, torque and fuel economy lacking in many trucks now.
Hyundai Fuel Cell Tucson. The Hyundai Tucson fuel cell breaks ground on a number of fronts. When it goes on sales early next year, it will be the first mass-marketed hydrogen powered car. We got an early drive, and drivers won't notice much difference between this and any gasoline vehicle – except its quieter and faster off the line. The big hurdle is where to fill it up. If you live along the 405 Freeway from Torrance to Irvine, that won't be a huge problem – there are three hydrogen stations. But in most of America, it will be a huge problem, unless and until hydrogen fueling stations become common. California is starting to pour money into hydrogen stations, but it will be at least two years before they approach anything near convenient. Hyundai is making up for that with a good lease offer – $499 a month for 36 months and a $2,999 down payment, almost completely subsidized by a $2,500 California environmental rebate.
Jaguar F-Type Coupe. Most car companies build the hardtop version of a sports car first, then figure out how to turn it into a convertible. Jaguar did the opposite with its new F-Type, the spiritual successor to its all-time classic E-Type, one of the most beautiful cars ever made. The Coupe is even more gorgeous that the drop-top, which we recently reviewed and loved, particularly coming from an automaker as troubled as Jaguar has been. The hardtop roof really rounds out the F-Type's sumptuous curves. The steeply raked hatchback, growing from a long and aggressive hood, accentuates the muscular rear wheel arches. This is the antithesis of trendy-but-ugly "cab forward" design – this is a proper cockpit, strapped to a rocket. And there's just something comforting about a fixed roof in a car this fast.
The L.A. Auto Show loser: As a post script, our pick for the ugliest, stupidest, most outrageously priced car at the L.A. Auto Show: The Youabian Puma, hands down. This – whatever it is – is a monstrously long and tall something-or-other that purports to sell for a nonsensical $1.1 million. Except it doesn't, because only one of them has been built. We're betting it will be the last one. In comparison to its Frankenstein-esque frame, with dump-truck wheels, the cabin of the Puma looks strangely cramped and not terribly luxurious. Anyone on our staff who saw the thing, turning heads like a train wreck, couldn't resist showing others a picture and asking, "Guess how much it costs?" The answer, invariably, was nowhere near seven figures.
FULL COVERAGE: L.A. Auto Show 2013
PHOTOS: L.A. Auto Show model debuts
---
Your guide to our new economic reality.
Get our free business newsletter for insights and tips for getting by.
You may occasionally receive promotional content from the Los Angeles Times.