Judge freezes Faraday Future CEO's ownership stake as the future of the electric car startup is in question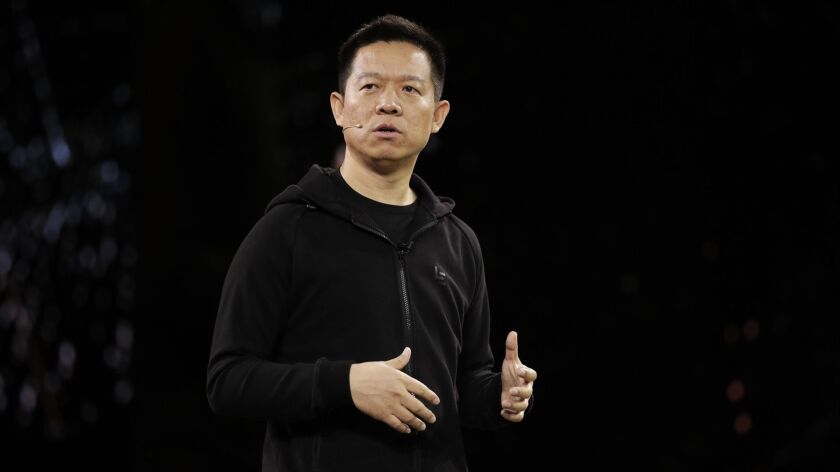 Faraday Future continues its downward spiral. A federal judge Thursday temporarily froze founder Jia Yueting's 33% stake in the Gardena-based electric car startup. The judge also put a protective order on Jia's trio of high-end homes in Rancho Palos Verdes.
It's the latest twist in the sad saga of Faraday Future, which was supposed to be selling its $100,000 electric techno-future luxury sedan by now. Instead of making and selling cars, management time now is dominated by lawsuits and battles over assets.
Faraday hit the scene in 2014, with dreams of becoming the next Tesla. But since the botched unveiling of its FF 91 sedan in Las Vegas two years ago –– the car was supposed to drive itself onto the stage using robot technology, but had to be pushed by humans under cover of darkness –– the company has faced worsening financial problems.
In October, the company announced it would slash its workforce from 1,000 employees to about 600, and cut pay for survivors by 20%. Earlier this month, the Verge said another 250 are being let go, citing multiple sources. A Faraday spokesman said the current employee count is 432, with some workers on furlough. The company said Jia was not available to comment.
The company abandoned grand plans to build a new factory near Las Vegas, then took over an abandoned tire factory in the Central Valley town of Hanford. Executives came and went. Jia, also known as YT, was put on a financial blacklist in China and moved full time to Southern California. He's also facing several suits filed in China by lenders who claim Jia's stiffed them on loan repayments.
The freezing of his Faraday Future assets by U.S. District Court Judge James Otero in Los Angeles had nothing directly to do with Faraday but, rather, stemmed from a Chinese company's effort to collect $7 million it says Jia owes.
The freeze on Jia's 33% Faraday stake comes amid a legal battle between Faraday and its biggest investor, Chinese conglomerate Evergrande. Although Evergrande took 45% of the company in exchange for about $2 billion, different share classes keep Jia and his allies in voting control. Faraday claims Evergrande has stopped making scheduled payments and has put claims on assets that make it more difficult for Faraday to obtain asset-backed loans and keep cash flowing.
The Hanford Sentinel reported Wednesday that Faraday has left unpaid bills for hotel stays in excess of $39,000 at the Homes2 Suites, not far from the factory.
"We keep our fingers crossed that eventually Faraday will make good on their balance," Frances Perkins, the hotel's general manager, told the Sentinel via email.
Twitter: @russ1mitchell
---