New competition for Tesla: Fisker to open factory in Riverside County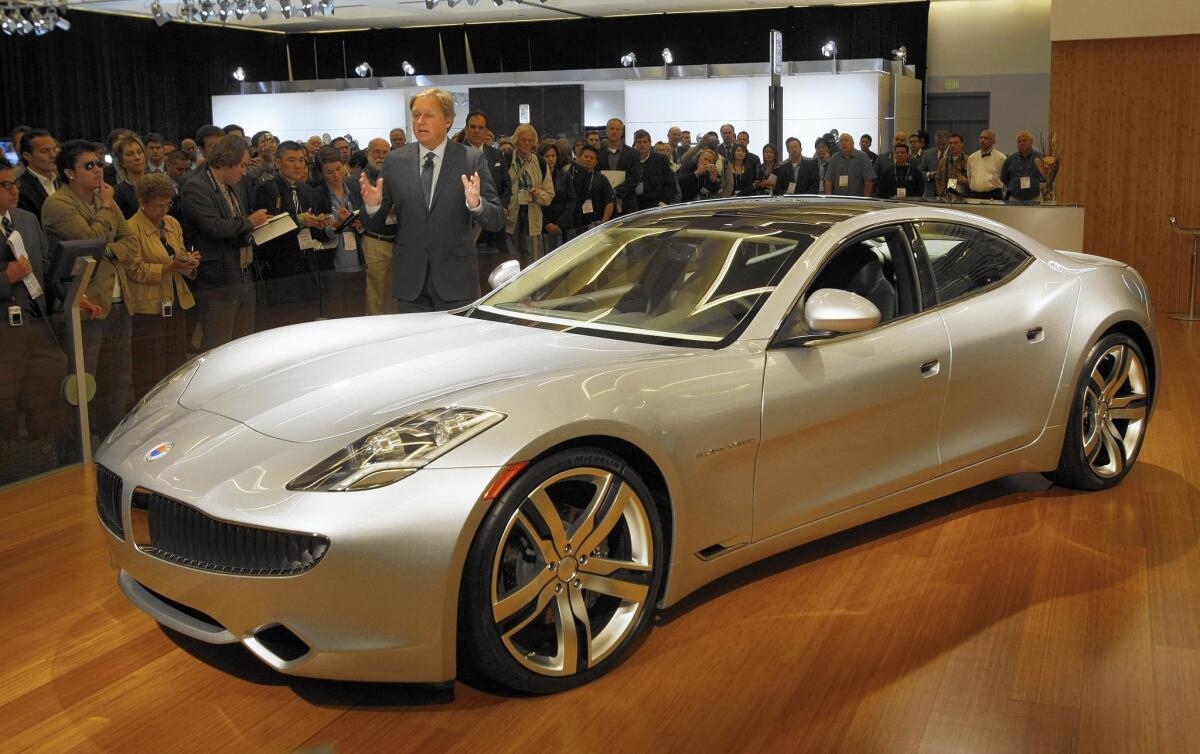 Southern California is in the car business again.
Fisker Automotive has signed a deal to lease a large factory in Moreno Valley, where it will begin building plug-in electric hybrid vehicles that could be offered for sale as early as the middle of next year.
The region, the nation's biggest car market, has not been home to an automobile manufacturing plant since General Motors closed a Van Nuys facility in 1992.
------------
FOR THE RECORD:
Fisker plant: In the Aug. 12 Business section, an article about Fisker Automotive said it built its plug-in electric hybrid Karma models at a plant in Wilmington, Del. The Karmas were built in Finland; the Delaware plant was closed before it could start producing a mass-market, affordable electric model.
------------
The admired but beleaguered luxury carmaker, which filed for bankruptcy in 2013 and was purchased by Chinese auto parts giant Wanxiang Group a year later, has signed an 11-year lease worth an estimated $30 million in the Riverside County city — signaling a long-term commitment by the company.
The assembly plant, part of a growing network of alternative-fuel technology companies putting down roots in California, will be the state's second electric car manufacturing factory, joining entrepreneur Elon Musk's Tesla Motors plant in the Bay Area city of Fremont.
SIGN UP for the free California Inc. business newsletter >>
The deal marks a return of a brand once favored by celebrities, including Leonardo DiCaprio and Justin Bieber. It was co-founded by Henrik Fisker, a graduate of the Pasadena-based Art Center College of Design who won admirers for his Aston Martin and BMW designs.
Its Karma plug-in electric hybrids captured the imagination of the automotive press, and despite their $100,000 price were brisk sellers — until battery glitches resulted in a product recall that bankrupted the battery manufacturer, damaged the brand's reputation and brought production to a halt.
Fewer than 2,500 of the cars were sold before production in Wilmington, Del., ceased in 2012. It came before the company could begin selling a promised mass-market, affordable electric vehicle. Fisker himself resigned from his executive chairman position at the company amid its financial struggles in 2013.
The former chairman said Tuesday that as many as 20 of his original designers were already at work on the reborn nameplate. He said that Wanxiang Group, in buying the Fisker assets out of bankruptcy, got a license to use his name and the designs he created for the car, but said the licensing agreement "expires in a few years."
He also was unsure of what his involvement will be with the company.
"I couldn't answer that question," said the 52-year-old designer. "I am not certain about my role, but I am happy that what we created is not for nothing."
The current Fisker Automotive has agreed to rent a new 556,000-square-foot industrial building at 17100 Perris Blvd., according to real estate broker Ian DeVries of Colliers International, who represented landlord First Industrial Realty Trust in the deal. The structure is attractive for operating an assembly line, because it is rectangular and 1,600 feet long, he said.
The neighborhood is home to fulfillment centers for large retailers including Amazon, Procter & Gamble and Walgreens, DeVries said, but not many products are actually built there.
"This is one of the first manufacturing deals there of any significance," said DeVries, who noted the company is trying to open the factory as soon as possible.
The city of Moreno Valley said that it expects 150 jobs will be created at the factory. Those jobs will be a welcome addition to the Inland Empire, where 46% of residents are not educated beyond high school, economist John Husing said.
"You need jobs that can allow people to migrate up to the middle class," he said.
California has added only 35,000 manufacturing jobs since 2010, less than 4% of the national total of 875,000 jobs, Husing said. One reason for the small showing from such a populous state is that California electricity costs are the highest in the country and 156% higher than Nevada's electricity prices.
Moreno Valley controls its own utility and was able to offer incentives that could allow Fisker to temporarily reduce its electricity costs about 25%, City Manager Michelle Dawson said. The city of 200,000 had unemployment of more than 16% during the economic downturn and wooed the carmaker, Dawson said.
"We were among the communities that were hardest hit," she said. "This news is huge for us."
Wanxiang, said to be China's largest auto parts company, paid a reported $149 million to take over the bankrupt Fisker and $257 million for A123, which made batteries for the Fiskers and also went bankrupt amid the glitches in its product.
"Funding is not an issue," said Judy Hoste, a Fisker spokesperson, who characterized Wanxiang as a "very dedicated" owner Tuesday.
Formerly seen as a possible rival to Northern California's Tesla, Fisker Automotive reenters a matured electric vehicle market. The once-struggling Tesla now produces 50,000 of its Model S electric luxury cars annually, and continues to promise delivery of a mass-market electric sedan within two years.
Fisker, who said his company was "very close" to bringing a lower-priced luxury hybrid to market before it was sidelined, said he thinks the current market would be good for a new Fisker.
"I'm still in touch with many Fisker owners, early adopters, who still love their cars," the designer said. "I still drive one too."
He noted that "there's more competition now" with Mercedes, BMW and other luxury brands selling variations of electric and hybrid vehicles, and added, "The market hasn't grown as fast as we'd hoped, but it's still growing."
Still, although other car companies have fielded many variations of battery-electric and electric-hybrid automobiles, the alternative-fuel vehicle market has struggled to gain momentum. Lower gas prices nationwide haven't helped.
"The alternative fuel segment is the only part of the auto market that isn't growing," said Kelley Blue Book senior analyst Karl Brauer. "But Tesla is still growing. The market for high-end, stylish electric vehicles still shows signs of life."
Buyers of the new Fisker automobiles could qualify for certain incentives and rebates depending on what sort of electric hybrid the company builds. Current federal regulations offer a tax credit of up to $7,500 for some alternative fuel vehicles, and a California state rebate of $1,500, according to David Clegern of the California Air Resources Board.
The plug-in Fiskers would also provide zero-emissions vehicle credits for the company. Sales of such pollution credits, which can be sold to automobile companies that don't make or sell enough low-emission vehicles, have been a revenue producer for Tesla.
Plug-in hybrids generally feature a traditional gasoline motor and an electric one that can be recharged. These vehicles can run on electric energy alone, then switch to the gas engines when the battery is drained. The earlier Fisker had an all-electric range of 30 to 50 miles, depending on conditions, before the gas engine kicked in and added 250 more miles of range.
The new Fisker Automotive will have company on the Southern California electric-vehicle landscape.
Chinese automaker BYD employs 160 workers at a plant in Lancaster that builds electric buses. And start-up Faraday Future, largely staffed by executives formerly employed by Tesla Motors, has opened design studios in Gardena. Spokesperson Jason Wallace said the company hopes to bring a new all-electric vehicle to market by 2017.
And Henrik Fisker, too, plans to reenter the alternative vehicle market in a venture not affiliated with the new Fisker. The designer, headed to this week's annual Pebble Beach automotive gathering to show off the 725-horsepower custom Mustang known as the Galpin Rocket, said he will soon announce his own new electric car venture.
"I'm starting a new company using some of this exciting technology and design," he said. "There's a lot of opportunity still there."
FROM THE ARCHIVES:
DiCaprio, Bieber caught up in Fisker Karma hybrid recall
Management fight pushes Henrik Fisker from car company he founded
Plug-in hybrid maker Fisker Automotive gets $529 million from Obama administration