Honda's hydrogen fuel cell Clarity priced to match rival Toyota's fuel cell Mirai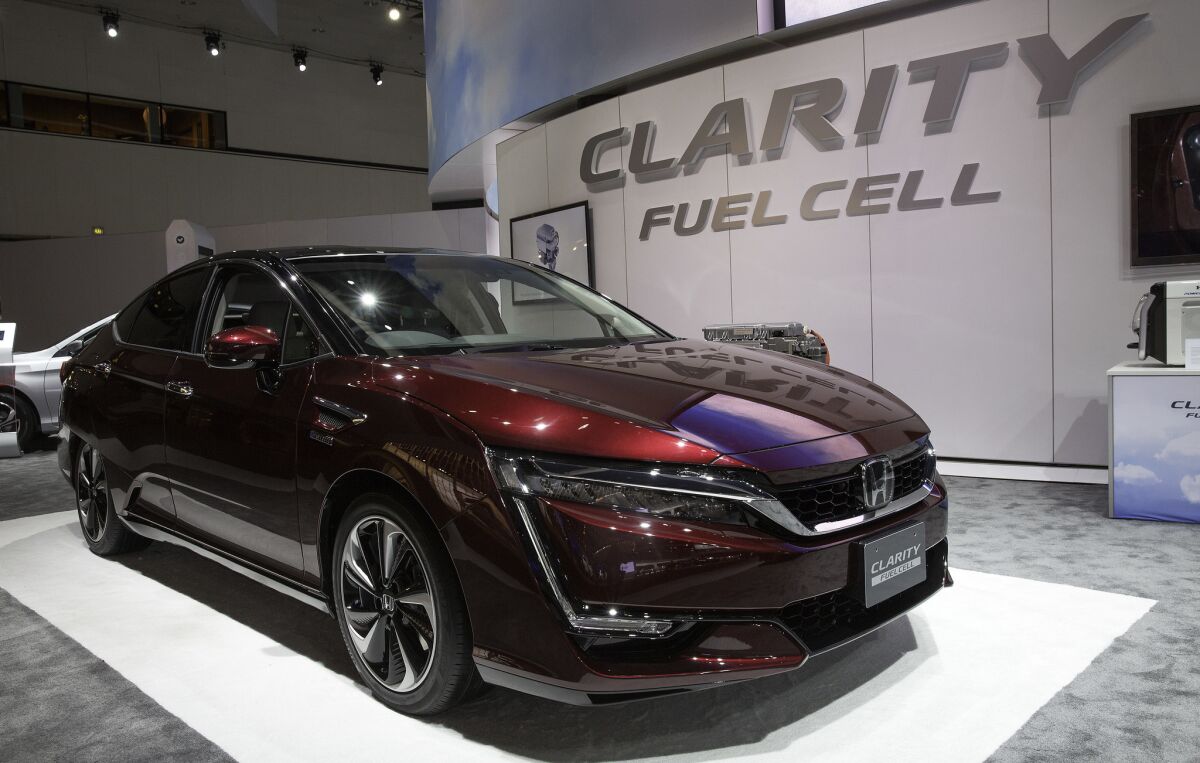 Honda has set the price of its fuel cell Clarity passenger car and delivered the first six vehicles to early adopters in Southern California.
They cost about the same to lease as rival Toyota's competing Mirai fuel cell car. But, unlike the Mirai, recently reviewed here, they're not actually for sale.
If they were, the Claritys would go out the door for $58,490 — a tad above the Mirai's base price of $58,335. (Those figures exclude destination charges and state and federal tax incentives, which can total as much as $13,000.)
The lease rate is also a little higher. Honda has put the Clarity's monthly terms at $369, after a $2,499 down payment. That's better than what Toyota offered in its first year — $499 a month, after a $4,000 down payment — but a little more than Toyota's recently announced 2017 rate of $349 a month after $2,499 down.
Both companies are offering free fuel — up to $15,000 worth over three years — via a dedicated charge card or PIN to use at designated hydrogen fueling stations.
And both qualify for a California "white sticker," which allows free single-occupant access to the state's HOV lanes.
But Honda's lease allows up to 20,000 miles a year, compared with Toyota's 12,000.
The Clarity boasts a better range too. The company claims that its five-passenger sedan can get 366 miles from a single tank of fuel. Toyota has said its four-seat Mirai gets 312 miles per fueling stop.
Honda is also offering free 24-hour roadside emergency assistance and up to 21 days of free rentals through Avis, matching Toyota's rental offer.
On the other hand, you can actually buy a Mirai if you want one. Although the bulk of the Toyota fuel cell vehicles on the road have been leased, the Mirai is for sale. The company says it has put 1,037 of them on the road in California, the only state in which they are currently offered.
Honda's fuel cell vehicle isn't for sale. For now, like the comparable fuel cell cars sold by Mercedes-Benz and Hyundai, the Clarity is a lease-only machine.
ALSO
Harley-Davidson's new Ultra Limited is beating with a brand-new heart
L.A. Drives: Why Adam Carolla is trying to unload the cream of his Lamborghini collection
Porsche's new Boxster is fast, fun to drive and, for a Porsche, affordable
---