Karma comes around again: California's newest car factory aims to rival Tesla
A premium luxury sedan born from the ashes of the Fisker Karma – a Tesla rival that wowed the automotive world before collapsing into bankruptcy three years ago – will soon begin rolling off a production line at California's newest car factory.
When it is up and running, the Karma Automotive factory in Moreno Valley will produce as many as 3,000 of the high-end Karma Reveros annually. The cars, again compteting with Tesla, will be four-door luxury electric sedans priced above $100,000.
Karma Automotive joins Tesla on a list of locally based car and bus manufacturers, including Faraday Future, BYD and Atieva that together are making California ground zero for the electric vehicle market.
Like those companies, Karma is backed by Chinese money. The bankrupt Karma's assets were purchased in 2014 by Wanxiang Group, a Chinese auto parts giant that also owns A123, the battery company that produced power packs for the Fisker cars.
Faraday, which recently announced its plan to build cars at a $1-billion facility in Nevada and another smaller factory in the San Francisco area, is owned by Chinese entrepreneur Jia Yueting. Atieva, a Silicon Valley-based electric car company, is controlled by the Chinese state-owned Beijing Automotive Industry Corp. BYD, which employs 160 workers at a plant in Lancaster that builds electric buses, is owned by the Chinese BYD Auto Co.
On a recent weekday morning, inside a massive, anonymous warehouse just east of the March Air Reserve Base in Riverside County, bits and pieces of aluminum-bodied cars moved slowly along broad conveyor belts.
In one area, welders behind heavy masks were being trained to turn rectangular sections of metal into a working chassis. Across the way, 15-foot-tall robots were using rivets to join the frame sections to body parts. Further down the production line, car bodies that had been dipped in paint tanks were baking in a super-heated drying oven.
Technicians wearing hard hats and goggles watched the welders and robots, fine-tuning their efforts, making sure the practice vehicles were up to premium luxury automotive standards.
When they're done, the Reveros will look and drive a lot like their predecessor Karmas. Though the new car will have its own front and rear fascia design, it will be powered by the same engine and same A123 battery, and contain many of the Karma's interior and exterior design elements, as the car built by honored designer Henrik Fisker.
That car had a combined 400-plus horsepower and 960 pound feet of torque, and a top speed of 125 miles per hour. It could travel about 50 miles on electric charge alone, and 230 miles using its combined gasoline and electric power trains.
Sleek and low-slung, the Karma won Automobile Magazine's Design of the Year award in 2011, and was named Luxury Car of the Year for 2011 by Top Gear Magazine.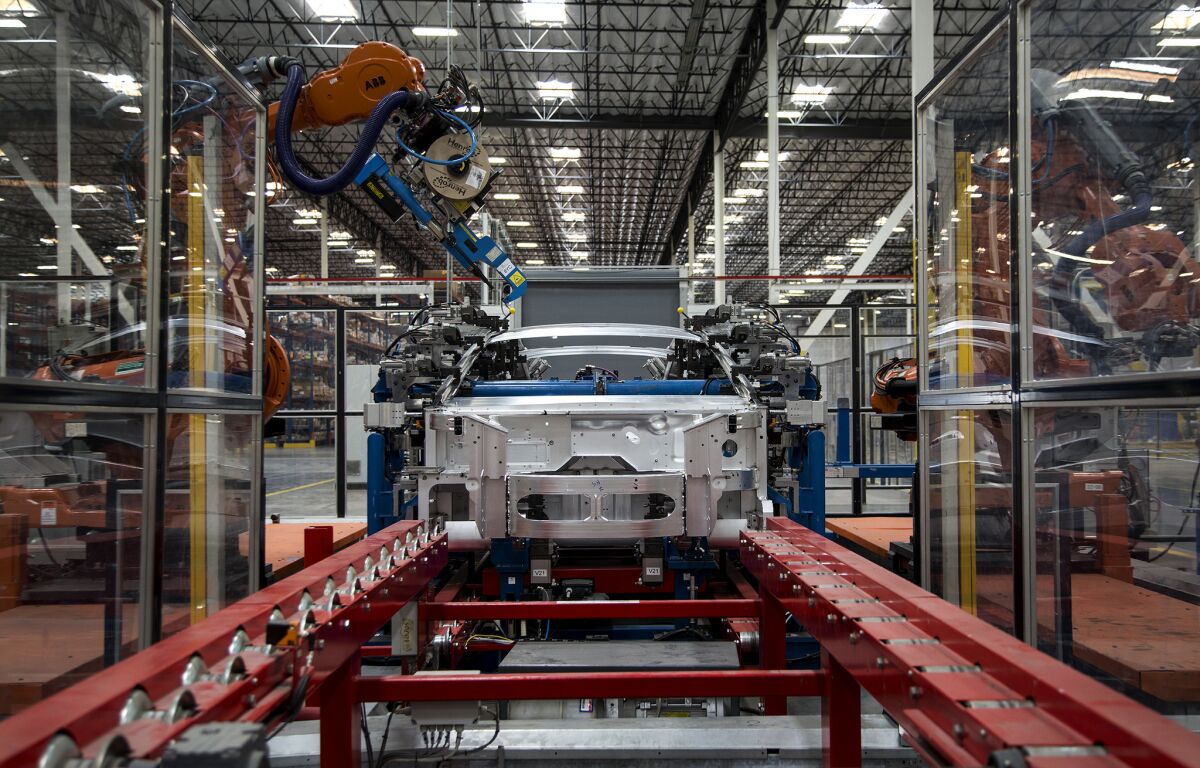 "The Karma was loved and revered," said Jim Taylor, the energetic auto veteran who, after decades with General Motors, is now Karma's chief marketing officer. "They nailed the design. You'd be crazy to change it."
Taylor and a Karma team scouted factories and courted governmental assistance in Tennessee, Texas, Indiana, South Carolina, Michigan and other locations before settling on Moreno Valley.
In the end, Taylor said, it was location more than hand-outs than lured Karma to California. While other states offered cash and tax incentives, Southern California offered the good weather and cultural amenities that help lure the best engineers and designers.
Even a low-volume car factory requires an enormous footprint. Karma's Moreno Valley facility has 32-foot ceilings and occupies 550,000 square feet. When full production begins, 100 workers will build cars here, in addition to 600 other employees at Karma's Costa Mesa design offices and as many as 150 more engineering and sales staff in an office in Troy, Mich.
Building the factory, inside an existing warehouse, involved complications. A fully-functioning production line was among the assets orphaned by the Fisker bankruptcy. But the assets were still in the shuttered Fisker Scandinavian factory.
See the most-read stories in Business this hour »
"The good news is that we've got it," Taylor said he was told. "The bad news is – it's in Finland."
The Finnish production line was broken down into parts, boxed and sent by ship to the U.S., then brought by train to California, where it was reassembled inside the Moreno Valley warehouse.
Also in the Fisker inventory were 120 finished Karma cars, and parts and pieces to build dozens more – though these too were scattered between factory, warehouses, dealerships and parts suppliers, and were in what Taylor called "varying degrees of rust and disrepair."
Those bits were all shipped to California, and became the test vehicles Karma would use to train its workers and robots to make new cars. Some will become crash test vehicles. Others will be scrapped. Still others might actually become new Reveros.
When they are for sale, Taylor said, the first vehicles may go to people who still own their original Karmas.
"There are 1,300 owners in the U.S. who are fanatics," Taylor said. "They want to have the first crack, and there should be a way to do that."
Taylor said that what goes around doesn't necessarily have to come around, and that Karma will not be forced to make the mistakes its predecessor car company made – which he said included having to put cars into the market, in order to satisfy investor demands, when they weren't ready to sell
"We have no pressure that this car has to be in showrooms by Thanksgiving," Taylor said. "We'll reveal the car this summer, and the pricing."
Even at this late date, in fact, Taylor said the company has not decided whether its distribution system will be modeled on the Detroit tradition, selling cars through franchised dealerships, or go Tesla-style, selling cars direct to the consumer. Karma's solution might be a little of both, Taylor said, or might vary region to region.
Stressing that the Moreno Valley factory investment underscores Karma's parent company's long-term commitment to building electric vehicles, Taylor said Wanxiang's founder and president, Lu Guanqui – said to be worth $6.5 billion, and to be the 18th richest person in China – is no short-term flipper.
"Asian companies are taking the long view," Taylor said. "This is a mission in his mind, for his kids, and for their kids."
Karma Automotive's owners may need all the patience they can muster. Despite the rapidity with which Karma has gotten up to speed – producing vehicles in a factory that was empty less than a year ago – electric vehicles account for less than 3% of all U.S. auto sales, and even industry leader Tesla has still not turned a profit.
"The ability of a company like Tesla to generate excitement, and high stock prices, has a lot of other companies convinced there's money to be made in the EV space," said Kelley Blue Book senior analyst Karl Brauer.
"That's somewhat ironic because Tesla has never actually made money, and several other EV start-ups, including Karma's predecessor, all went bankrupt. The challenge for the Karma will be convincing people to give it another try after a fairly high-profile failure."
ALSO
Regulators probe reports of Tesla Model S suspension problems
Elon Musk announces plan to revolutionize factories
After emissions cheating scandal, Volkswagen steers toward electric vehicles
---