Maven Gig, GM's weekly car rental service, is now available in L.A.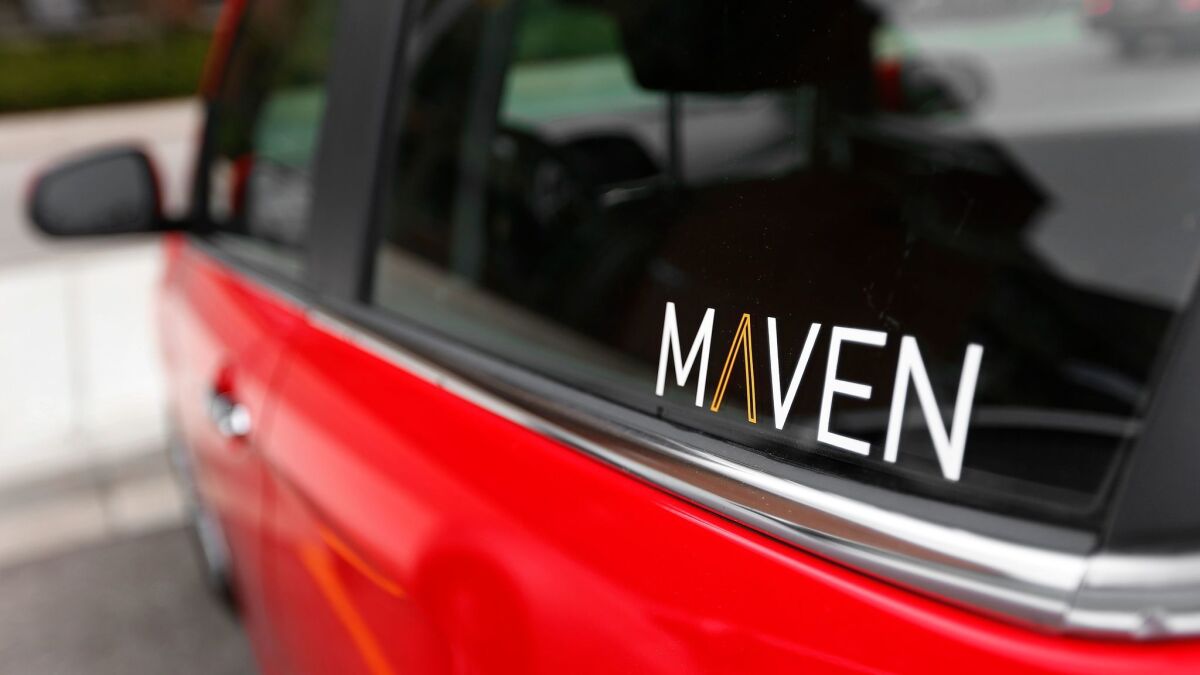 Maven Gig, the GM-based weekly car rental service, has come to Los Angeles.
Starting Thursday, ride-hailing drivers for services such as Uber and Lyft and delivery drivers for companies such as GrubHub and Roadie will have access to flat-rate weekly deals on GM cars.
The deals, designed in part to put more electric cars on area roads, include a vehicle, unlimited mileage, insurance and free maintenance. The drivers must pay for fuel and, in case of accidents, insurance deductibles. If they want to rent a Bolt EV, Maven Gig will also pay for the electricity to make it run.
Pricing starts at $189 a week for a Chevy Cruze and climbs to $229 a week for a Bolt EV. Chevy's Malibu, Trax and Impala cars are also available. All are subject to a 7.5% tax, Maven said.
Why L.A.?
"We're trying to focus our markets where there is a strong potential for gig economy earnings," said Rachel Bhattacharya, chief growth officer for Maven Gig.
Maven Gig hopes to have 1,000 vehicles on the road under the new program by the end of the year, Bhattacharya said — 200 of them the battery-electric Bolts.
GM has also brought its Maven Gig to San Diego and San Francisco. Due to get the service by this fall, the company said, are Boston, Phoenix and Washington, D.C. Baltimore and Detroit will follow by the end of the year, Bhattacharya said.
Earlier this year, the app-based parent service Maven began offering Bolt EVs to Angelenos on a per-hour basis.
Executives at the time characterized Southern California as a key locale in GM's effort to sell more electric cars.
"Los Angeles is a very important market for us, because it provides all of the unique mobility challenges that a city can have," Julia Steyn, vice president of General Motors Urban Mobility and Maven, told the Los Angeles Times. "And it's a very fertile ground to introduce an all-electric vehicle."
GM cars are also available for lease outside the Maven programs. Local dealers are currently offering the Bolt EV for as little as $159 a month, on three-year leases, after signing costs. But those leases include mileage restrictions, and may not include insurance.
Several ride-hailing drivers said the Maven Gig offer was too expensive to attract professional drivers, who'd be better off buying or leasing cars for a lower monthly rate.
Observing the $800- to $1,000-per-month rental rate, veteran taxi, Uber and Lyft driver Gabe Ets-Hokin, of San Francisco, said: "It probably doesn't make sense if driving was a part-time or second job."
Richard Colavin, who drives for Lyft and Uber in the San Diego area, said: "It's almost a good deal, but it feels like they're giving you a car to drive, but that you might not make any real money."
The Maven Gig program is designed for drivers who may not want to lease a car, or may not be able to.
"The pain point we saw in the market was that two-year or three-year commitment" for a traditional automobile lease, Bhattacharya said.
The target driver for the new program is someone who "wants to drive full time, but not for a long period of time." That might include a college graduate whose professional life hasn't begun yet, or someone between tours of duty in the military or someone recently retired looking for a new part-time job.
Qualified drivers must be 21 or older and have a clean driving record, and must be able to pony up the cost of one week's rental.
Twitter: @misterfleming
ALSO
Snap's earnings report puts it up for fresh judging by skeptical investors
Diversity training was supposed to reduce bias at Google. In case of fired engineer, it backfired.
Delivery start-up Schlep & Fetch runs out of cash, shuts down and pays drivers fraction of what they're owed