Hungry for cash, Musk says company can no longer afford free Supercharging for new buyers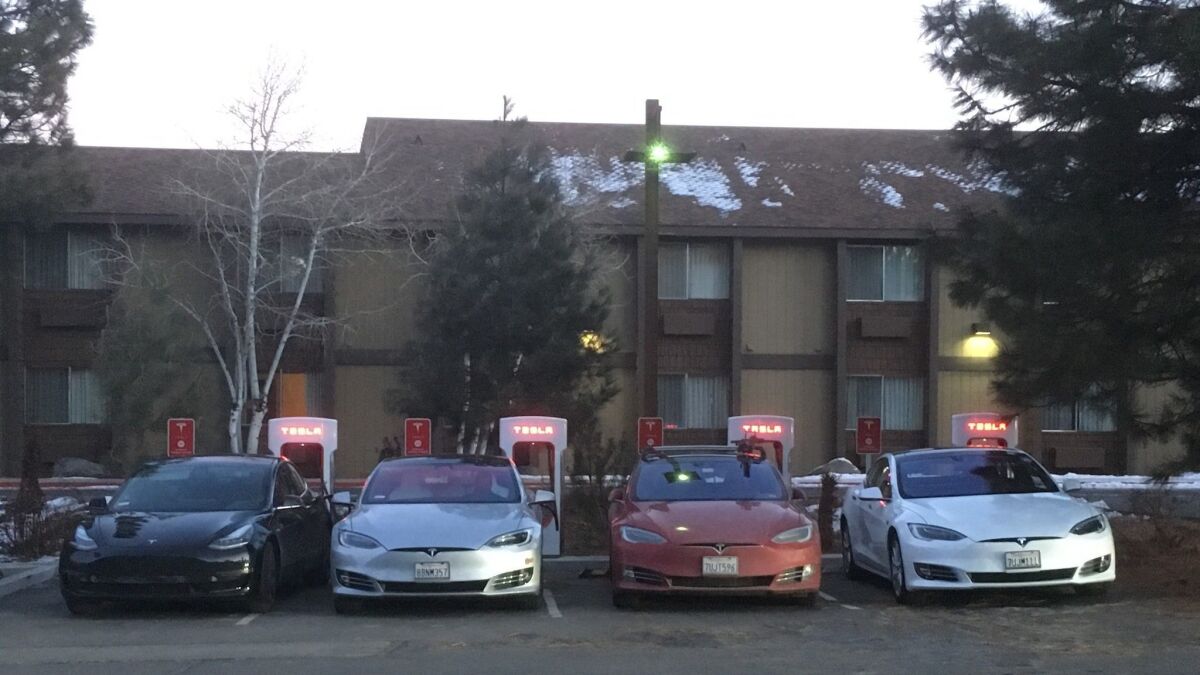 Tesla needs more cash. To help keep what it's got from flying out the door, Chief Executive Elon Musk on Wednesday announced the end of a customer referral program that offers free Supercharging to new buyers.
"It's adding too much cost to the cars, especially the Model 3," Musk said in a tweet late Wednesday. The referral program, originally scheduled to end March 11, will cease on Feb. 1.
In the program's latest iteration, a Tesla owner sends a referral code to a potential buyer. When the car is sold, the buyer gets six months of free charging at Tesla-branded stations, while the owner earns a prize. Earlier programs offered free charging for life to original car owners; Tesla will honor existing arrangements.
Tesla turned positive on its cash flow in the third quarter of 2018. Its cash on hand seems enough to pay current bills but doesn't come close to the billions of dollars needed to pay for Musk's future projects, from an electric semitruck to a crossover vehicle to a new factory in China. At the end of the third quarter, Tesla reported about $3 billion in cash on hand.
New issues of stock or bonds could provide the billions needed for growth, but for reasons he has not made clear, Musk said he does not need to tap the capital markets.
It's unclear how much money the end of the referral program will save. Tesla doesn't break out the costs in its financial statements. But for a heavy user, it could total several hundred dollars — potentially adding up to tens of millions of dollars that Tesla could spend on other things.
Things like bond repayment, for example. In March, Tesla will be on the hook to pay out $920 million in convertible bonds unless the company can boost its stock price to $360 or more. (It closed Thursday at $347.31.) In that case, bondholders could choose to convert their bonds into Tesla stock, and Tesla might have to pay them nothing.
Whether the stock price will get that high and whether bondholders will convert is one of many dramas unfolding at Tesla. Even as Tesla succeeds in boosting production and sales (245,240 Models S, X and 3 were sold in 2018), it is struggling with customer service and quality problems and increasingly long wait times at its most popular Supercharger stations. (Even Silicon Valley venture capital power broker Vinod Khosla has complained on Twitter about service and quality, on behalf of his Tesla-buying son.)
"They're kind of doomed by their own success" by achieving higher-volume Model 3 output, because construction of service centers and Supercharger stations are "not able to keep up," said Mike Ramsey, auto industry analyst at Gartner.
The company promised 18,000 chargers at its U.S. stations by the end of 2018. The total reached only 11,400 by October, when Musk promised to double the capacity in 2019. Currently, Tesla has 1,422 stations with 12,011 chargers.
The referral program was controversial. In late 2018, as Tesla rallied to reach sales goals, Musk warned several times that the program was about to end on a certain date, only to have it extended. Meantime, Tesla owners who had shared referral codes complained on social media that they weren't being credited for sales. Others said prizes they earned never arrived.
Jeff Eberhard, an engineer at VMware in Austin, said Thursday he's made referrals that resulted in sales of four Tesla vehicles, the last one in March 2018. While he did receive a home charger autographed by Musk, he's still waiting for the Powerwall home battery storage unit he was promised — worth at least $8,000.
He's not so much upset about the item itself, Eberhard said — "I don't really need it" — but the company's lack of communication. "I'd just like an understanding of what the time line is" for getting it, he said.
Eberhard said he hasn't contacted Tesla about the problem: "As far as I know, there's no way to do that."
A Tesla spokesman said Powerwalls are being built and sent to referral prize winners on a "rolling basis" and will be shipped to everyone who qualifies within the next 12 months.
Twitter: @russ1mitchell
---