Range Rover Sport HSE Td6: a posh drive through El Niño's wickedness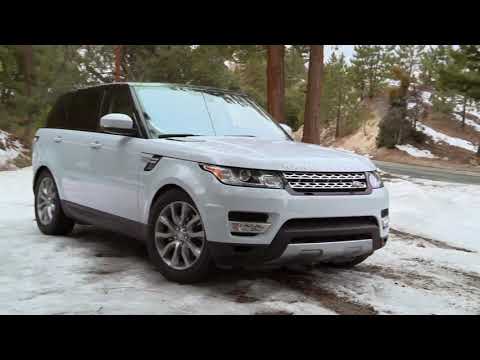 The 2016 Land Rover Range Rover Sport HSE Td6. It has a 3.0L V6 turbocharged diesel engine that puts out 254 horsepower and 443 pound-feet of torque. The four-wheel-drive SUV has an 8-speed transmission and a towing capacity of 7,716 pounds. Its wad
Land Rover has made its Southern California reputation by selling cars capable of fording rocky streams and climbing icy slopes to drivers who rarely face anything more challenging than a lentil soup spill in the Trader Joe's parking lot.
But with a powerful El Niño bearing down upon us, the 2016 Range Rover Sport might be the best vehicle on the market for handling wicked winter weather — in our accustomed comfort and style.
Between their Land Rovers and Range Rovers, the storied English automobile company has been making off-road-capable vehicles since 1948. Although the original Rover company has since become part of larger Jaguar Land Rover (which has since been acquired by Indian automotive giant Tata Motors), they still make ruggedly handsome Jeep-like machines that are capable of handling almost anything.
With the Range Rover Sport HSE Td6, the company is introducing the first diesel Land Rover ever sold in North America. The timing is unfortunate — the company introduced the vehicle just as the Volkswagen diesel "defeat device" scandal was breaking — but its makers expect diesel versions to account for up to 20% of the company's U.S. sales this year.
It's a lot of car. Equipped with a 3.0-liter turbo V6 diesel engine that cranks out 254 horsepower and a whopping 443 pound-feet of torque, the Td6 has massive pulling power, well distributed with the eight-speed transmission. And for a large vehicle, it carries its 4,700 pounds gracefully.
The body sits high and wide, but the vehicle drives smaller than it looks, handling more like a sports car than an SUV. Its truck-like heft vanishes as soon as it pulls away from the curb, and it proved much easier than expected to park in tight spaces, thanks in part to a particularly good rear-view camera.
Around town, the vehicle purrs politely. On the freeway, it's very stable and surprisingly quiet. (The Land Rover folks say that cutting weight by using a lot of very light aluminum in the chassis and body allows them to add extra sound-deadening material around the cabin.) There is very little road or tire noise even at speeds above the posted limit.
The Range Rover Sport, like all the Rovers, is meant to excel in the rough stuff. It comes stock with something called Terrain Response System, which gives the driver options for getting the best traction and safest ride on a wide range of surfaces, from snow or ice to sand and mud. The Sport version also comes with a variety of traction-control systems and a button for increasing the ground clearance on the move, from 8.4 inches to 10.9 inches, to manage rocks, ruts and ridges.
Those systems and the All Terrain Progress Control, new for 2016, allow the Range Rover Sport to pick its way over uncertain ground, with power and braking delivered independently to each of the four wheels.
This came in handy, off-road in some snowy patches off the Angeles Crest Highway. But it could be just as useful maneuvering the frequently flooded intersection at, say, Riverside Drive and Coldwater Canyon Avenue.
It also comes standard with Roll Stability Control, Hill Descent Control, Gradient Acceleration Control and some other nifty features that I was too timid to properly test. This is, after all, an extremely expensive automobile. Did I want to risk a year's salary to find out exactly how much Roll Stability Control I had? I did not, just as I did not want to ford a deep stream to test the car's promised "wading distance" of 33.5 inches.
But I was able to give some time to the optional Adaptive Cruise Control, which allows settings for the speed you'd like to go and the space you'd like to have between you and the car in front of you. This set-it-and-forget-it feature is among the automotive world's best. It will allow the vehicle to come to a complete stop, pause, and then return to freeway speed, without asking the driver for any accelerator or brake pedal input.
A similar optional feature called Queue Assist will do the same thing in stop-and-go traffic on city streets.
On the inside, the Sport HSE model is kitted out with leather seats that are heated and cooled, a heated steering wheel, a massive sound system and other amenities. The seats adjust in myriad ways, and the steering wheel telescopes and tilts. Visibility is better than on many tall, wide SUVS and, despite its overall size, it doesn't require a step stool for ingress and egress.
What's all that worth? I'm not sure. But Land Rover values it pretty highly. The entry level Range Rover Sport starts at about $65,000, with a $1,500 premium for the diesel engine — which could pay for itself, since the diesel engine gets a 32% fuel-economy improvement over the gas engine.
But the delightful options on this model drove the sticker to just under $85,000.
That's out of reach for the average driver. But someone who wants to stay safe in the storm, and show off doing it while headed to the mountains for skiing or over Mulholland Drive to work, might demand nothing less.