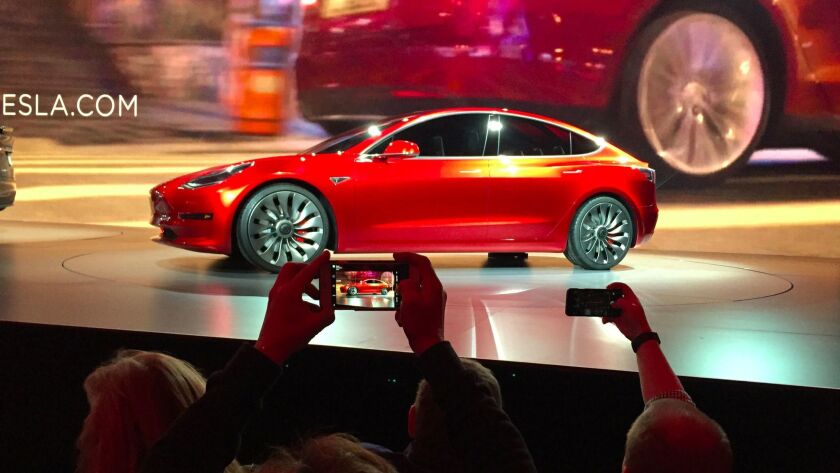 Reporting from San Francisco —
The Tesla Model 3 Owners Club is quivering with excitement.
Members are planning what song they'll crank up when driving their new Tesla off the retail lot: Steppenwolf's "Magic Carpet Ride," AC/DC's "Back in Black," Simon and Garfunkel's "The Sounds of Silence."
"We've been following the Model 3 program for a long time now," said Trevor Page, founder of the online forum. Friday night, their tension might find release, as Tesla Chief Executive Elon Musk hosts a stage show to hand the keys to the first few new Model 3 customers amid great fanfare.
The club's 7,000 members are not owners yet, but they hope to be soon. Most have put down $1,000 deposits on the car, Tesla's long-anticipated "mid-market" pure-electric sedan.
"Most of our questions will be answered, I hope," Page said.
Those questions include:
*How far will the Model 3 travel between charges?
*What will it cost with options?
*How long will I have to wait to buy mine?
The Model 3 is central to Tesla's future and to Musk's vision of a humanity-saving alternative energy company that can provide electric cars, solar roofs and home storage batteries in one customer-friendly package.
The cars can be purchased a la carte, of course. The success of the whole venture right now rides on success of the Model 3. The company has a record of missing aggressive production goals. But the Model 3 project is so important to the company, and so many people have been waiting for the car for so long, that any serious delay could endanger the entire effort.
About 30 have been made. The company plans to turn them out by the hundreds of thousands in 2018 — slowly ramping up the monthly production output from 100 in August to 20,000 in December.
The company touts the car as an electric sedan loaded with self-driving hardware, with a range of at least 215 miles and a base price of $35,000.
Tesla is likely to offer more powerful, longer range battery packages with the Model 3, as it does for its Model S and Model X luxury cars.
But that would cost extra. So would software needed to make the self-driver sensors work. Plus, other options that may be announced Friday evening.
"With options and everything, I'm expecting a $50,000 car," said Michael Fazio, 36, a technology consultant who lives in West Hollywood. That's fine with him. He drives a BMW 340 right now, and sees $50,000 as an affordable price.
The Model S and X are aimed at deep-pocket buyers – with options, they can easily exceed $100,000.
The Model 3 must appeal to everyone from rich people who want to add to their electric car collection to first-time buyers wondering whether they can afford the lease or loan payments.
Artem Biloborodko, 22, is one of the latter. A video producer in Canada, he has been jonesing for a Tesla "since high school, when I watched a documentary on Tesla and how it wanted to make affordable cars."
He has put down a $1,000 refundable deposit, one of perhaps 378,000 to do so. (The company stopped publicizing its "order" count early last year. The current number could be more than that, or less.)
He's looking forward to the Friday event and the details that might be unveiled. He's hoping it's not "just hype."
"Musk has said all these things like it's going to look like a space ship, maybe Supercharging is going to be free, that [the Model 3] is going to have a solar roof," Biloborodko said. "Now he's saying no and no and no, this is not going to happen." He's asking himself "will it really make sense to spend that kind of money?"
The car will look like a space ship if that ship has a big iPad-looking screen that replaces all dashboard instrumentation: except for the screen, the dash will be unequipped and unadorned.
Musk did hint last year that its Supercharger charging network would come with the car, at its official unveiling in 2016 he didn't use the word "free."
The solar roof, Musk recently declared, is a no-go.
None of that bothers Fazio. Even the plain dash with the touch screen holds a modern-tech appeal for him. "I'm still on board. I'm one of those crazy people who camped out early at the Century City store. I was seventh in line."
That was in March 2016, when Tesla began taking Model 3 deposits and reported that 200,000 people had laid their money down on the first day.
Fazio hopes his camp-out gave him a good spot in line. He's counting on delivery by April. "But I wish they would divulge the order" of deposit holders, he said. So far, Tesla has offered buyers no clue how long they might have to wait.
If his car isn't ready then, "I'm going to have some choices to make," Fazio said. He timed the BMW lease to expire next spring, in anticipation. "In L.A., you need a car," he said.
How many deposit holders will remain true and how many will want their money back at this point is unknown, but the ultimate answer may well determine the Model 3's future. The company spends billions in cash and is billions in debt, with new cash provided mostly by fresh equity investments. At some point, Tesla's cash flow needs to turn positive and stay that way.
Customers such as Fazio will be key. While like many owners and reviewers, he thinks that BMW is steadily cheapening the interiors on its 3 series year by year, he still loves the way they drive.
He won't buy the Tesla Model 3 without driving one first, he said. "I hope there will a few floor models to test drive."
Twitter: @russ1mitchell
ALSO
Lyft forms an autonomous vehicle unit
Review: Big bang for the buck: 2017 Kia Soul Turbo
VW exec plans to plead guilty in diesel emissions cheating scandal
---