Could Tesla merge with SpaceX? A Morgan Stanley analyst raises the possibility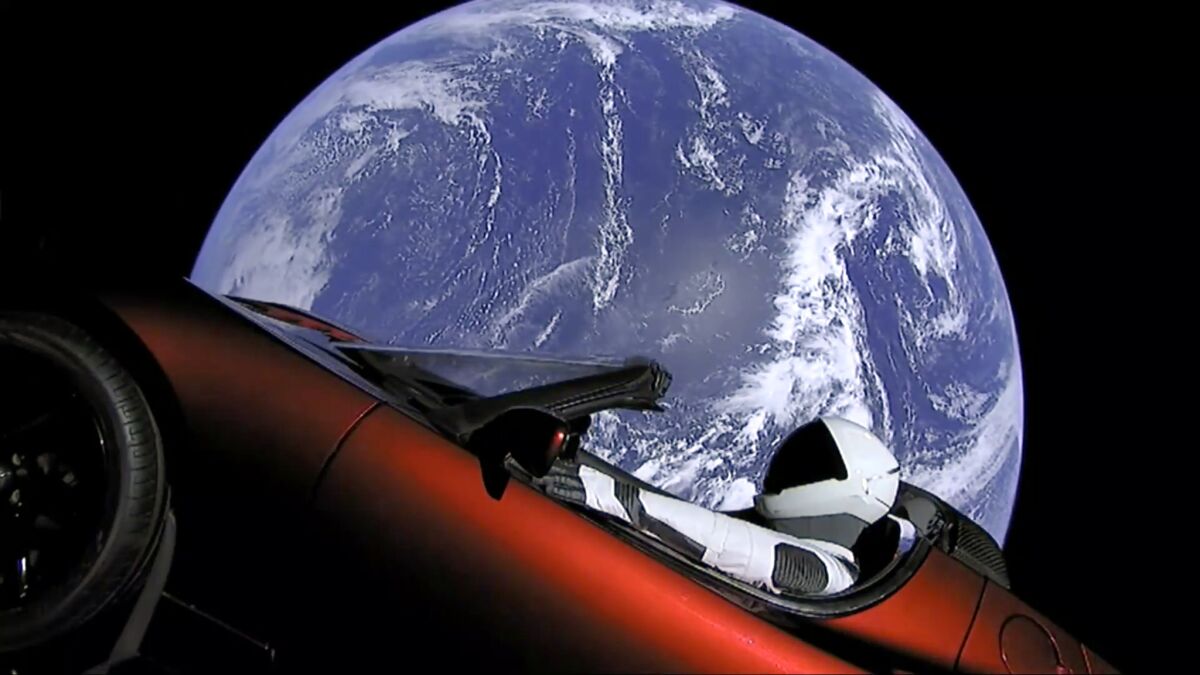 Morgan Stanley stock analyst Adam Jonas told clients Wednesday that if Tesla's troubles continue, it's unlikely to be acquired by a tech company, an auto company, or someone from China. But it could end up merging with SpaceX, another Elon Musk company.
A recording of the 55-minute conference call with clients was leaked online. The meeting was held two days after Jonas, a longtime Tesla bull, put a "worst-case" price of $10 on Tesla stock, although he didn't change his current $230 target price.
Tesla's stock price fell another 6% on Wednesday, to close at $192.73. That's the lowest it's closed since Dec. 6, 2016. It is now down 38% since the first of the year.
Neither Jonas, Morgan Stanley nor Tesla answered emailed requests for comment.
While the SpaceX option is "an admittedly fantasy case," Jonas said it's more likely than any established player buying the debt-ridden electric car maker.
Jonas did not make clear what financial benefit SpaceX might bring. No one outside the company or its investors knows whether SpaceX makes or loses money, or how much. And SpaceX itself has been holding out the hat for more capital investment.
Tesla is moving "from a growth story to a distressed credit and restructuring story," Jonas said. First-quarter auto sales dived 41% and the company is bleeding cash. A $2-billion stock-and-debt offering this month gives the company 10 months' worth of breathing room, Chief Executive Musk said in a memo to employees last week. But if demand doesn't pick up substantially and the capital market for Tesla dries up, the company will need to pursue other options, Jonas said.
That includes a possible acquisition, but Jonas said it's unlikely. Tech companies such as Apple are unlikely to be interested, he said, to avoid the financial risk of "being involved in owning a business where occasionally a car catches on fire, takes down a building, accidentally kills a pedestrian or a passenger … the auto industry has an ugly side to it, the roads are very dangerous."
Tech companies working on driverless cars "realize that the autonomous race is more of a marathon" that might take 10 or 20 years for full deployment. Tesla has been aggressively deploying its driver-assist Autopilot technology, which has been involved in at least three deaths. On Wednesday, Consumer Reports said Autopilot's latest Navigate feature, which gives cars the ability to make lane changes without driver input is worse in several ways than a human driver.
The crowd-sourced, social media swarm that is betting Tesla will crash and burn »
Auto companies probably would not want to take on Tesla's substantial debt and infrastructure, Jonas said. With 49,000 employees, Tesla takes in $500,000 revenue per worker, Jonas said, while Ford and General Motors pull in $850,000 per worker.
"They built this hulking infrastructure to support more like 1 million cars a year, not 350,000 cars year," Jonas said. And most analysts don't think Tesla will build that many cars in 2019.
The company's $13 billion in gross debt is the biggest impediment, Jonas told his clients. "If someone could get access to Tesla's assets and have it with the right number of employees and no debt, there is asset value there," he said. On top of the $13-billion overhang, the company's operating cash burn — about $640 million last quarter — means the price of Tesla assets might well be more than any automaker would tolerate, he said.
A possible sale to Chinese investors is out, he said. Given the current trade war, passing U.S. government review at this time is would be impossible.
That leaves SpaceX, the private rocket company that Musk also founded. The latest public information available, from 2016, shows "Mr. Musk's trust" owns 54% of the company, and has voting control of 78% of the stock.
A Tesla-SpaceX combination, Jonas said, "would not be a permanent solution." But it would be "a way to get Tesla off the [public stock] market potentially so it that could do the dirty work of restructuring without, as Elon says, having someone outside your house yelling the price of your house every 30 seconds." It would also help Tesla "keep the [executive] team together, which has been tough for this company to do to date."
He called the SpaceX idea an "admittedly fantasy case." Tesla shareholders might go along, though, he said, citing the case of SolarCity. Tesla merged with financially troubled SolarCity in 2016 and absorbed its debt. Musk, SolarCity's chairman, held some of that debt, as did SpaceX. The company was founded and run by two Musk cousins.
When evaluating that deal, Jonas said, "people realized very quickly, 'Huh, if SolarCity goes bust, if the $3-billion thing goes bust, then the cost of capital of the $50-billion thing [Tesla] goes way up. Let's do a controlled detonation. We approve your takeover of SolarCity, we'll put it in the back and we'll wind it up and it's gone.'" SpaceX buying Tesla, he said, would be a "reverse of that."
On future demand, Jonas said Tesla's recent turn to Model 3 leasing could help, as could cars coming out of a new Tesla plant in China, which is now under construction.
But he noted that the sedan style of the Model 3 is a fast-declining product category. He also wondered whether the general public's interest in electric vehicles is near as strong as Musk thought it would be.
Twitter: @russ1mitchell
---