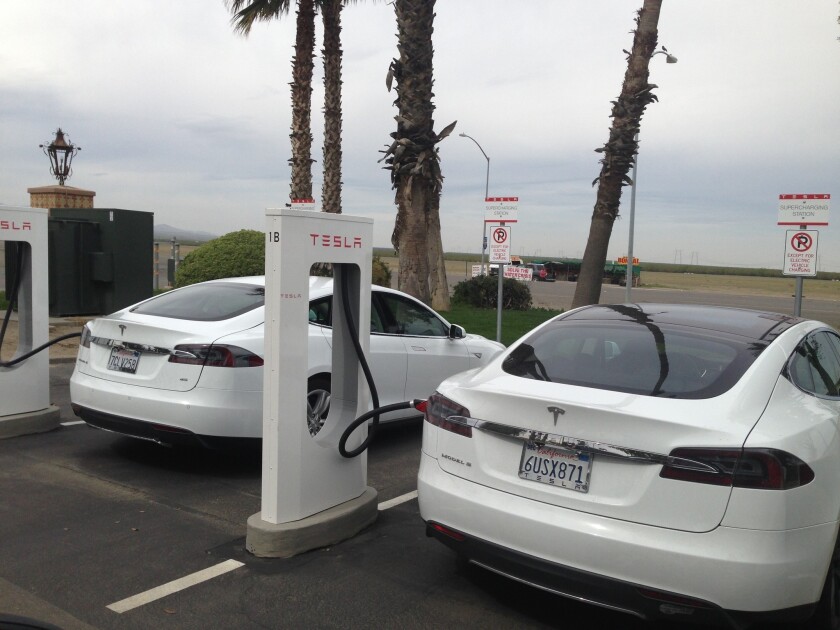 When Norman Hajjar rides around the country, he rides around the country. The long distance driver has just finished an epic 24-day, 12,000-mile national tour, driving a stock Tesla S model electric automobile.
Hajjar's journey began in the Pacific Northwest, traversing Washington and Oregon before crossing California from top to bottom and heading east -- to Maine, via Wyoming and South Dakota. Then he drove the Tesla south to Florida, then back north to Pennsylvania before turning west and retracing the route back to California.
The epic jaunt was an attempt to set a Guinness record for electric vehicle driving and also something of a publicity stunt: Hajjar steered the $89,770 Tesla on behalf of his employer, the electric vehicle software and analytics company Recargo, as part of a public call for a better national network of electric vehicle charging stations.
TESLA EXPANDS: Electric car company delivers first models in China
Hajjar is managing director of PlugInsights, which is Recargo's research division.
The entire drive took three weeks and three days, involved almost 100 stops at charging stations and daily 14- to 16-hour stints behind the wheel. By the end of the trip, Hajjar had stopped to charge the Tesla S a total of 91 times, 86 of them at Supercharger stations.
The point, Hajjar said Monday afternoon, was "to amplify the point that the electric vehicle has come of age. The only thing that's holding back this category is the lack of a fast charging infrastructure."
The eccentric route, which ended Monday afternoon at Recargo's headquarters in Venice, was determined less by scenery or the location of Hajjar's relatives than by available Tesla "Supercharger" stations, which are dotted around the country. It was also limited by Tesla's advertised 260-mile driving range.
Hajjar estimates his average drive per charge, over the length of the 12,184-mile trip, was 120 to 130 miles. He'd stop at Supercharger stations, and fill the average one-hour charging time by getting witness testimonials to support his Guinness effort, by practicing guitar, or by using FaceTime to catch up with his family.
He puts the cost of the drive for a gas-powered vehicle at about $1,700. For him, in total, the cost of meals and motels was well under that, he said -- in part because he did a lot of what he called "Tesla camping."
"I'd just keep driving until I got drowsy, and then I'd pull off the road," he said. "Sometimes that would be at 3 in the morning, so there was no point in getting a hotel room."
The Silicon Valley-based Tesla was founded in 2003 and produced its first car -- the two-seat Roadster, built on the chassis of a Lotus sports car -- in 2008. The Model S is the company's first built-from-the-ground-up vehicle. Tesla sold about 23,000 cars last year.
ALSO:Tesla to debut cheaper car in 2015
Mazda recalling 109,000 Tribute SUVs
---