Choosing our favorites among the more than 1,000 cars at the Los Angeles Auto Show was no easy task. Forty-one automakers brought their latest and greatest to the event, where 50 cars made their world, U.S. or West Coast debuts. Here are the seven that wowed us the most — for their beauty, utility, technological perfection or sheer audacity.
Full coverage: 2016 L.A. Auto Show »
Cadillac Escala
If Cadillac is serious about incorporating the elegant design of its Escala concept sedan into future vehicles, it means there's hope for the flagging brand. A quiet and confident masculinity would replace the Cadillac's now-tired hyper-angular aggro look. But it's not without testosterone: It gets a new Cadillac-only V-8 engine too.
Jaguar I-Pace
The first all-electric vehicle from Jaguar looks good, drives fast and is taking aim at Elon Musk's Model X. This production concept SUV goes from zero to 60 mph in about 4 seconds, has a 220-mile range and will become available in 2018. When that happens, it will challenge Tesla and other electric vehicles from luxury automakers.
Chevrolet Bolt EV
Chevy's all-electric plug-in Bolt EV gets an EPA-approved 238 miles per charge and will cost under $35,000 before government tax incentives and rebates, Chevy says. The company expects to sell more of them in Southern California than anywhere else in the world — just as it does its plug-in hybrid Volt. The big surprise: It's comfortable and fun to drive.
More photos from the 2016 L.A. Auto Show »
Alfa Romeo Stelvio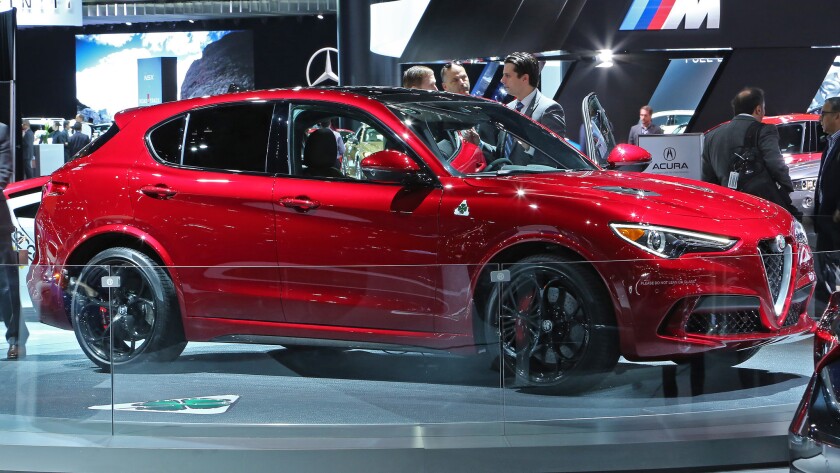 Alfa Romeo's new Stelvio is a high-performance SUV the company hopes will entice Porsche, BMW and Audi fans to the brand. The top-end model, the Quadrifoglio, delivers a whopping 505 horsepower, goes from zero to 60 mph in 3.9 seconds and is capable of a top speed of 176 mph.
Chevrolet Colorado ZR2
Chevy is trying to turn up the heat on sporty off-road trucks like the Nissan Pro 4 X and the Toyota TRD Pro with the introduction of the newly minted ZR2 desert sled. The 4x4 will be available with V-6 or Duramax engines and come in Crew Cab or Extended trim lines. The truck's expected top market? L.A., where people buy more Chevy trucks than in top truck towns Dallas or Houston.
Acura NSX
Not for the faint of heart or the budget conscious, this mid-engine hybrid supercar starts at $156,000 and features a 573-horsepower twin-turbo V-6. Combine that with an electric motor attached directly to the driveshaft and the car's relatively light aluminum frame, and the all-wheel-drive NSX can accelerate from zero to 60 mph in 2.7 seconds and reach speeds topping 190 mph.
Porsche Panamera 4 E-Hybrid Executive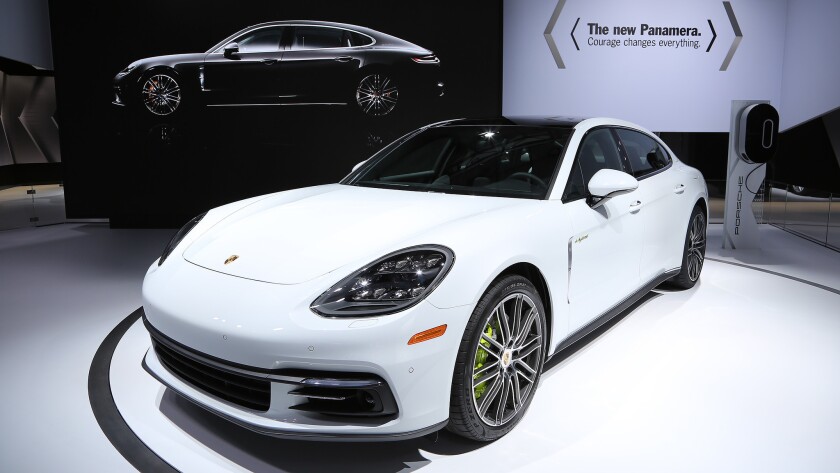 Making its world premiere at the show, this is the hybrid version of the second generation of the Panamera luxury touring cars and is priced starting at $104,100. The new four-door Panamera has an extended wheelbase that allows for extra legroom and more luxurious rear-seat features, including touch-screen displays attached to the back of the front seats. The hybrid power plant generates 462 horsepower.
ALSO
What to expect if you go to the L.A. Auto Show
The disappearing stick shift: Less than 3% of cars sold in the U.S. have manual transmissions
Electric cars are less than 1% of the market. Yet automakers are pushing them big time. Why?
---