California enrolls 80,000 in health plans; older people lead the way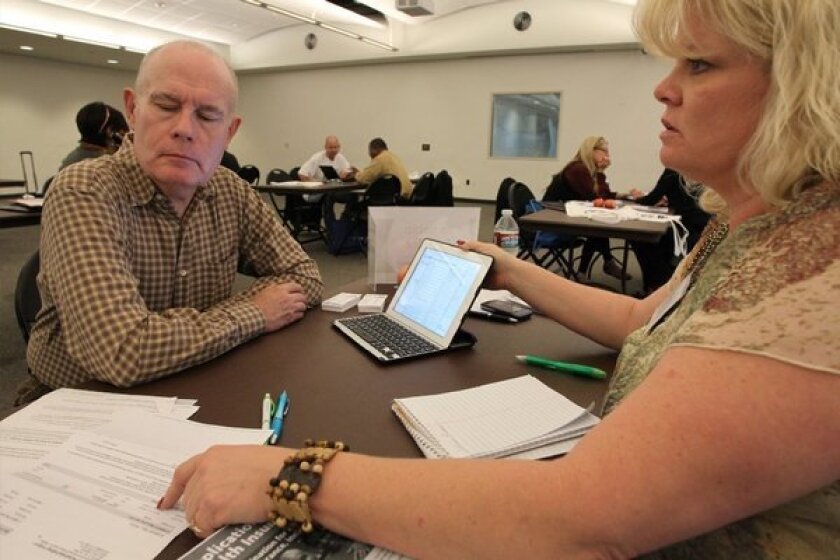 Nearly 80,000 people have signed up for health insurance in California's new exchange, another sign of strong enrollment growth in a crucial state for the Obamacare rollout.
However, one drawback in the new state figures is the high percentage of enrollees who are 45 to 64 years old. To make the healthcare law work, it's important for government-run exchanges to recruit enough young and healthy people to offset the higher costs incurred by older, sicker patients.
The pace of enrollment in California continues to accelerate. The Covered California exchange got 30,830 health plan enrollees in October, its first month.
By Nov. 19, it had enrolled nearly 50,000 more people in private health plans for a seven-week total of 79,891. The exchange said about 2,700 people are signing up for insurance coverage daily.
Those results are a stark contrast to the meager enrollment thus far through the troubled federal exchange for 36 other states.
California also has about 135,000 additional people who have applied and appear likely to qualify for an expansion of Medi-Cal, the state's Medicaid program for the poor.
The exchange only gave a breakdown by age for October enrollment. For that month, 56% of health plan enrollees were 45 to 64 even though that age group represents only 25% of the state's population.
Full coverage: Obamacare rolls out
The prized demographic of 18- to 34-year-olds accounted for 23% of October sign-ups, roughly in line with their share of the population.
Peter Lee, executive director of Covered California, said he expected older consumers would be among the first in line to get guaranteed coverage and that these trends should change during the six-month enrollment period that ends March 31.
"Not only are we seeing strong enrollment numbers overall, but enrollment in key demographics like the so-called young invincibles is very encouraging," Lee said.
As for insurance companies, people in the first month went primarily with the biggest names in the state.
Anthem Blue Cross, a unit of insurance giant WellPoint Inc., led the way with 8,658 enrollees in October, for a 28% market share.
Kaiser Permanente, the state's largest nonprofit health insurer, was a close second with 8,250 people, or 27%. Blue Shield of California had 7,903 enrollees, or 26%, while Health Net Inc. trailed with 4,839 people, or 16%.
The seven other insurers in the exchange, many of them smaller health plans available only in certain areas, had 1,180 people combined.
Health Net, based in Woodland Hills, has attracted considerable attention with some of the lowest rates across much of Southern California. In contrast, Kaiser has some of the highest premiums statewide.
Analysts say it's premature to draw any firm conclusions, but the early returns show low price may not be everything to insurance shoppers.
"I think we're seeing the importance of brand here," said Micah Weinberg, a senior policy advisor at the Bay Area Council, an employer-backed nonprofit group. "Consumers are not just shopping on price but also going with what they know."
ALSO:
Californians have their doubts about healthcare law
Obamacare's backers and foes vie to recruit young people
Lack of enrollment workers hampers insurance exchange sign-ups
---
Your guide to our new economic reality.
Get our free business newsletter for insights and tips for getting by.
You may occasionally receive promotional content from the Los Angeles Times.