Column: Was the Grammys 'boys club' behind the firing of two women at its charity?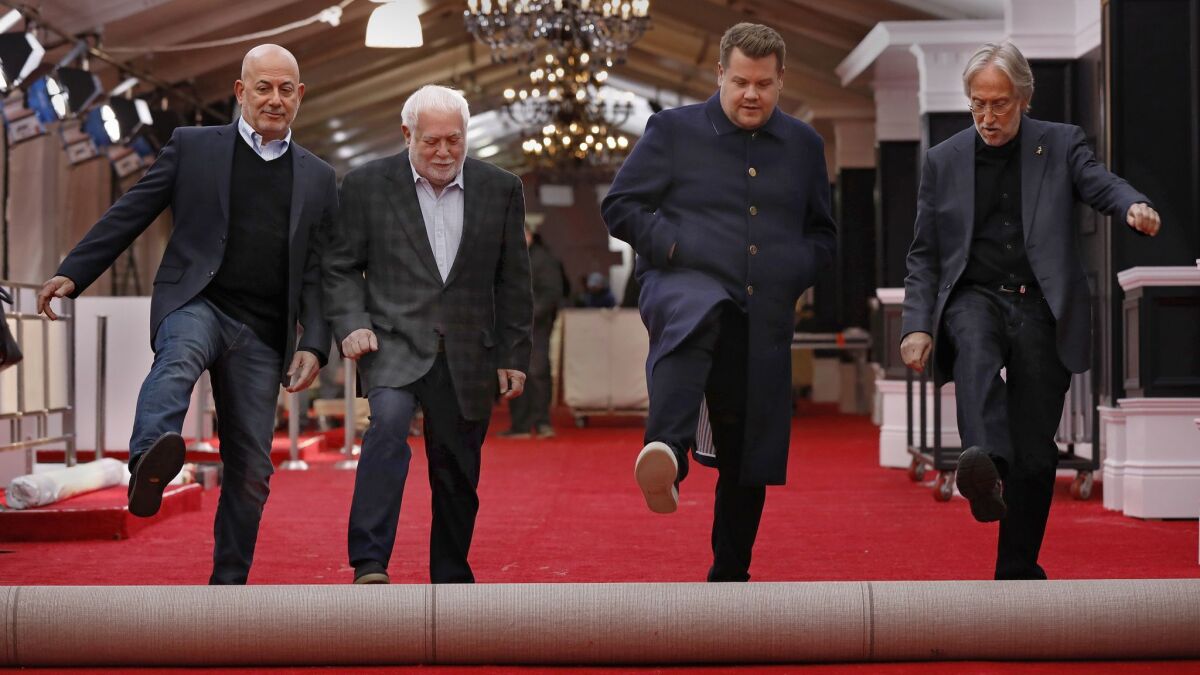 Dana Tomarken had spent 25 years helping to build up the Grammys' charitable arm, MusiCares, to the point that it possessed an endowment of some $25 million to provide emergency financial assistance to needy and ill musicians.
That ended April 16, 2018, when the Grammys abruptly fired Tomarken, 75, along with her long-term associate, Dorit Kalev, 43. At the time, Tomarken was vice president for MusiCares and the Grammy Foundation and Kalev was MusiCares' executive director. The National Academy of Recording Arts and Sciences, as the organization is formally known, attributed the termination to a financial misdeed by Tomarken, but she says that's a pretext.
She says she was fired because she had pushed back, hard, against a "boys club" of Grammy executives serving Neil Portnow, the president and CEO of the academy — a "sexist culture" that "stymied her career" and got worse as she grew older.
You just felt it was Neil and his boys.... There was no room to penetrate that wall they built.
— Dorit Kalev, former MusiCares executive
"I was holding them accountable," Tomarken told me recently.
According to a wrongful-termination lawsuit Tomarken has filed in Los Angeles, this group had kept all but a small number of women from rising to top posts at the Grammys and treated their female colleagues with unalloyed condescension.
Things came to a head during the 2017 preparations for MusiCares' 2018 annual gala, its key fundraising event of the year. Tomarken was frozen out of key elements of the planning, she says; as it happens, the 2018 dinner, held at Radio City Music Hall, soon shaped up as a disaster. The first such event in years to be held in New York rather than Los Angeles, it ended up netting barely $1 million in contributions, compared with more than $5 million the year before.
Tomarken's lawsuit is nearing a turning point, with a hearing scheduled for June 12 in Los Angeles County Superior Court on the Grammys' motion to send it to arbitration.
The Recording Academy has acted to keep Tomarken's allegations from being fully aired in public. The academy hasn't responded to her lawsuit chapter-and-verse; its effort to arbitrate her claims would help ensure that evidence underlying them will remain secret.
Last year, after a letter of complaint Tomarken wrote to the MusiCares board was leaked publicly, the academy announced with great fanfare that it had hired the law firm Katten Muchin Rosenman to conduct "an independent investigation" and promised to "act on their recommendations." No public disclosures from that investigation have emerged since then. The academy rebuffed my questions about the probe by stating that it "can't comment on pending litigation."
"When these allegations first surfaced a year ago, the academy responded publicly that the accusations had no merit and that the academy would vigorously defend itself," the academy told me in an emailed statement. "Nothing has changed since then."
The academy would not comment further. Financial records for MusiCares made public to date cover only the years up to 2016. The academy says records from 2018 aren't yet available for public release.
These signs of conflict and chaos at MusiCares are dispiriting because of the charity's history. It was one topic of an expose by my colleague Chuck Philips and me in 1998, when we documented that only a tiny fraction of the money raised was being paid out to needy musicians. Then-Grammy chief C. Michael Greene resigned under pressure in 2002. Tomarken won praise for helping to turn the charity around after that.
"If she did not do an exemplary job, she would not have held her position as long as she did," says Linda Moran, a former recording executive who was a founding board member of MusiCares but left the board before Tomarken's ouster. Moran says she had been impressed by Tomarken's work as an outside consultant for a MusiCares event, and encouraged Greene to bring her on as an employee.
The Grammys' problem with sexism isn't a secret. It broke into the open the very night of the 2018 awards telecast, when Portnow, asked backstage why women seemed to be underrepresented among Grammy winners, replied that women needed to "step up" to claim their roles as musicians, engineers and producers and as "part of the industry on the executive level."
Portnow later walked back his comment, but the academy soon announced that he would be leaving when his contract ends this July. He'll be succeeded by Deborah Dugan, a former recording executive who is head of the AIDS organization (RED).
Tomarken's depiction of the sexist atmosphere at Grammy headquarters and of the preparations for the 2018 dinner are supported by Kalev. At weekly executive meetings, "You just felt it was Neil and his boys," she says. Women seldom rose to top posts or stayed long after they reached a certain level. "There was no room to penetrate that wall they built."
According to Tomarken and Kalev, the shortcomings of Portnow's regime came to a head in the run-up to the 2018 MusiCares Person of the Year dinner, which was to honor Fleetwood Mac. To mark the Grammys' 60th year, the Jan. 28 awards ceremony was to be shifted from Staples Center in Los Angeles to New York's Madison Square Garden. That meant the MusiCares dinner, which traditionally included a fundraising silent auction and a performance two nights before the awards, also had to be in New York.
During the spring and summer of 2017, Tomarken and her team started planning for the dinner. The list of possible venues was short for a dinner that traditionally brought together about 2,500 guests at the Los Angeles Convention Center. Hotels with big catering spaces such as the Marriott Marquis on Times Square and the Jacob K. Javits Convention Center were unavailable on the scheduled date.
Tomarken eventually settled on Barclays Center, an entertainment and sports arena in Brooklyn operated by Anschutz Entertainment Group, which also operates Staples Center in Los Angeles. "Barclays offered us a sweet deal," Kalev recalls. "They rolled out the red carpet for us."
That's when the trouble began. The night before she was to visit Barclays, Tomarken says, she got a call from Irving Azoff, a veteran music executive who was then in a partnership with MSG, the operator of Madison Square Garden. When she told him she was considering Barclays, he responded, "That can't happen."
The Grammys already had agreed, he said, that if it wanted to stage the awards show at the Garden, it couldn't hold any events at Barclays.
The reason was that MSG and AEG were engaged in a nasty turf war. Azoff is no longer formally associated with MSG. His spokesman referred my questions to MSG, which told me by email only that "the Grammys and MusiCares negotiated agreements to showcase the 60th anniversary of the Grammy awards in some of the world's most renowned venues."
The war took the form of alleged agreements barring acts booked into one of the firms' venues from appearing in the other's arenas. MSG was accused of refusing to book acts into Madison Square Garden if they appeared in the AEG-controlled Staples Center rather than MSG's Forum in Inglewood; AEG allegedly tied together appearances in its O2 Arena in London and Staples.
AEG ended its policy after it was sued by the performer Ozzy Osbourne; Osbourne subsequently dropped the case. MSG had denied it had any such arrangement in place.
Tomarken says Azoff asked her to consider holding the MusiCares dinner at Radio City Music Hall, a vast showplace that MSG also operates. But it's a theater, not a banquet hall. MusiCares eventually had to forgo the dinner and opt for a performance at Radio City followed by a buffet, which Tomarken says dismayed attendees accustomed to the traditional format.
Worse, Tomarken says, the Grammys cut a deal to turn over 300 of the highest-priced Person of the Year tickets to another enterprise associated with Azoff, Oak View Group, which was to sell them as a package with tickets to the Grammy awards ceremony. MusiCares was to be guaranteed a $1.5-million share of the proceeds, Tomarken says. But the tickets didn't sell and were returned to MusiCares, too late to market them.
All these decisions, Tomarken says, were made behind her back even though she should have been consulted as a senior executive of MusiCares and the person in charge of its annual fundraiser.
As Grammy weekend approached, it became clear that the New York events would be financially disastrous, with costs as much as $8 million higher than they would have been in Los Angeles, and donations lower. The MusiCares business affairs department, Tomarken says, even proposed reducing the financial support provided to needy clients "to offset the revenue loss from the New York Person of the Year event." (The Recording Academy has denied that any such step was ever intended.)
After the 2018 fiasco, Tomarken says, hostility against her at the academy increased. Portnow refused to allow her to discuss the financial repercussions directly with the MusiCares board, she says. Portnow's deputy, Gaetano Frizzi, made demeaning comments about her to Kalev, who warned Tomarken and said that she herself was uncomfortable in Frizzi's company.
Tomarken says the academy management "trumped up" a charge that she had misappropriated a donated hotel voucher for a trip to Portugal that had failed to sell at the 2017 fundraising dinner. She says she booked the trip and overlooked that she hadn't paid for the voucher, covered the $2,500 price as soon as it was brought to her attention, and had made no secret of her plans to travel on the certificate. Given her 25-year history with the organization, she says in her lawsuit, the unpaid pledge was merely a pretext "to orchestrate [her] termination."
Tomarken's assertions point to something that has gone very wrong at the Recording Academy, and its efforts to sweep them under the rug don't bode well. Dugan said after her appointment was announced this month that she hopes to bring "positive change" to the Grammys. That could be a bigger job than she knows.
Keep up to date with Michael Hiltzik. Follow @hiltzikm on Twitter, see his Facebook page, or email michael.hiltzik@latimes.com.
Return to Michael Hiltzik's blog.
---
Sign up for the California Politics newsletter to get exclusive analysis from our reporters.
You may occasionally receive promotional content from the Los Angeles Times.