Column: Even a $1-billion fine won't fix what's broken at Wells Fargo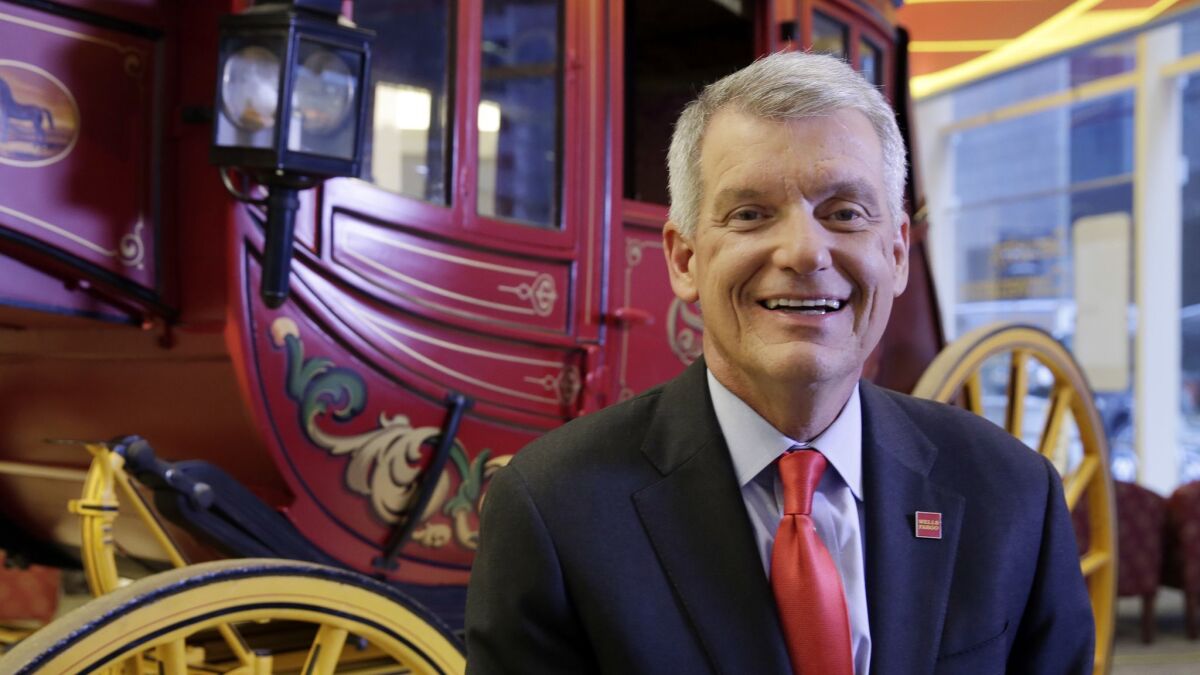 The $1-billion fine levied Friday by federal regulators on Wells Fargo and Co. for its string of customer-abuse scandals certainly sounds like a big number. And compared with the usual wrist-slaps faced by wrongdoing banks, it is a big number.
As my colleague James Rufus Koren reports, the fine announced by the Office of the Comptroller of the Currency and the Consumer Financial Protection Bureau is the largest levied against a financial firm since President Trump took office and one of the largest against any U.S. bank not related to the financial crisis.
It also dwarfs the $185-million fine the bank agreed to pay to federal regulators and the Los Angeles city attorney's office in 2016 in the scandal over its employees' opening of bogus accounts without customer authorization. As The Times first reported in 2013, the employees were trying to meet punishing sales goals.
We will continue to increase ... our dividend and also increase our share buybacks next year and the year after that and the year after that.
— Wells Fargo CEO Timothy Sloan
Investigations launched after the disclosures led to the departure of then-Chairman John Stumpf, to a flotilla of lawsuits and to disclosures of other misdeeds against consumers. Friday's fines apply to two of those practices — charging mortgage applicants fees for delays in closing loans even when the delays were the bank's fault, and sticking hundreds of thousands of auto-loan customers with unnecessary damage insurance policies.
One would think that this evidence of ethical rot permeating an organization would lead to penalties strong enough to goad its executives and shareholders into truly drastic corrective measures. But $1 billion plainly isn't enough to achieve that.
Here are the numbers that count:
To begin with, Wells Fargo is expected to reap the greatest bounty among big banks from the corporate tax cut enacted by Republicans last December — an 18% gain in annual earnings. The first glimmer of that take appeared a week ago in the bank's quarterly earnings for the three months ended March, when it reported profit of $5.94 billion, up 5.5% from a year earlier.
What did the bank do with the money? It shoveled a huge chunk to shareholders, in the form of share buybacks during the quarter totaling $4 billion, or four times the amount it will be paying in fines.
Wells Fargo's CEO Tim Sloan, a veteran insider who landed the top job after Stumpf's departure, expressed great pride in the bank's ability to keep paying handouts to shareholders despite the fines. During a conference call with Wall Street analysts last week, Sloan was asked whether the "overhang" of fines (which the bank said then were coming) would "impact how you're thinking about your near-term buyback plans."
Sloan's concise reply: "No, it doesn't."
This has been a mantra for him. At a Goldman Sachs investor conference on Dec. 5, Sloan listed increasing payouts to shareholders as one of his major goals. "Your expectation, our expectation," he said, "should be that we will continue to increase … our dividend and also increase our share buybacks next year and the year after that and the year after that."
Wells Fargo has announced that four directors, including three of its longest-serving board members, on whose watch the scandals erupted, will retire this month. But that leaves five in place who were serving while the scandals unfolded. And Sloan received a lavish 35% pay increase in 2017, even though the bank's scandals have yet to be fully resolved.
Those are just a couple of signs that Wells Fargo is still using an outdated playbook to address its deep-seated problems — shuffle a few directors into retirement while proclaiming a new dawn. In many ways, however, it hasn't changed. The bank is still insisting on forcing some aggrieved customers into arbitration, for instance; at a Senate Banking Committee hearing in October, Sloan flatly refused to quit using forced arbitration to resolve disputes arising from the bogus account scandal.
On the arbitration issue, at least Wells Fargo is on the same page as the congressional Republican majority and Mick Mulvaney, whom Trump has installed as the CFPB's interim director. They connived in November to reverse a previous CFPB rule prohibiting financial institutions from imposing mandatory arbitration on customers.
Measured against the green light for forced arbitration, where consumers are almost always at a disadvantage, and potentially billions of dollars in gains from a tax cut, how serious is a $1-billion fine? Not nearly serious enough.
Keep up to date with Michael Hiltzik. Follow @hiltzikm on Twitter, see his Facebook page, or email michael.hiltzik@latimes.com.
---