Wells Fargo to pay $1 billion in fines over auto, mortgage lending abuses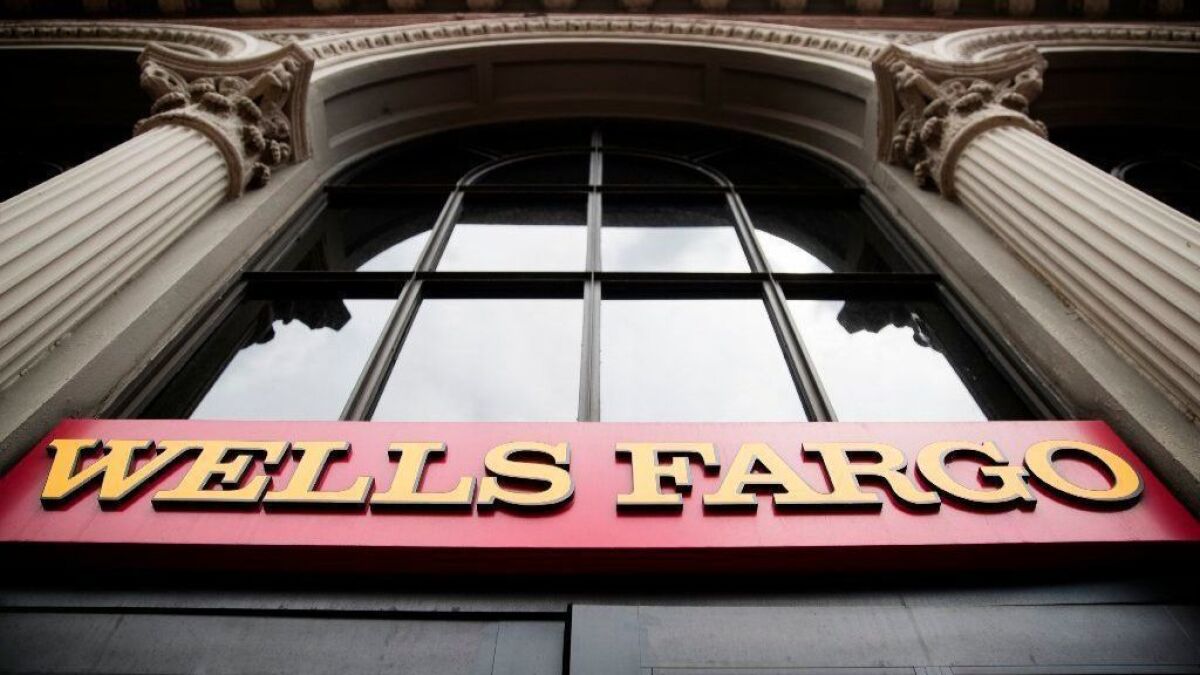 Federal regulators slapped Wells Fargo & Co. with a penalty of $1 billion on Friday, punishing the San Francisco bank for abuses that harmed mortgage and auto loan borrowers, and for what regulators said was a pervasive and "reckless" lack of risk management.
The penalty, announced by the Office of the Comptroller of the Currency and the Consumer Financial Protection Bureau, is the largest levied against a financial firm since President Trump took office. Trump had tweeted in December that penalties against the bank could be "substantially increased."
It's also one of the largest fines levied against any U.S. bank not related to the financial crisis and the first for the CFPB since Trump appointee Mick Mulvaney took over as its interim director last year. In the months since, Mulvaney has been criticized by consumer advocates for trying to diminish the agency's powers.
The new fines dwarf the $185 million Wells Fargo agreed to pay to federal regulators and the Los Angeles city attorney's office in 2016 over the creation of accounts without customers' authorization.
The scandal over unauthorized accounts, a practice rooted in the bank's onerous sales goals and first reported by The Times in 2013, led to increased regulatory scrutiny at Wells Fargo by local, state and federal authorities and to wide-ranging internal reviews of bank practices.
In the year and a half since the September 2016 settlement, the bank has acknowledged other illegal or improper practices in its consumer lines of business, including forcing mortgage borrowers to pay fees the bank should have covered and requiring hundreds of thousands of auto loan borrowers to pay for insurance policies they did not need — in some cases pushing them into default and leading to repossessions.
The OCC fined the bank $500 million. The CFPB said it fined an additional $1 billion but that it would count the OCC fine against that figure, meaning the bank will pay $500 million to each regulator.
The OCC, in a news release announcing the penalty, said it found the bank's risk management had been severely deficient, amounting to "reckless, unsafe or unsound practices." The CFPB's action was narrower, speaking only to the bank's mortgage and auto-loan problems.
Along with the monetary penalties, the bank will have to get regulators' approval on plans to repay customers, correct risk-management problems, hire senior executive officers and make board appointments. The OCC, in its order, also reserves the right to take further action against the bank.
The bank last week in its first-quarter earnings report said that it was in negotiations with the OCC and the CFPB over the latest penalties and warned they could total $1 billion to settle the mortgage and auto loan issues as well as "resolve matters regarding our compliance risk management program."
The statement did not say when a settlement might be finalized, but executives may have wanted to wrap up a deal this week in advance of the company's annual shareholder meeting, which is set for Tuesday in Des Moines.
In a statement Friday, Wells Fargo Chief Executive Timothy Sloan said the regulatory actions "affirm that we share the same priorities with our regulators and that we are committed to working with them as we deliver our commitments with focus, accountability, and transparency."
Last week's announcement sent Wells Fargo shares down 3.4% despite financial results that beat Wall Street expectations. But shares rose Friday, climbing 2% to $52.57.
The new fines mark the second major enforcement action against the bank this year. The Federal Reserve in February said Wells Fargo had engaged in "widespread consumer abuses and other compliance breakdowns" and ordered the bank to cap its growth until it can prove to regulators that it will not endanger customers.
Former Fed Chairwoman Janet Yellen, whose term atop the financial regulator ended the day after those sanctions were announced, described the bank's behavior as "pervasive and persistent misconduct."
The new penalties have not satisfied many of the bank's critics. Rep. Maxine Waters, a Los Angeles Democrat who has called for breaking up the massive bank, said Friday she was disappointed that regulators have not revoked the bank's charter or prosecuted executives.
"I have been clear in the past that fines are not sufficient in addressing the pattern of illegal behavior by Wells Fargo, and this action still does not put the bank's past behavior to rest," Waters said in a statement. "Steeper penalties are still necessary."
Sen. Sherrod Brown (D-Ohio) said he was glad to see the bank face additional penalties, but also estimated that Wells Fargo stands to gain many times the new fines in the form of lower taxes and proposed regulatory changes. The bank reported earlier this year that the recently passed corporate tax cut saved it more than $3 billion in future tax liability alone.
"While these are substantial fines, they barely dent the almost $24 billion the [Trump] administration has and will provide Wells Fargo through tax cuts and proposed capital relief," Brown said in a statement.
Despite the size of Friday's penalty, Wells Fargo can easily absorb the sanction. The bank generated profit of $22.2 billion last year and last week reported $5.9 billion in this year's first quarter. On Friday, though, the bank said it was adjusting those first-quarter results to reflect the fines, cutting profit for the first three months of the year to $4.7 billion.
But more problems and regulatory actions could still arise, even as the bank has moved to institute new controls and alter the makeup of its board.
In March, Wells Fargo reported that authorities have asked questions about its wealth-management business, which may have recommended inappropriate investments for customers, and about issues related to its foreign-exchange practice. Friday's penalties do not appear to resolve those inquiries.
Scott Siefers, an analyst at investment bank Sandler O'Neill, said the wealth-management inquiry appears to be the biggest pending regulatory issue facing the bank, but noted that the Securities and Exchange Commission, Department of Labor and numerous state agencies are still looking into the bank's practices.
"There are other things still outstanding, but the pending one now is wealth management," he said.
At the bank's annual meeting next week, public officials including California Treasurer John Chiang and New York State Comptroller Thomas DiNapoli are expected to call for more changes at the company.
Chiang said he plans to ask bank shareholders to call for an end to Wells Fargo's use of forced-arbitration agreements, which bar customers from suing the bank. DiNapoli wants shareholders to ask for a report on the bank's incentive compensation systems.
The CFPB was an aggressive advocate for consumers under former director Richard Cordray, but Mulvaney has sought to reshape the bureau, saying it should serve finance companies as well as consumers.
The Associated Press reported this month that the bureau has not recorded any enforcement actions since Nov. 21, three days before Cordray stepped down as director.
Over the last few months, Mulvaney has dropped a lawsuit against high-interest lenders affiliated with a Native American tribe in Northern California, sought to undo rules that would rein in payday lenders and asked Congress to water down the bureau's authority to create new rules.
In Friday's news release announcing the penalties, the agency also refers to itself as the Bureau of Consumer Financial Protection, a change from how it has been known since its creation, and used a new agency seal — one with an eagle and a shield — instead of the bureau's more commonly used logo, which shows the letters CFPB with a beam of light coming from the C.
Mulvaney critics and finance industry observers told The Times earlier this year that the bureau, while taking a more laissez-faire approach overall, would probably still go after some bad actors. And Trump last year said in a tweet that fines against Wells Fargo could be "substantially increased."
Mulvaney addressed his critics Friday, saying in the news release, "We have said all along that we will enforce the law. That is what we did here."
Siefers suggested that Mulvaney and the OCC, led by Trump appointee and longtime Los Angeles banker Joseph Otting, saw the new revelations about Wells Fargo's practices as an opportunity to hit the bank with bigger penalties than the agencies did in 2016.
"With the benefit of hindsight, I think we all underestimated what this was going to turn into," he said. "The day the original fine was announced, I think we thought it was going to blow over, but instead it turned into a firestorm. I suspect even the CFPB was a little surprised. You can't have a second opportunity and not take a bigger bite at the apple."
Twitter: @jrkoren
---
UPDATES:
2:45 p.m.: This article was updated with comments from Rep. Maxine Waters, Sen. Sherrod Brown and analyst Scott Siefers.
7 a.m.: This article was updated throughout with additional details and background and with statements from Wells Fargo Chief Executive Timothy Sloan and interim CFPB director Mick Mulvaney.
This article was originally published at 6 a.m.