Column: Drug pricing: That pill that went from $13.50 to $750 can now be had for $1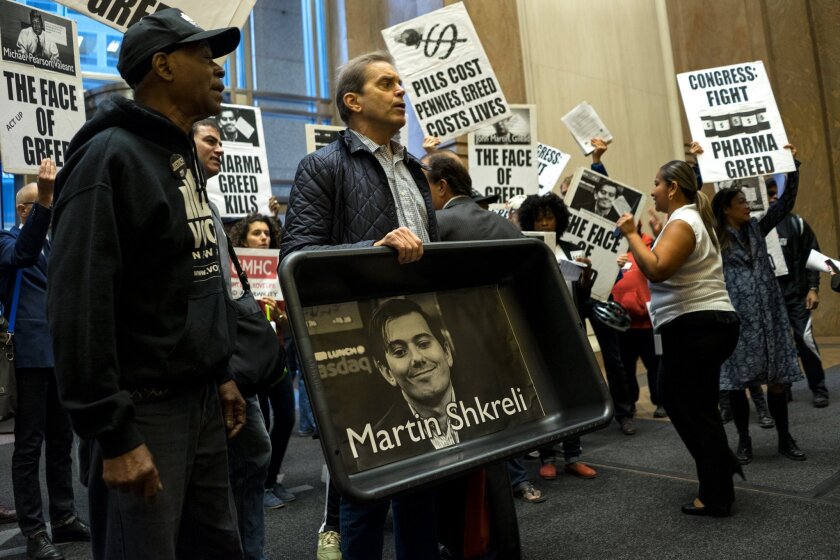 Almost everyone knows the saga of Turing Pharmaceuticals, its drug Daraprim, and its chief executive, Martin Shkreli, whose smug, youthful visage became the vilified face of America's shameful drug-pricing system. But now Turing will have a competitor for the drug whose price it jacked up by 5,000% -- and the rival will sell its version of the drug for a buck per capsule, even less than its pre-Turing price.
A victory for consumers? Not entirely.
To recap the story: Shkreli's firm acquired the rights to Daraprim, a drug with little market demand but immense importance for the thousands of HIV sufferers and other patients who needed it, and then jacked up the price from $13.50 per pill to $750. The cost of a conventional six-week treatment course for toxoplasmosis, the parasite-borne disease for which Daraprim (the brand name for pyrimethamine) is the treatment of choice, thus went from about $1,130 to $63,000.
When you can't copy a drug that's 60 years old and generic, that's a problem.
Imprimis CEO Mark Baum
The question was why no competitor in the generics industry wouldn't seize the opportunity to undercut Shkreli's price. Now, San Diego-based Imprimis Pharmaceuticals has made the question moot, by announcing Thursday that it will make a formulation of pyrimethamine available for about $1 per capsule. That would bring down the cost of that six-week therapy to about $84.
But be forewarned: Imprimis' action may solve the Daraprim problem, but not the drug-pricing problem. It just points to how badly America's pharmaceutical regulations are riddled with wasteful, consumer-unfriendly loopholes.
To begin with, the Imprimis formulation won't be FDA-approved. That doesn't mean the Food and Drug Administration thinks it's unsafe or ineffective, merely that it falls within the rules for "compounding pharmaceuticals," which technically are supposed to be custom-prescribed for "an individually identified patient," Imprimis says. Doctors must identify their patients and write prescriptions for the specific formulation, not for a brand name. It's an easily-managed formality, but nevertheless an extra step in getting patients access to medicine.
In essence, the compounding rules give Imprimis a path around FDA regulations governing generic drugs, which manufacturers must prove are chemically and functionally equivalent to the originals. That's the case even with generics like pyrimethamine, which has been in common use for 62 years. Obtaining FDA approval for pyrimethamine alone could have cost Imprimis years of effort and millions of dollars.
Instead, Imprimis keeps within the law simply by combining pyrimethamine with leucovorin, or folinic acid. The latter helps the body fight off the toxic side effects of pyrimethamine. The CDC actually recommends that the two drugs be taken together under normal circumstances; Imprimis is bundling them together in a single capsule.
"FDA regulations prevent us from copying a commercial formulation," Imprimis CEO Mark Baum told me. "When you can't copy a drug that's 60 years old and generic, that's a problem."
Imprimis is in the compounding business, manufacturing specialized pharmaceuticals at labs in New Jersey and Irvine. Thus far it's small and unprofitable: for the six months ended June 30, the company recorded a loss of $6.8 million on sales of $3.5 million. But Baum says it's on the path to profitability, possibly next year.
Up to now Imprimis has specialized in ophthalmic formulations for post-cataract surgery, but Baum thinks that the run-up in prices for generics like Daraprim present it with a market opportunity. Daraprim is "the tip of the iceberg," he says, adding that Imprimis intends to go after a host of "sole-source generic drugs" -- those for which "prices have gone haywire."
He says doctors and patients have been inundating the company with suggestions for compounds it should market to undercut inordinately expensive formulations on the market. "We don't have enough money in the bank to executive on all the suggestions we've gotten," he said.
The compounding business has had problems associated with lax oversight in the past. In 2012, a nationwide outbreak of fungal meningitis that killed 64 patients was traced to contaminated products of a compounding pharmacy in Framingham, Mass. Federal indictments of 14 officers and employees of the company were handed up last December. The episode also yielded the federal Drug Quality and Security Act of 2013, which gave the FDA the authority to tighten regulation of compounding firms.
Whether the compounding end-run will work with drugs in higher demand than Daraprim, which is used chiefly by toxoplasmosis sufferers with impaired immune systems such as HIV and cancer patients, is unclear. Under the law, bulk compounding is supposed to be permitted only for drugs placed on an FDA shortage list or for which there's a "clinical need." Baum says "we'll have to work collaboratively with the FDA in order to be successful.
He also says that Imprimis' work with pyrimethamine shows that money can be made undercutting profiteers in the generics industry. He says that even at $1 per capsule, his firm's alternative to Daraprim will be in the black. "We're not going to make hundreds of millions of dollars," he says, "but we'll make a beautiful profit."
Keep up to date with the Economy Hub. Follow @hiltzikm on Twitter, see our Facebook page, or email michael.hiltzik@latimes.com.
---
Your guide to our clean energy future
Get our Boiling Point newsletter for the latest on the power sector, water wars and more — and what they mean for California.
You may occasionally receive promotional content from the Los Angeles Times.