AT&T and union workers in California and Nevada reach tentative pact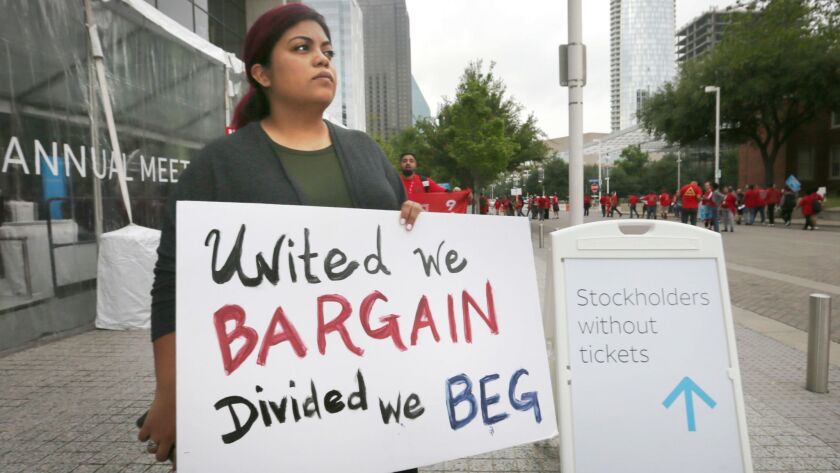 Telecommunications giant AT&T has reached a tentative agreement with a union representing 17,000 employees, including DirecTV technicians, in California and Nevada.
The deal would mark the first time that DirecTV employees have been covered by a union contract, according to the union. AT&T acquired DirecTV, headquartered in El Segundo, in 2015.
The tentative four-year agreement, announced late Friday, includes undisclosed pay hikes, job security measures, retirement benefits and "continued affordable healthcare," according to a statement by CWA District 9 Vice President Tom Runnion.
Union members had been concerned about rising costs of healthcare as well as the company's move to shift jobs to foreign call centers to save money.
The AT&T technicians and call center workers had been working without a contract for more than a year. The union staged a three-day work stoppage last month to protest the lengthy stalemate — frustrating some customers who complained about delays for service.
"I'm proud of their solidarity and of the hard work of our bargaining teams that were determined to reach a fair contract," Runnion said in the statement.
Union members will vote later this month on the proposed contract.
Dallas-based AT&T has been under pressure to control costs as its biggest business — wireless phone service — has matured and faces rising competition from Verizon, Sprint, T-Mobile and cable companies such as Comcast.
"We strive in all of our labor negotiations to reach fair agreements that will allow us to continue to provide solid union careers with excellent wages and benefits, and we believe that's the case with this agreement," AT&T spokesman Marty Richter said in an email.
The company now will focus on negotiating a pact with another bargaining unit of the union, which covers 21,000 employees nationwide who work in the wireless phone division. That group voted in early February to authorize a strike if they could not come to terms on a new deal.
---