The Bezos affair: A tangled web of overlapping relationships and interests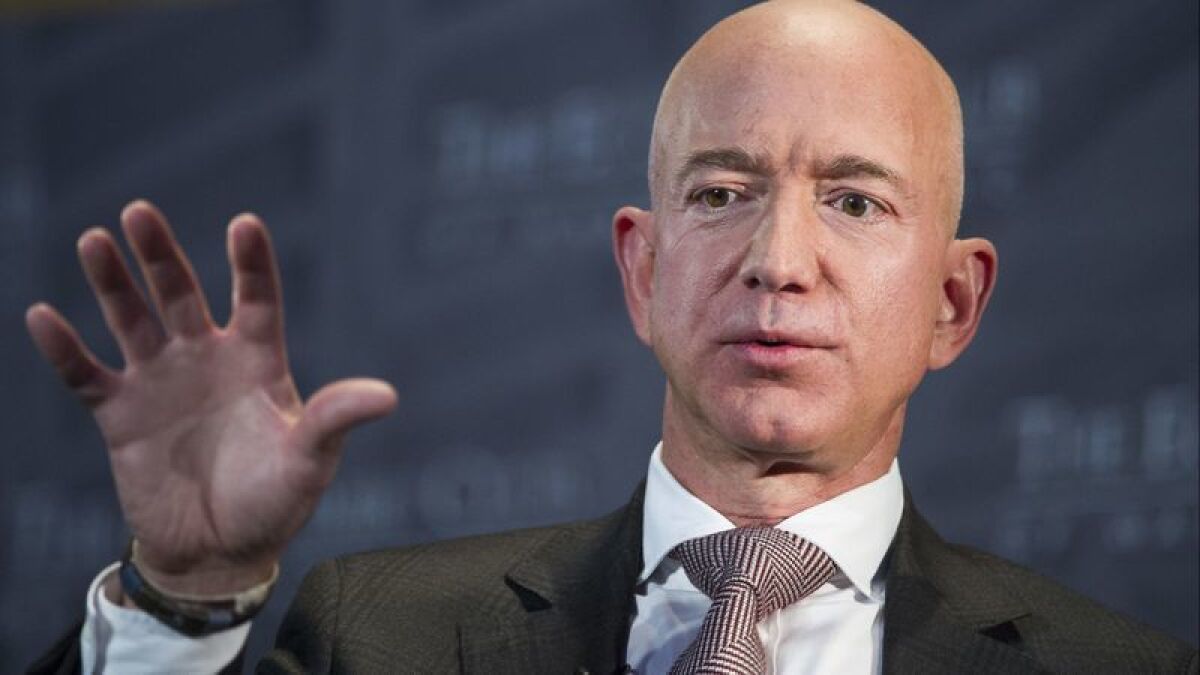 The scandal involving Amazon founder Jeff Bezos, his paramour Lauren Sanchez and the supermarket tabloid the National Enquirer has revealed more than just a series of leaked texts and naked selfies. It has also laid bare a tangled web of overlapping relationships and interests across Hollywood, politics, national security and the kingdom of Saudi Arabia. As William Shakespeare wrote, "Misery acquaints a man with strange bedfellows." Here the Los Angeles Times maps out this strangest of bedfellows matrix.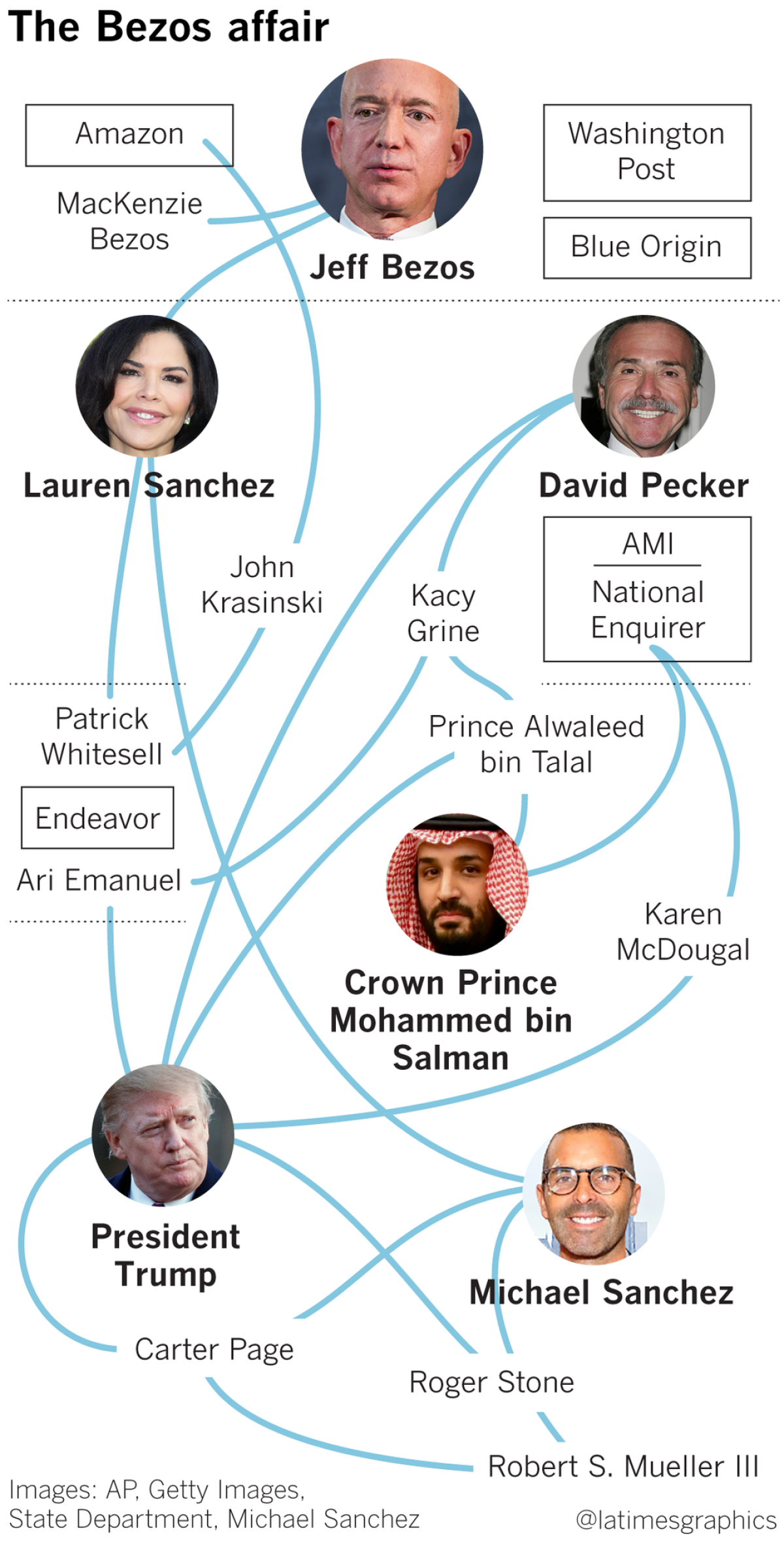 Jeff Bezos
The richest man in the world owns the Washington Post and space tourism outfit Blue Origin. He founded Amazon with his estranged wife, the novelist MacKenzie Bezos. He began an affair with Lauren Sanchez, a former local TV anchor in Los Angeles. She is married to Patrick Whitesell, Hollywood power agent and executive chairman of Endeavor, whose chief executive is Ari Emanuel. The agency has negotiated deals with Amazon Studios, and many of its clients have worked for the studio. Whitesell client John Krasinski stars in the Amazon Prime series "Jack Ryan." The National Enquirer revealed the affair last month and published photos and text messages between Bezos and Sanchez. In an extraordinary blog post this month, Bezos accused the National Enquirer and its parent company, American Media Inc., of "extortion and blackmail," alleging the tabloid threatened to publish more embarrassing pictures unless he abandoned his investigation of the leaks.
Michael Sanchez
Small-time Hollywood manager Sanchez is Lauren Sanchez's brother. His clients have included former "So You Think You Can Dance" judge Mary Murphy and former CNN and Fox conservative pundit and current RT anchor Scottie Nell Hughes. Since 2005, he has been known to place stories about his clients in the National Enquirer. Jeff Bezos' security chief Gavin de Becker has named Michael Sanchez as leaking details about his sister's affair to the National Enquirer. Sanchez has denied leaking any graphic photos to the tabloid. Sanchez, a Republican, has represented Trump foreign policy advisor Carter Page and is an associate of GOP political operative Roger Stone. Page and Stone have come under the scrutiny of special prosecutor Robert S. Mueller III. Last month, the FBI arrested Stone on suspicion of misleading members of Congress. He maintains his innocence.
Donald Trump
Ari Emanuel was once Trump's agent when the future 45th president of the United States starred on the reality show "The Apprentice." Emanuel is said to have introduced American Media Inc. chief David Pecker, publisher of the National Enquirer, to Kacy Grine, a French-born financial advisor to Saudi Prince Alwaleed bin Talal. Grine and Pecker had dinner at the White House with Trump in July 2017. That year, Alwaleed was held in detention along with several other Saudi royal billionaires at the behest of Saudi Crown Prince Mohammed bin Salman. In 1991, Alwaleed helped bail out a deeply in debt Trump, buying his yacht. Four years later, he took a 51% stake in the Plaza Hotel in New York City, then owned by Trump. Last year, AMI published fawning glossy magazine the New Kingdom, celebrating the crown prince and his Vision 2030 economic plan. Grine wrote the only bylined article in the publication. Last year, AMI admitted to paying $150,000 in hush money to former Playboy playmate Karen McDougal to squelch her story of an alleged sexual affair with Trump in exchange for a non-prosecution agreement with the U.S. attorney's office for the Southern District of New York. Federal prosecutors are looking at whether AMI violated a recent agreement in which AMI pledged not to commit any crimes for three years.
---
Inside the business of entertainment
The Wide Shot brings you news, analysis and insights on everything from streaming wars to production — and what it all means for the future.
You may occasionally receive promotional content from the Los Angeles Times.