Bob Iger makes it official (again): He's not running for president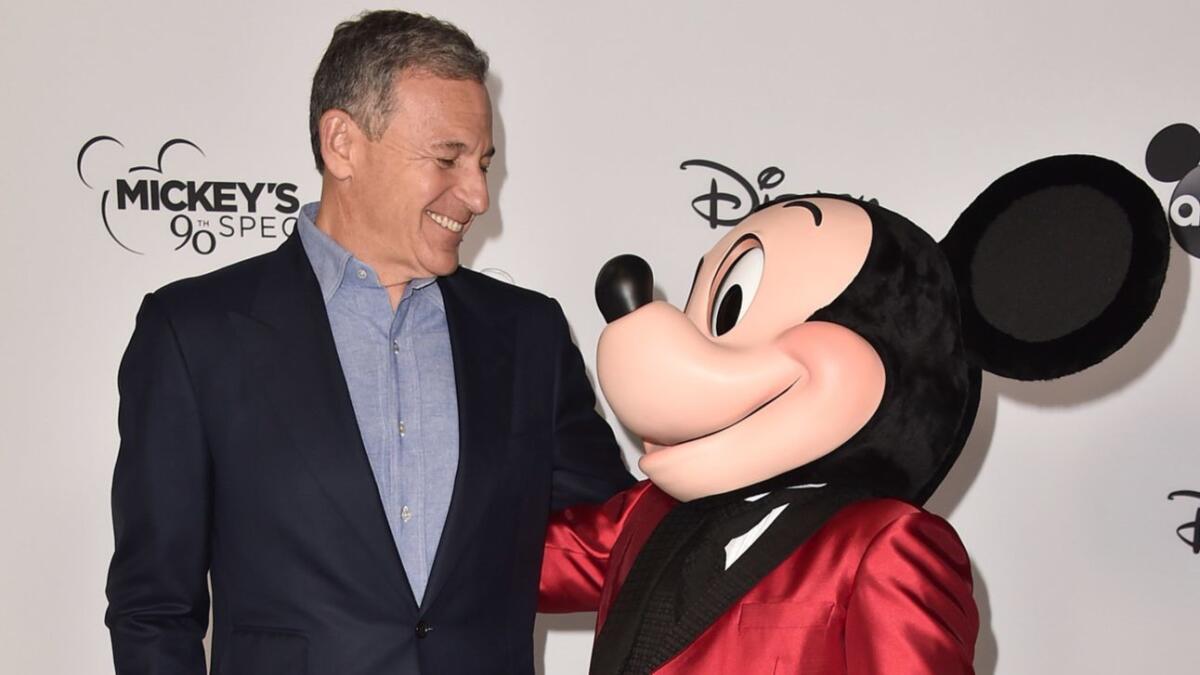 It's pretty clear Bob Iger has plenty on his plate, now that Walt Disney Co. is poised to swallow much of 21st Century Fox for $71.3 billion sometime next year.
But on Tuesday, at the Vanity Fair New Establishment Summit in Beverly Hills, presidential historian Doris Kearns Goodwin couldn't resist hinting about the chief executive's well-known presidential ambitions.
Iger shook his head.
"I am not doing that.... We keep coming back to some of these themes, but no," Iger said later in the discussion. "That is off the table."
It was a year ago at the same conference that Iger spoke passionately about gun control, leading some in Hollywood to openly speculate that he was testing a potential campaign theme. But history took a different course, and within a month, word leaked out that Disney was on its own campaign to buy Fox's prolific television and movie studio, FX cable channels and international properties. After reaching a preliminary deal for the Fox properties in December, Iger once again extended his contract to remain CEO of Burbank-based Disney, this time through June 2021.
On Tuesday, Iger spoke about rising early — at 4:15 a.m. — to enjoy some quiet time before his day begins. He talked about the importance of maintaining a firewall from technology so that he could instead channel energy to be a good leader and take part in other pursuits, including biking and, occasionally, taking his grandchildren to Disneyland.
He recalled that when he was 23, one of his first bosses dismissed him as being "un-promote-able." He wryly said he wished that boss were still around to have seen his career trajectory.
Iger also noted his own optimism about life and business — which he said was one of the keys to his success. He listed Walt Disney and Steve Jobs as his two role models.
Neither Goodwin nor Iger delved deeply into Disney's big swing in buying much of Fox from Rupert Murdoch, but there was a slight undercurrent of his motivations.
"If you are going to fail, fail daringly," Iger told Goodwin and the crowd. "In this day and age, if you are timid and not capable of taking risks, you are not going to enjoy success or make success for your company."
He did acknowledge to Goodwin — who has written books on Abraham Lincoln, Lyndon Johnson, Teddy Roosevelt and Franklin and Eleanor Roosevelt, as well as "Leadership in Turbulent Times" — that he does enjoy a good presidential biography.
Twitter: @MegJamesLAT
Inside the business of entertainment
The Wide Shot brings you news, analysis and insights on everything from streaming wars to production — and what it all means for the future.
You may occasionally receive promotional content from the Los Angeles Times.