'Hidden Figures' is a hit, nearly tying 'Rogue One' for No. 1 box-office spot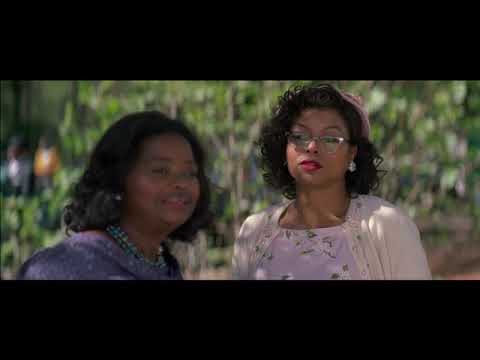 Taraji P. Henson, Octavia Spencer and Janelle Monáe star in "Hidden Figures."
The new movie "Hidden Figures" tells the uplifting true story of a trio of women who defied expectations as they helped the U.S. space program.
Now the tale is also beating the odds at the box office.
The Oscar hopeful surpassed industry projections in its wide-release debut this weekend, collecting $21.8 million in ticket sales Friday through Sunday in the U.S. and Canada, according to studio estimates. If Sunday estimates hold, "Hidden Figures" will nab a very close second-place finish behind "Rogue One: A Star Wars Story" at the domestic box office this weekend, beating fellow newcomer "Underworld: Blood Wars."
The strong debut for "Hidden Figures," which follows a team of black, female mathematicians and engineers who provide key data for NASA missions during the space race, topped pre-release studio projections of about $17 million, despite snowstorms in much of the country. Produced by Chernin Entertainment and 20th Century Fox, "Hidden Figures" was made on a modest budget of $25 million.
"Hidden Figures" had already built up goodwill with audiences during its limited release, pulling in nearly $3 million from just 25 theaters. The film stars Octavia Spencer ("The Help"), Taraji P. Henson ("Empire") and Janelle Monae ("Moonlight"). It also features turns by Kevin Costner and Kirsten Dunst, plus songs by Pharrell Williams.
The movie seems to be resonating with moviegoers, having earned a rare A-plus rating from exit-polling firm CinemaScore — another positive omen for the film's commercial prospects.
"There's an intense want-to-see for this film," said Chris Aronson, head of domestic distribution for 20th Century Fox. "This is an all-audience, multi-generational movie that has enthralled audiences and will for some time to come. It truly is a movie for everyone."
"Rogue One" had the slight edge on "Hidden Figures," scoring its fourth consecutive No. 1 weekend with nearly $22 million in the U.S. and Canada Friday through Sunday. Estimates could change Monday, so "Hidden Figures" still has a chance to come out ahead.
The latest blockbuster in Lucasfilm's "Star Wars" franchise has now grossed $477 million in the domestic marketplace, meaning it will soon pass Disney's "Finding Dory" as the highest-grossing film of 2016. Its worldwide tally stands at $914 million.
Notably, "Rogue One" opened in Chinese theaters on Friday, and has grossed $31 million there so far. Although that's a big number, and good enough to place it at No. 1 in the key market, it's 39% less than the opening weekend for "Star Wars: The Force Awakens."
In third place domestically was "Sing," the cartoon animal musical from Universal Pictures and its in-house animation partner Illumination Entertainment. The movie danced its way to $19.6 million in the U.S. and Canada in its third weekend in theaters, bringing its domestic total to $213 million. It cost $75 million to make.
Meanwhile, horror-action sequel "Underworld: Blood Wars" came in shy of industry expectations, grossing $13.1 million domestically and landing at No. 4. Starring franchise stalwart Kate Beckinsale, "Blood Wars" is the fifth film in the series about a centuries-long conflict between vampires and werewolves, and the franchise appears to be showing its age with U.S. audiences. The 2012 entry "Underworld Awakening" earned $25 million in its initial weekend.
But Sony-Screen Gems spent much less on production this time around ($35 million for "Blood Wars," versus more than $70 million for the previous installment). Sony distribution chief Rory Bruer said the movie should still turn a profit, given lower costs and its international endurance. "Blood Wars" had already amassed $45 million in foreign ticket sales.
"Internationally speaking, we're doing well," Bruer said. "It's always been an international play as much as domestic. We felt fairly certain it would turn out to be profitable if we made it for a price."
"La La Land," Lionsgate's awards season favorite, continued to pick up the tempo as the Emma Stone-Ryan Gosling musical expanded on Golden Globes weekend to 1,500 theaters. The critical darling, directed by Damien Chazelle, earned $10 million, taking a fifth-place finish. The box-office haul for "La La Land" has now reached $51.6 million.
Far less impressive was the wide debut of "A Monster Calls," the new indie fantasy film from acclaimed director J.A. Bayona.
The $43-million movie, about a child who copes with his mother's terminal illness by befriending a tree-monster (voiced by Liam Neeson), grossed $2 million Friday through Sunday. Focus Features handled the American release of the well-reviewed picture, which has been a hit in Bayona's native Spain.
Inside the business of entertainment
The Wide Shot brings you news, analysis and insights on everything from streaming wars to production — and what it all means for the future.
You may occasionally receive promotional content from the Los Angeles Times.