Former colleagues supporting NBC's Tom Brokaw say they're acting on their own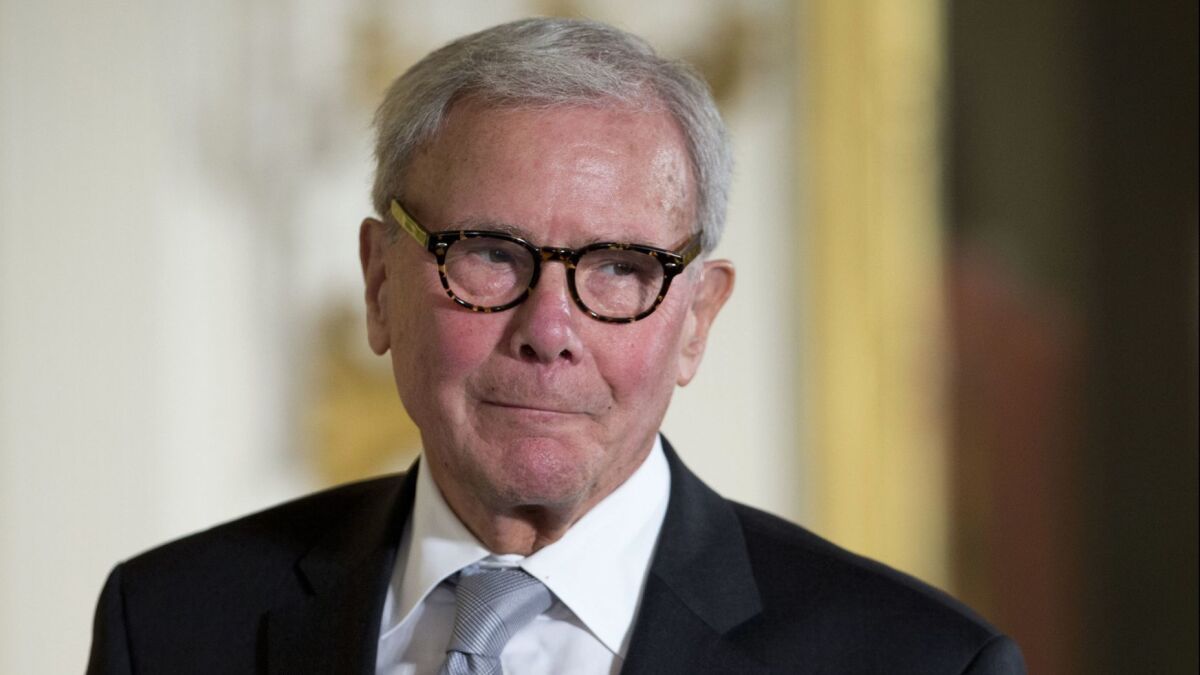 The former NBC News employees who are circulating a letter in support of former anchor Tom Brokaw say they are not acting on behalf of management at the network.
The letter began circulating by email Friday, a day after Brokaw, 78, became the latest network news personality to be accused of sexual harassment. Former NBC correspondent Linda Vester said the "NBC Nightly News" anchor twice made unwanted sexual advances toward her when they worked together in the 1990s.
Brokaw denied Vester's allegations, which were published Thursday in Variety and the Washington Post.
The explosive stories prompted Liz Bowyer, co-head of brand and content strategy at Goldman Sachs who worked as a researcher on Brokaw's books and in his documentary production unit, to write and circulate a missive that reflected her positive experience working with him.
"Tom has treated each of us with fairness and respect. He has given each of us opportunities for advancement and championed our successes throughout our careers," said the letter, which now has more than 120 names of current and former NBC News employees attached to it.
"I wanted to have an opportunity to talk about how the Tom that I know is a man who is full of integrity," Bowyer said in an interview Tuesday.
Bowyer said the letter is not meant to denigrate Vester and she was careful to not make any reference to her alleged experiences.
"I did not want to wade into something that I knew nothing about," Bowyer said.
Although Bowyer informed NBC News management of her intent to distribute the letter, they were not asked to provide any input on it or clear its content, she said.
On Friday afternoon, Bowyer said she reached out to several other former NBC News female colleagues of Brokaw, who shared the letter with others. Within four hours, the statement had 65 names attached to it, including Washington correspondent Andrea Mitchell and MSNBC personalities Rachel Maddow, Stephanie Ruhle and Mika Brzezinski. The list doubled Saturday, including many executives, publicists and directors who have worked with Brokaw.
Bowyer said many of the responses to the letter came with personal anecdotes about working with Brokaw.
An unnamed staffer told the New York Post that she feared "repercussions" if she chose not to sign the letter.
But Bowyer said there was no effort to cajole or coerce women who did not respond to a request to sign on.
Bowyer has not worked for NBC News since 2008 and said she did not know many of the employees who signed the letter. Another former NBC employee involved in the distribution of the letter who spoke on the condition of anonymity said the letter had been distributed as a blind carbon copy so that others were not aware of who already received it.
An NBC News representative said employees have been told they can make their own decision on whether to put their name on the letter.
Many of the biggest female names at the network — including "Today" co-anchors Savannah Guthrie and Hoda Kotb, "NBC Nightly News" Sunday anchor Kate Snow, and correspondent Stephanie Gosk, have not put their names on the document, most likely because they are reporting on the story.
Megyn Kelly, host of the third hour of "Today," said during her program Monday she did not sign the letter because of her experience at Fox News, where some employees rallied around the network's former chief executive, Roger Ailes, after a sexual harassment lawsuit was filed against him by former anchor Gretchen Carlson. Kelly's lack of support for Ailes became an issue until she ultimately revealed that she had been harassed by Ailes as well.
Ailes was ousted amid the allegations and died in May 2017.
"The truth is, you don't know what you don't know," Kelly told viewers. "And that's not in any way to impugn Tom, who I love and who has been so good to me. I'm just saying, you don't know what you don't know."
Bowyer, who like Kelly is a former attorney, said she respected her position.
Twitter: @SteveBattaglio
---
Inside the business of entertainment
The Wide Shot brings you news, analysis and insights on everything from streaming wars to production — and what it all means for the future.
You may occasionally receive promotional content from the Los Angeles Times.