Charter and Tribune talks drag on as New Year's Eve deadline approaches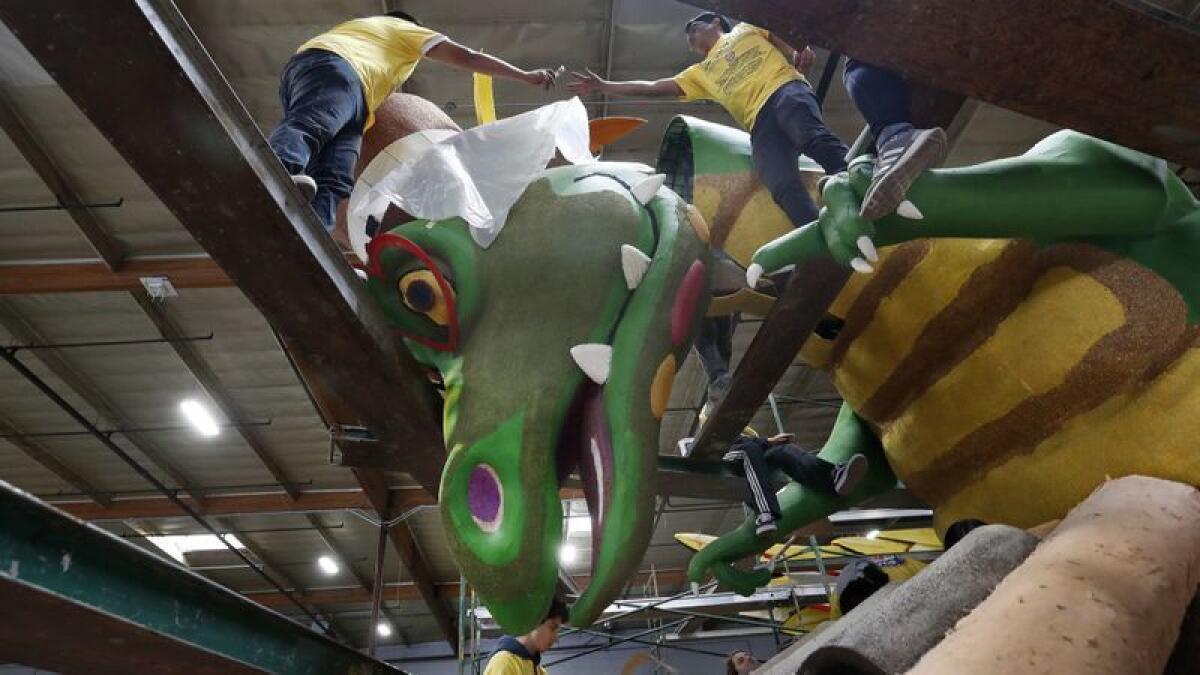 The threat of a New Year's blackout of dozens of Tribune Media television stations on Charter Communications' Spectrum pay-TV service increased on Monday as contract talks between the two companies showed little sign of progress.
More than 6 million homes nationwide — including 1.5 million in the Los Angeles region — would be affected by an outage that could begin as early as 9:01 p.m. Pacific time Monday.
In Los Angeles, Spectrum customers who wanted to watch KTLA Channel 5's popular coverage of the Tournament of Roses Parade on Tuesday might be out of luck — unless there is a New Year's Eve breakthrough in the negotiations. Viewers also might miss KTLA's highly rated morning newscasts.
The two companies have been squabbling over fee increases that Tribune Media has proposed for rights to retransmit the signals of 33 Tribune TV stations in Charter Spectrum markets. The Chicago-based broadcaster also wants Charter to pay more to carry Tribune's cable channel, WGN America, in the Spectrum pay-TV packages.
On Monday, a Tribune Media representative reported a lack of progress in the talks.
"Despite our best efforts, Charter-Spectrum has not engaged in meaningful negotiations with us," Tribune Media spokesman Gary Weitman said in a statement. "We remain ready to negotiate and continue to hope that Charter-Spectrum will reach an agreement with us at fair market rates for the programming offered by our TV stations and cable network, WGN America."
Charter said it was waiting for a counter-offer from Tribune. "We sent them the most recent proposal; we're still waiting on a response," a Charter spokesperson said Monday afternoon in a statement.
Without a new contract in place, or an agreement on a short-term extension, Charter would be forced to remove Tribune station signals from its cable lineup just hours before KTLA begins its marathon parade coverage.
However, viewers would still have plenty of options to see the Rose Parade. Several other broadcasters, including ABC, NBC, Hallmark Channel and RFD TV, also provide live parade coverage. In addition, because KTLA broadcasts its signal over-the-air, viewers with digital antennas also could still receive the station's programming.
Viewers who called KTLA on Monday to hear updates about the contract talks were forwarded to Spectrum's customer service center.
The showdown comes at a troubled time for the pay-TV industry. Like other cable operators, Charter has been struggling to control programming costs in an effort to staunch a migration of customers to lower-cost streaming services. 2018 has been a bruising year for traditional pay-TV operators with the industry on track to lose 1.1 million customers this year, including more than 200,000 cable TV subscribers from Charter, according to recent estimates from MoffettNathanson Research.
Spectrum is the brand name for Charter's pay-TV, internet and phone service.
"Charter is committed to holding down the cost of programming and, in turn, the cost our customers pay for cable television service. Charter's intention is to continue to provide Tribune programming to our customers. We continue to negotiate with Tribune and hope to reach an agreement," the company said in a statement.
Tribune Media also owns CBS and Fox affiliates, including KSWB Channel 5 in San Diego. A protracted blackout could frustrate viewers in those markets, in large part because the NFL football playoffs begin Saturday.
There have been more than 140 television blackouts in 2018, including an unresolved dispute between satellite TV provider Dish Network and Spanish-language media giant Univision Communications. On Monday, an impasse between Verizon Communications and TV broadcaster Tegna Inc. resulted in an outage of network affiliate stations in Washington, D.C., Norfolk, Va. and Buffalo, N.Y. on Verizon Fios systems in those markets.
Blackouts are down substantially from a record of 213 outages in 2017, according to the American Television Alliance, a Washington-based lobbying group that represents pay-TV operators.
The tug of war is over so-called retransmission fees — the money that cable, satellite TV and telephone companies must pay to broadcast local TV station signals as part of their channel lineups. Television station owners this year will collect a combined $10 billion in such fees, up from $9.3 billion in 2017, according to the alliance.
Over the weekend, Verizon and Walt Disney Co. reached an agreement on a new contract — avoiding an ESPN blackout for 4.6 million Verizon Fios customers on the East Coast.
Charter and the Los Angeles Times recently announced the two companies would collaborate on a prime-time news magazine show, "L.A. Times Today," beginning in February on Charter's recently launched 24-hour news channel, Spectrum News 1 in Los Angeles. The program will feature reporters and columnists from The Times discussing news stories.
Twitter: @MegJamesLAT
Inside the business of entertainment
The Wide Shot brings you news, analysis and insights on everything from streaming wars to production — and what it all means for the future.
You may occasionally receive promotional content from the Los Angeles Times.