Comcast gains 363,000 internet service customers, beating expectations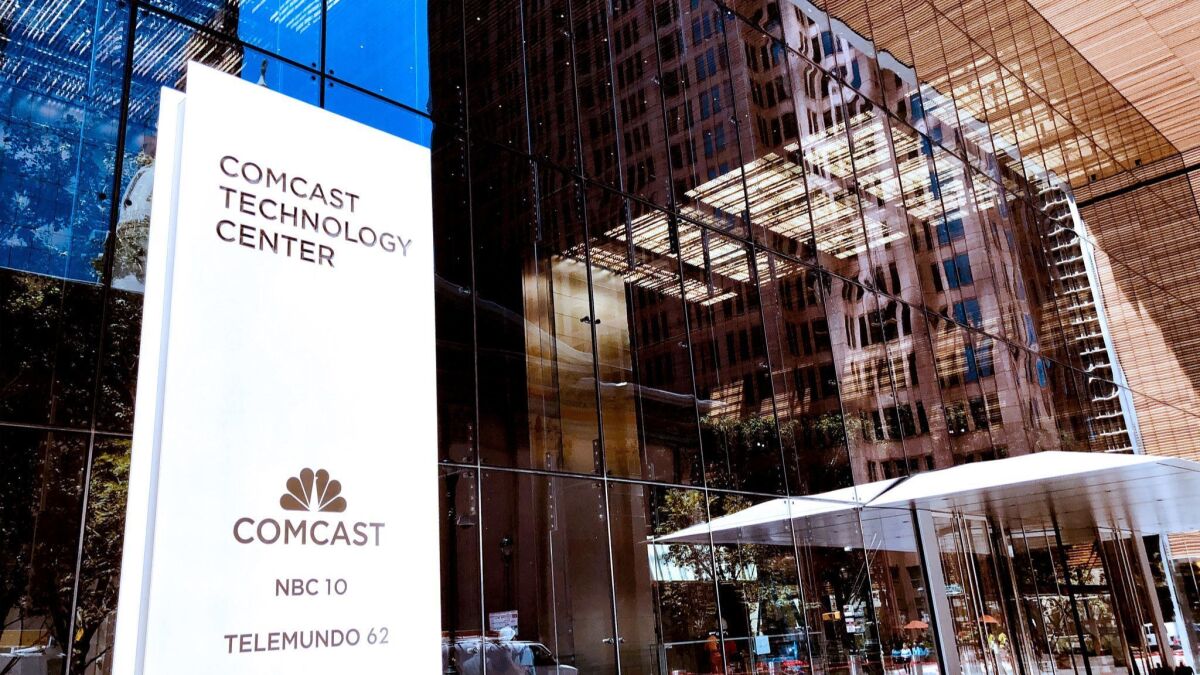 Comcast Corp. showed strong growth in its core cable business with the addition of 363,000 high-speed internet customers in the third quarter, beating Wall Street's expectations and more than making up for its loss of pay-TV customers.
"We surpassed 30 million customer relationships," Brian Roberts, chief executive of the Philadelphia cable giant, told analysts Thursday morning. He said the internet customer gains marked "the best third quarter in 10 years" for Comcast.
Comcast's NBCUniversal unit also delivered solid results. Revenue was boosted by political advertising flowing into MSNBC and other TV networks as well as FIFA World Cup soccer on its Spanish-language Telemundo network. However, Universal Pictures in Los Angeles posted a lower profit, in part because — unlike last year — the film studio did not have a blockbuster animated movie in theaters.
The numbers
Comcast reported net income of $2.9 billion, or 62 cents a share, up from $2.6 billion, or 55 cents, a year earlier. Revenue climbed 5% to $22.1 billion. Analysts polled by FactSet had predicted earnings of 61 cents a share and revenue of nearly $21.9 billion.
At Comcast Cable — which includes the high-speed internet, pay-TV and phone service businesses — revenue rose 3.4% to $13.8 billion — driven by the increases in high-speed internet customers. Adjusted earnings before interest, taxes, depreciation and amortization increased 7.6% to $5.6 billion in the quarter compared with a year earlier.
At NBCUniversal, revenue climbed 8.1% to $8.6 billion. Its pre-tax earnings slid 8.5% to $2.1 billion. Universal Pictures generated revenue of $1.8 billion, up 3.8% over the year-earlier period, but it had considerably higher costs. Film studio pre-tax earnings fell 44.2% to $214 million.
The takeaway
Comcast benefits from being a market leader in selling subscriptions for internet service and pay TV. Owning a leading content company, NBCUniversal, also helps. The upbeat earnings report came the day after AT&T Inc. reported huge losses in its satellite TV business, DirecTV, leading investors to brace for another bitter pill. But Comcast's pay-TV defections were not as bad as Wall Street had feared. Analysts figured that Comcast would lose 153,000 pay-TV customers in the quarter, according to FactSet. Overall, the company posted a net addition of 288,000 customers in the quarter.
Comcast, which reported its earnings before markets opened, rose $1.72, or 5%, to $35.84.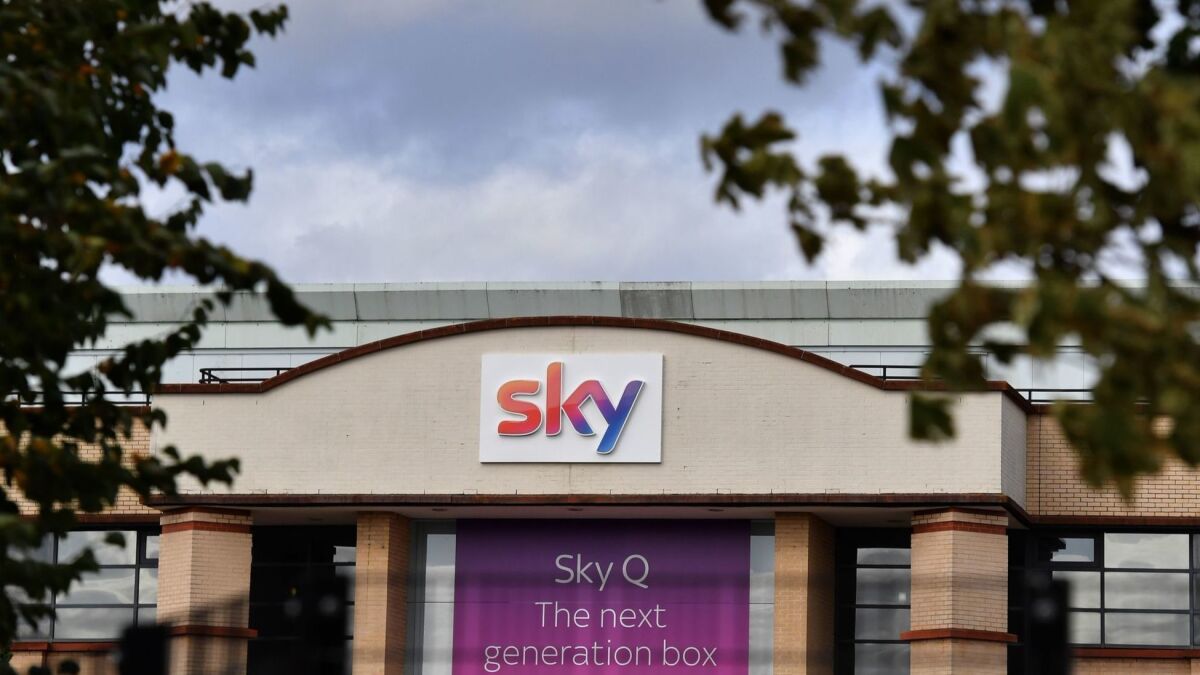 The outlook
The third quarter was full of high drama for Comcast as it tried — and failed — to outmuscle Walt Disney Co. in a struggle to buy much of Rupert Murdoch's 21st Century Fox. Disney came away with that prize. But Comcast was dogged in a second bidding war, this one against Fox and Disney for control of European pay-TV giant Sky. Comcast won control of the London company with a $39-billion bid. Investors worry that Comcast might have overpaid by $5 billion to $10 billion.
Nonetheless, Roberts said he was thrilled with the acquisition of Sky, which Murdoch helped launch in 1989 and build into a pay-TV juggernaut with valuable content and sports rights. Roberts believes the acquisition of Sky could be a game changer. Acquiring Sky nearly doubles Comcast's customer base and gives it a toehold in some of the most prosperous countries in Europe.
"Sky was probably mispriced — and misunderstood," Roberts told analysts in a call. "Rupert Murdoch figured a long time ago that television was going to transform itself. He understood that customers wanted choice and they wanted the best provider."
Twitter: @MegJamesLAT
Inside the business of entertainment
The Wide Shot brings you news, analysis and insights on everything from streaming wars to production — and what it all means for the future.
You may occasionally receive promotional content from the Los Angeles Times.