SAG-AFTRA clashes with advertising industry over rise in non-union commercial production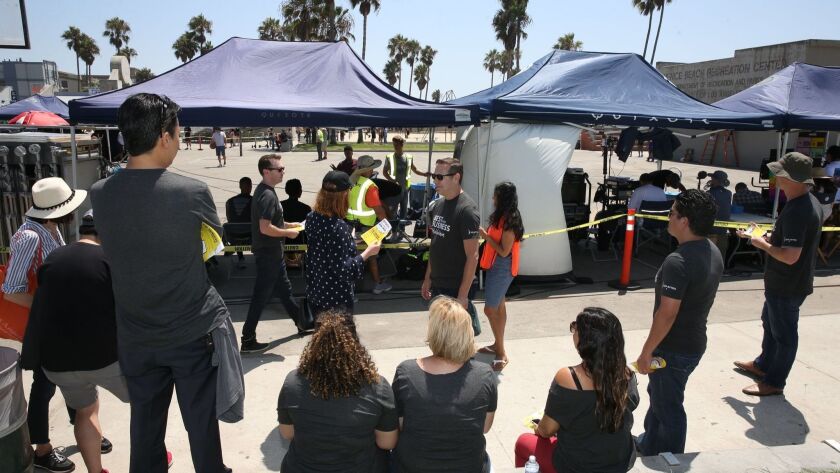 When the NBA descended on Venice Beach last month to film a commercial at the city's famed basketball courts, the cast and crew encountered about 40 members of SAG-AFTRA who were prepared to call foul on the non-union shoot.
Luckily no referees were needed to adjudicate the dispute. Guild members peacefully handed out leaflets and spoke with athletes and performers on the set. But since then, tensions between Hollywood's largest labor union and advertisers have escalated. The discord is being fueled by the boom in commercial production, especially for online and social media sites, coupled by the decision by a growing number of advertisers to film commercials without a SAG-AFTRA contract.
The guild claims its commercials contract can provide performers — actors, voice-over artists, stunt performers and more — better wages and benefits, as well as residuals if a commercial becomes a viral hit on YouTube. The three-year contract also makes provisions for meal periods, auditions, stunt work and overtime.
"People have to be able to earn a basic living," said David White, national executive director of SAG-AFTRA, in an interview. "Over decades of experience, we know they are unable to do this at any length of time unless they are working under the protection of a union."
While most major ad agencies and brands use the union's contract, some firms see it as a burden that will add to their production costs and make them less competitive.
The conflict came to a head last week when Bartle Bogle Hegarty, the London-based ad agency owned by Publicis Groupe, announced that it was withdrawing from the union contract.
"Many of our peer agencies are not signatories, making it hard to compete sustainably in a way that benefits our clients," the agency said in a letter posted to its official site. The agency also said that the union contract was out-of-date for the digital age.
"The current contract was put in place nearly 20 years ago, when the internet was in its infancy and the advertising world was a vastly different place, with vastly different economics," the agency said.
SAG-AFTRA countered by posting a reply on its own site, with the headline: "SAG-AFTRA Calls BS on Ad Agency BBH." The union said it has not yet called for a strike against BBH but will if the matter remains unresolved.
The guild also introduced a low-budget digital waiver last year that is intended to help ad agencies compete with digital agencies that are not signed to the guild's agreement and are luring advertiser clients away on low-budget work.
The Association of Independent Commercial Producers declined to comment.
The conflict comes at a time of upheaval in the advertising industry as more consumers skip traditional TV in favor of popular ad-free streaming services such as Netlifx and Amazon.
Advertising budgets are shrinking and agencies are trying to make commercials for less, said James Sammataro, a partner at Stroock, where he heads the law firm's media and entertainment group.
You have the pressure due to smaller budgets — trying to make the most for the least amount of money. So how do you save money? You go non-union.
James Sammataro
"You have the pressure due to smaller budgets — trying to make the most for the least amount of money. So how do you save money? You go non-union," he said. "People who make a commercial want to know their total bottom-line exposure."
The issue of commercial residuals adds more risk for advertisers, especially if a commercial proves to be popular. Residuals are a form of royalty that actors receive on top of their base salary that is tied to how well a commercial, TV show or movie performs after its initial airing.
Even as advertisers pinch pennies, however, overall commercial production is still on the rise, fueled by the demand for online advertising on sites like YouTube. In Los Angeles, commercial production jumped 9% in 2017 compared with the prior year, according to data from FilmLA, the organization that oversees production permitting. There were 5,548 commercial shoot days in 2017, up from 5,090 days the year before.
The increase was the strongest annual showing for commercials that FilmL.A. noted.
Commercials provide lucrative work for many local actors, as well as crew members, in between TV and film jobs. The union says commercial work totals about $1 billion a year in earnings for its members.
SAG-AFTRA is arguing that the advertising industry is exploiting actors to an unprecedented degree in the digital era. An actor may shoot for only one day, but that performance is often repurposed for several digital platforms, with multiple versions edited from the footage. Advertisers are squeezing more online views out of actors, who aren't always sharing in the wealth, guild leaders contend.
SAG-AFTRA estimates that more than 100,000 of its 160,000 members have done commercial work — from background actors to major celebrities doing product endorsements.
Tensions between the actors guild and the advertising industry have flared sporadically. The most acrimonious battle was the strike SAG launched in 2000 in a dispute over actors' compensation for commercials that ran on cable television. The strike was also led by AFTRA, which was a separate organization before it merged with SAG in 2012.
The guild fined Elizabeth Hurley and Tiger Woods for shooting commercials during the strike. The dispute was resolved after six months.
SAG-AFTRA can use aggressive tactics when it comes to celebrities. Last month, the guild singled out actress Jessica Alba's the Honest Co., a maker of household products, by telling its members not to make commercials for the company because it hadn't signed the commercials contract. The company signed the contract two days after the guild issued the do-not-work notice.
Guild leaders said they are making progress despite the setback with BBH.
"We are signing companies and engaged in multiple conversations with multiple companies who prefer not to fight," said White, the guild's executive director. "Periodically we are engaged in battles with those few companies who are locked into an old model and aren't prepared to evolve with us."
---
Inside the business of entertainment
The Wide Shot brings you news, analysis and insights on everything from streaming wars to production — and what it all means for the future.
You may occasionally receive promotional content from the Los Angeles Times.