Brazil approves Disney's purchase of Fox assets, paving the way for the deal to close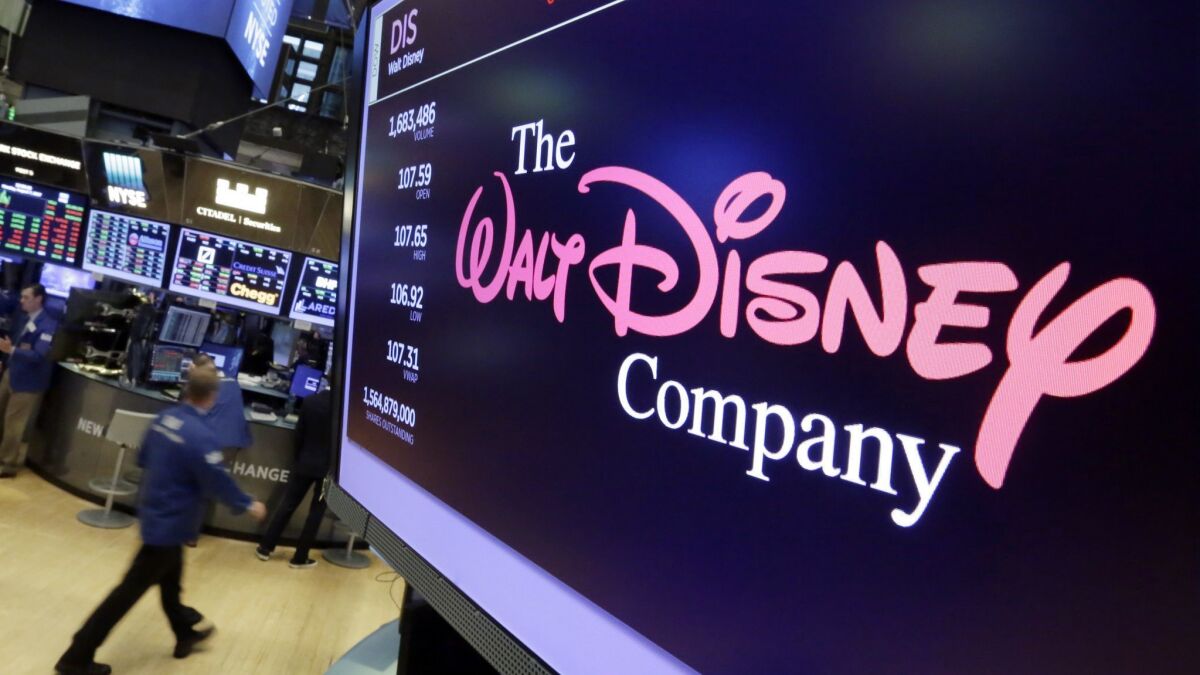 Walt Disney Co. has cleared one of the last major hurdles in its quest to buy much of 21st Century Fox.
Brazil's antitrust regulator, Cade, on Wednesday approved Disney's $71.3-billion deal after Disney agreed to sell a sports channel in Brazil. The South American government's conditional approval of the deal moves the Burbank company significantly closer to gobbling up Fox's prolific production studios and TV channels — a process that could be completed as early as next week.
Disney's takeover of Fox is expected to transform not only Disney but also the entire entertainment industry.
The Disney-Fox combination would create an entertainment Goliath of unprecedented scope and reach. It will help realize the vision of Disney Chief Executive Bob Iger, who began scooping up valuable entertainment brands more than a decade ago to build a company rich in content — and consumer appeal.
To win the Brazilian government's approval, Disney agreed to divest the Fox Sports channel in Brazil, an asset that Disney had hoped to consolidate. Part of the appeal of the Fox transaction was expanding Disney's exposure internationally now that the U.S. entertainment market is mature.
Forcing Disney to give up that channel was important to Brazilian regulators because Fox Sports maintains the rights to popular South American soccer competitions. Disney already owns an ESPN Brazil channel, which it launched nearly 30 years ago. Brazilian officials were worried that Disney would have too much control in the TV sports market if it owned the two popular channels.
"Currently, there is only one big-screen rival capable of competing with these channels," Cade said in a statement issued in Portuguese. The divestiture of Fox Sports in Brazil "aims to eliminate competitive concerns in the pay TV sports channel market."
The regulator worried that if Disney operated the two channels that "would leave the pay-TV sports channel segment even more concentrated, with a high likelihood of Disney's exercise of market power," Cade said. "In addition, there would be potential for reducing the quality and diversity of available sports content, as well as increasing costs that could be passed on to consumers."
Mexico also is planning to demand that Disney relinquish the Fox Sports channel in that country. Mexico has been another major holdout in the deal approval process. Cade, in its statement Wednesday, said that it collaborated with antitrust regulators in Mexico and Chile, which "resulted in a coordinated solution to the case."
Latin American regulators are not the first to demand that Disney shed some sports channels. Last summer, the U.S. Justice Department told Disney that it would not be allowed to own Fox's 22 regional sports channels, including Prime Ticket and Fox Sports West in Los Angeles because Disney also owns the majority of ESPN. So Disney is auctioning off those Fox Sports cable channels.
European regulators in November asked Disney to sell its 50% stake in the A+E Networks, which include the Lifetime and History channels. (Disney is keeping its A+E stake in the U.S.)
Disney had hoped to finalize its Fox purchase, first unveiled in December 2017, by early this year. But it hit a roadblock while trying to secure Brazil's blessing. Disney petitioned the Brazilian agency for approval back in July, but the process slowed. Complicating matters, Cade meets only once a month to consider such transactions — so Disney was eager to stitch up that regulator's approval this week.
Twitter: @MegJamesLAT
---
Inside the business of entertainment
The Wide Shot brings you news, analysis and insights on everything from streaming wars to production — and what it all means for the future.
You may occasionally receive promotional content from the Los Angeles Times.