Disney dealt setback in Redbox copyright dispute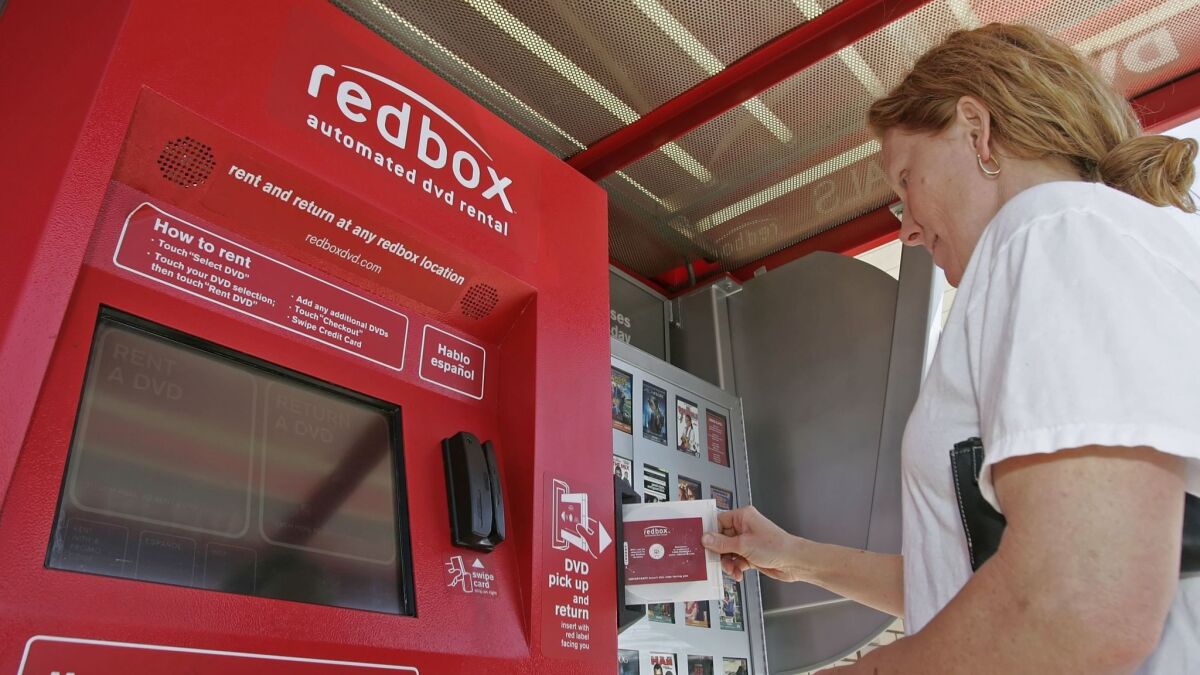 A federal judge in Los Angeles has dealt a serious setback to Walt Disney Co. in the studio's ongoing legal battle to stop kiosk movie-rental company Redbox from selling digital download codes for its films.
U.S. District Court Judge Dean Pregerson on Tuesday denied Disney's request for a preliminary injunction against Redbox, which has drawn the Burbank entertainment giant's ire by selling codes that let customers download digital versions of movies, including "Beauty and the Beast" and "Guardians of the Galaxy Vol. 2."
Disney sued Oakbrook Terrace, Ill.-based Redbox late last year, accusing the company of facilitating copyright infringement and breach of contract.
Redbox does not have a licensing agreement with Disney, which has a long history of feuding with the company over its cheap discs rented from thousands of kiosks at drugstores and supermarkets.
Redbox obtains the studio's digital download codes by buying home video combo packs from retailers, which include a DVD, a Blu-ray disc and a piece of paper printed with the numerical code. The company repackages the codes and sells them at its red kiosks for as little as $7.99.
In its November lawsuit, Disney accused Redbox of reselling the codes in "blatant disregard of clear prohibitions against doing so." Disney noted that its combo packs are marked with the phrase "codes are not for sale or transfer," and that Redbox is violating its terms and conditions.
But Judge Pregerson, in a 26-page order, said that the language on the packaging does not create an enforceable contract between the studio and the buyer. Disney has not demonstrated that its breach of contract argument is likely to succeed on the merits, the judge said.
"Disney's Combo Pack box makes no suggestion that opening the box constitutes acceptance of any further license restrictions," Pregerson wrote in his order.
The judge also sided with Redbox's argument that Disney was misusing its copyrights by trying to restrict the reselling of copies of its movies after they've already been sold at retail.
However, the judge rejected Redbox's argument that its practice of selling digital downloads is protected by the "first-sale doctrine," a part of copyright law that says anyone who buys a copyrighted work is allowed to resell it or give it away, as long as they don't make their own copies to sell. That's the doctrine that protects used DVD stores and CD shops from copyright claims.
The judge ruled that the first sale doctrine doesn't apply because no copy of the work exists in the first place when Redbox buys the combo packs.
The next hearing in the case is March 5, where the court will address Redbox's motion to dismiss Disney's case. Redbox has claimed Disney is trying to muscle out competition for its streaming service set to debut next year.
Redbox was acquired by New York private equity firm Apollo Global Management in 2016 after struggling to adapt to the increasingly digital entertainment market.
---
Inside the business of entertainment
The Wide Shot brings you news, analysis and insights on everything from streaming wars to production — and what it all means for the future.
You may occasionally receive promotional content from the Los Angeles Times.