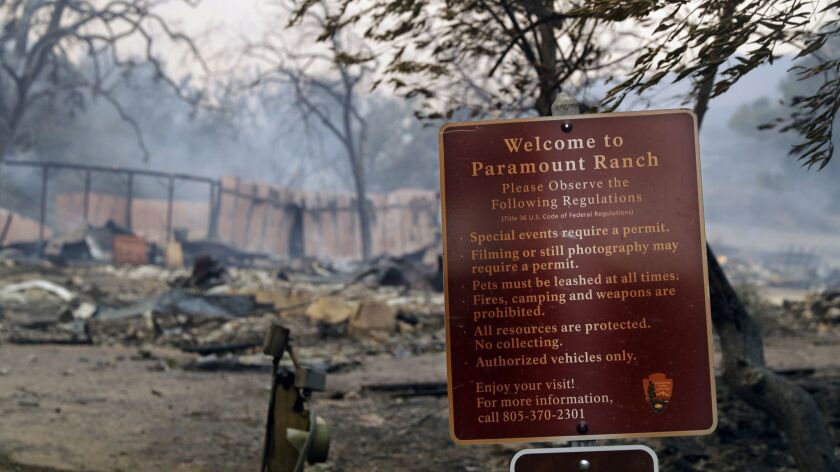 Netflix's teen drama series "13 Reasons Why" was in the midst of shooting its third season in Vallejo when the massive Camp fire and other blazes broke out in Northern California. The sets, which include a sound stage on Mare Island, weren't touched by the conflagrations, but the pervasive smoke that has shrouded much of the Bay Area has forced the show to temporarily halt shooting.
The Paramount-produced series is one of a number of TV and commercial shoots that have experienced disruptions because of the fires that have devastated California in recent weeks. Some prime shooting locations — including Paramount Ranch, which serves as a set for HBO's "Westworld," and the Peter Strauss Ranch in Agoura Hills — have experienced extensive damage, rendering them inaccessible to crews. Large swaths of Malibu that are popular filming sites are also closed to production.
Location managers are used to natural disasters in California, but the scale of the recent fires and their effect on production throughout the state is unprecedented, according to industry veterans. The Woolsey fire in Malibu has destroyed more than 97,000 acres and killed three people, while the Camp fire in Butte County has consumed an estimated 151,000 acres and killed 77 (hundreds of others missing).
"I don't recall anything like this," said Amy Lemisch, executive director of the California Film Commission.
She said the commission, which oversees filming permits for state-owned lands, is currently unable to issue permits for such popular outdoor locations as Pacific Coast Highway, Will Rogers State Historic Park and numerous Malibu locales such as Malibu Creek State Park and Leo Carrillo State Park. Leo Carrillo has served as a location on numerous Hollywood films and TV series, including the 1960s sitcom "Gidget" and recent blockbusters such as Universal's "Furious 7."
The commission said it had to cancel about 30 filming permits for TV shows, commercials and other projects as a result of the fires.
Track key details of the California wildfires »
Production insurance will typically cover costs that resulted from the cancellation of a film permit by the local government, said Peter Williams, global product lead at Allianz Entertainment, which provides film- and entertainment-related insurance products. In recent days, he said, "we have had claims for loss of permit or access to locations, particularly in the Malibu region."
Many productions were affected even before they filed their official permit applications.
The upcoming Netflix series "Dead to Me" was scouting locations around Malibu and Hidden Valley in Ventura County when the fires broke out.
"All five of the locations we scouted that afternoon [and] evening were under mandatory evacuation by the time we got back to the studio," said Debbie Page, a location manager on the CBS-produced series.
"Fortunately for us, we are going to be able to shoot in Hidden Valley at one of the chosen locations, but the director's favorite choice in Malibu seems like a pipe dream now."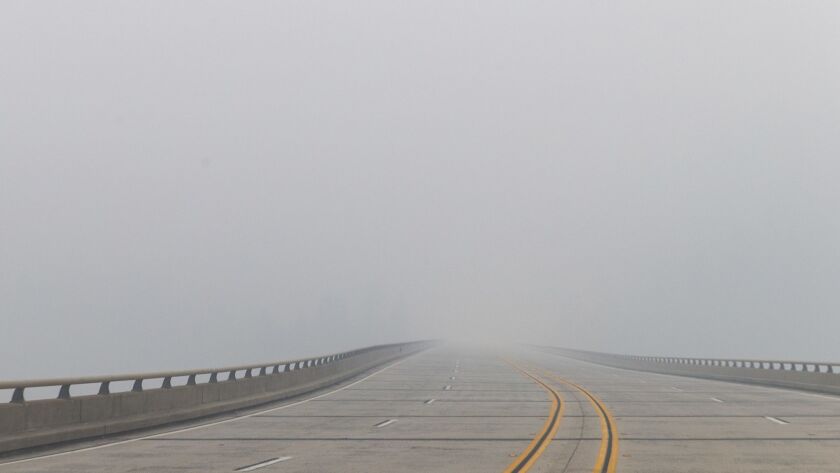 Safety has become a top priority on sets near fire or smoke.
The producers of "13 Reasons Why" are expected to continue testing the air quality on the show's sound stages and permanent sets around Vallejo before production resumes, said a person close to the production who wasn't authorized to speak. The individual said that the hiatus is expected to last through the Thanksgiving break.
Los Angeles-area shoots frequently depend on L.A. Sheriff's Department or California Highway Patrol personnel for security and other services. As a result of the fires, those resources have been stretched thin.
NBC's "Timeless" saw its sheriff's personnel pulled at the last minute last week, as did CBS' "Navy Seals," which was shooting near Compton, said David Stanley, who runs a production management services company.
LIVE UPDATES: The latest on the California wildfires »
Among the L.A.-area ranches that are popular shooting destinations, Paramount Ranch suffered the most serious damage as a result of the Woolsey fire. The ranch's "western town" set that was featured in "Westworld" experienced near total destruction, said officials at the Santa Monica Mountains National Recreation Area.
The plan is to rebuild the Paramount Ranch in the next two years, said superintendent David Szymanski.
At the time of the blaze, "Westworld" hadn't begun production for its third season. The acclaimed series uses dozens of locations throughout Southern California, including Melody Ranch in Santa Clarita, which was not affected.
"It is too early to comment on any potential locations for Season 3, and it would be incorrect to infer that the production schedule and/or debut of Season 3 has been affected by the ongoing tragedy," HBO said in a statement.
Paramount Ranch served as a location for the 2014 movie "American Sniper" as well as countless western films and TV series, such as CBS' "Dr. Quinn, Medicine Woman." The site dates to the silent era, when Paramount Pictures started leasing the land in 1923, eventually buying 2,700 acres four years later. Paramount later sold the ranch, and the property changed hands several times before the National Park Service acquired portions of the original land in 1980.
This isn't the first time natural disasters have affected filming around the state. In 2016, the Sand fire damaged some of the movie ranches in Santa Clarita, including the Sable Ranch, which saw some of its western sets burn to the ground.
Last year's catastrophic mudslide along Highway 1 in Big Sur also disrupted production in the area for months, according to the California Film Commission.
All five of the locations we scouted that afternoon [and] evening were under mandatory evacuation by the time we got back to the studio.
Debbie Page, location manager working on the upcoming Netflix series "Dead to Me"
Location managers who work in California are adept at dealing with a host of natural disasters. In film and TV production, location managers are in charge of finding and securing sets, and obtaining the necessary permits to film there.
They frequently work with location scouts, who are typically responsible for finding exteriors outside of traditional studio sets.
"Location managers and scouts are a fast-moving, resourceful and resilient bunch. We're used to curveballs and we almost always have a few back up locations up our sleeve," said JJ Levine, a vice president of the Location Managers Guild. "We consider ourselves as stewards of the community and quasi-historians in many ways, so of course we are deeply saddened by the loss of locations, which hold many memories for us."
The recent fires come at a time when California is aggressively trying to bring back more TV and movie shoots through tax credits. The state gives $330 million annually in credits to select productions and has persuaded several TV series such as HBO's "Ballers" and Fox's "Legion" to relocate production to the state.
Despite the extensive destruction, productions can still choose from rural lands that were unaffected by the fires.
Among those is King Gillette Ranch in the Santa Monica Mountains near Malibu Creek State Park. The 588-acre ranch was undamaged by the Woolsey fire and is open for filming. NBC's reality competition series, "The Biggest Loser," has filmed extensively on the grounds.
"We were just fortunate enough that the fire didn't touch us," said Scott Hughes, a park ranger for the property. "This one piece of land was very lucky."
---