A movie about the Fox News sexual harassment scandal comes with its own drama
Roger Ailes' ouster as chairman of Fox News amid a sexual harassment scandal in July 2016 ended the career of one of the most powerful and controversial figures in American media.
More than two years later, the story of Ailes' downfall is the subject of a movie that recently began filming in downtown L.A., Pasadena and around Culver City. Paparazzi have trailed actress Charlize Theron, snapping photos of her in costume as former Fox News host Megyn Kelly.
Conservative-leaning Fox News may not have many fans in liberal Hollywood, but the film is generating intense interest, largely because of its own bumpy journey through the unpredictable world of independent film financing.
Until last month, the high-profile project — which stars John Lithgow as the late Ailes and Nicole Kidman as Gretchen Carlson — faced a bleak future. In a series of setbacks and reversals, the production nearly collapsed at the last minute.
The untitled movie was salvaged by Lionsgate and Canada-based Bron Studios, which took over after Annapurna Pictures unexpectedly pulled the plug in early October amid rising financial pressures. California taxpayers also are providing valuable tax credits to allow principal photography to take place in the L.A. area for about a month, even though most of the action takes place in New York.
Annapurna's decision to withdraw came as the ambitious indie film financier and distributor, headed by Megan Ellison, daughter of Oracle billionaire Larry Ellison, was weathering a rough patch, facing financial disappointments and internal shake-ups.
The Los Angeles-based studio has garnered a reputation for backing auteur-driven films, which have earned critical praise and awards but have sometimes flopped at the box office. Recent duds include "Detroit" and this year's "The Sisters Brothers."
The privately held company declined to comment on its finances or the decision to withdraw from the Ailes movie. But a person familiar with the company who was not authorized to comment said Annapurna is refocusing its film division and tightening its belt.
The studio also saw the recent departure of its head of films, Chelsea Barnard, who had been with the company since its 2011 founding.
Indie film financing tends to attract idiosyncratic investors who are not profit oriented. "They are risk tolerant, social impact focused — which helps to buttress the production of dramas, in particular," said Bianca Goodloe, managing partner of Goodloe Law, where she advises on film financing.
Megan Ellison fits much of the description. The 32-year-old maverick producer has spent lavishly on high-art and social justice-themed movies. This year's releases include "Sorry to Bother You" and the upcoming "If Beale Street Could Talk."
Though she shuns interviews, Ellison hasn't been shy about voicing her unfavorable opinions of President Trump on social media. Meanwhile, her father has often sided with conservatives. Larry Ellison has donated to prominent Republican politicians, including California Reps. Kevin McCarthy and Devin Nunes, and to the presidential campaign of Marco Rubio.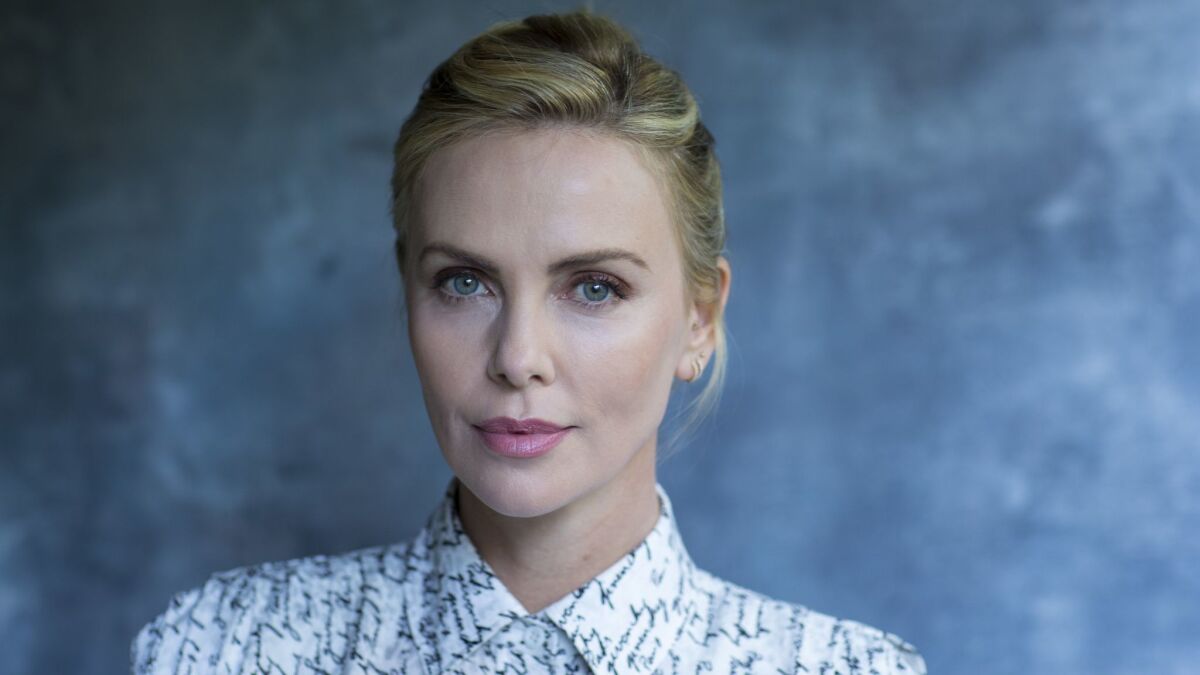 But one person close to the production said that it was the film's budget — estimated to be in the mid-$30-million range — not political differences between father and daughter, that ultimately led to the decision to withdraw from the project. "It was a financial decision and the budget was growing," said the individual, who wasn't authorized to comment.
The person noted that Annapurna is still scheduled to release "Vice," a satirical portrayal of Dick Cheney and his rise to the vice presidency under George W. Bush, in December.
In a statement, Annapurna disputed reports that Larry Ellison has taken a more active role in the studio: "Larry Ellison has been an advisor since day one and has fully empowered Megan as the CEO of the company. His involvement has not changed since she founded Annapurna."
State records show that the Fox News movie is budgeted to spend $24 million on expenditures that qualify for California tax credits, which doesn't count star or director salaries, though the A-list cast is expected to take pay cuts from their usual levels.
The movie has a large ensemble cast and features actors playing such notable Fox News hosts as Sean Hannity and Judge Jeanine Pirro.
But its commercial prospects are uncertain. The movie's subject matter could prove to be a tough sell for audiences, since right-leaning moviegoers might choose to stay away. The film is expected to be released next year.
Jay Roach, the film's director, also helmed the 2012 HBO movie "Game Change," which portrayed Republican vice presidential candidate Sarah Palin in an unfavorable light.
"Controversial and politically driven films are reliably difficult to predict," said Shawn Robbins, chief analyst at Boxoffice.com. "As long as the budget is kept within a reasonable range, it could turn out to be financially successful and perhaps garner plenty of industry buzz."
But, he added, "the national mood these days reflects muted interest in political films — even for audiences that may lean toward the philosophical spectrum endorsed by the movie in question."
The Fox News movie also faces commercial headwinds from a competing project from Showtime and Blumhouse Television — a limited series starring Russell Crowe as Ailes that is shooting in New York.
Despite the drama at Annapurna, the movie was able to rebound from its near-death experience. Annapurna had already been shopping for a deal with additional co-financing partners before the plug was pulled, so the film was able to quickly fill the financing and distribution gaps, according to two people with knowledge of the movie.
One of them was Vancouver, British Columbia-based Bron Studios, which had previously worked with Theron on this year's "Tully." The actress' production company, Denver and Delilah, is a producer on both movies. Bron declined to comment about the specifics of the Fox News movie but acknowledged that it is partnering with Lionsgate.
"The story of these courageous women facing adversity, who risk it all, is definitely in line with the stories we want to tell," Bron said in a statement.
Lionsgate, which has been eager to expand its movie pipeline, also stepped in after Annapurna withdrew. The Santa Monica-based mini-major studio behind "La La Land" and the "Hunger Games" franchise is expected to both co-finance the movie and distribute it domestically and in the U.K., though the deal is still being finalized.
The partnership with Bron happened quickly because the two studios previously worked together on this year's "A Simple Favor" and "The Spy Who Dumped Me."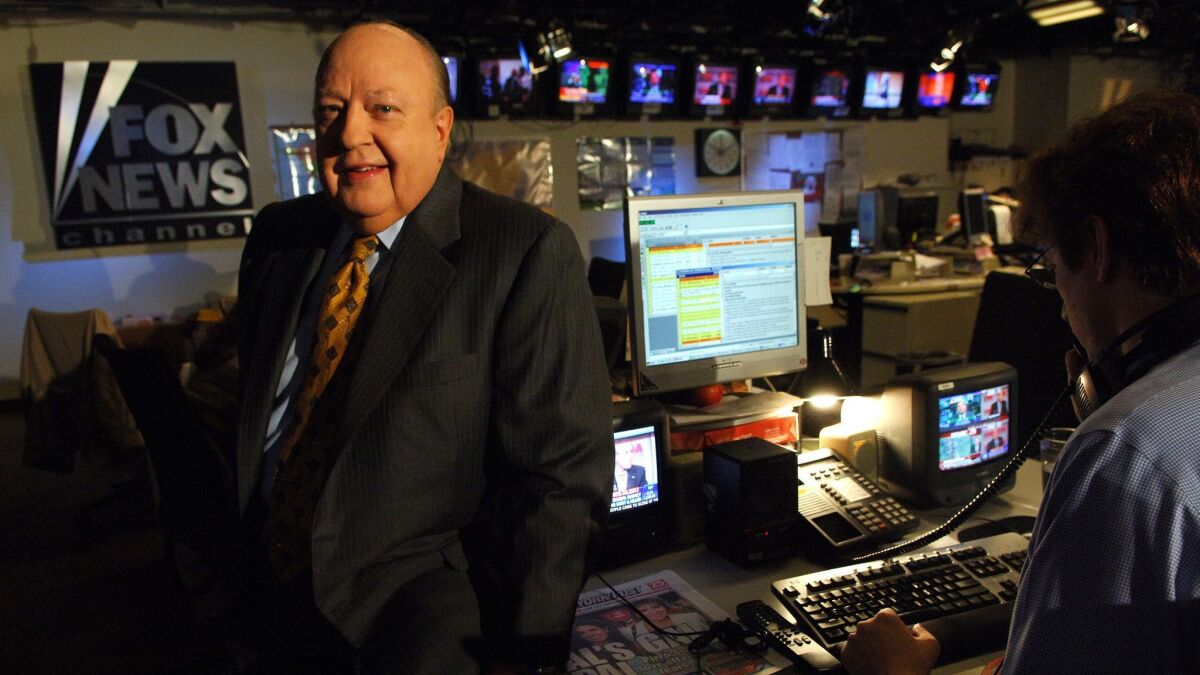 The Fox News movie is also receiving approximately $2.5 million in tax credits from California.
Local permitting records show that the drama has shot scenes throughout the L.A. area, including at California Plaza on Grand Avenue and the Bank of America Plaza on Hope Street, both in downtown L.A. It has also filmed at the former Los Angeles Times building on Spring Street. The building, which the newspaper left this year, also served as a newsroom set for this year's HBO limited series "Sharp Objects."
With a screenplay by Charles Randolph, who won an Oscar two years ago for "The Big Short," the Fox News movie focuses on the events that precipitated the downfall of Ailes, who ruled over the network since its inception in 1996 and turned it into a ratings champion.
Under his leadership, Fox News became a bastion of conservative journalism and opinion. Ailes coined the network's original motto "Fair and Balanced," which was a working title for the movie.
The scandal that took down Ailes began with a sexual harassment lawsuit filed by Carlson, who worked as co-anchor of "Fox & Friends" and hosted other shows. Her accusations in 2016 reverberated to the top echelons of 21st Century Fox, where Rupert Murdoch had been a longtime Ailes supporter.
Carlson alleged that Ailes repeatedly made lewd comments to her, even suggesting that they should have had a sexual relationship. Her colleague Kelly also alleged she was a victim, recalling in her memoirs that Ailes sexually harassed her on more than one occasion. Ailes resigned from the network less than a month after the scandal broke.
Fox News eventually settled the Carlson suit for $20 million. Ailes died last year at 77 after a fall at his Palm Beach home. In May, the network named Suzanne Scott as its new CEO, making her the first woman to lead the organization and the Fox Business Network.
In the last year, the company has instituted mandatory sexual harassment training and has internally promoted an anonymous 21st Century Fox hotline.
Fox News declined to comment on the film.
Inside the business of entertainment
The Wide Shot brings you news, analysis and insights on everything from streaming wars to production — and what it all means for the future.
You may occasionally receive promotional content from the Los Angeles Times.