Fox News ratings slip among older viewers with Bill O'Reilly's departure, but advertisers are back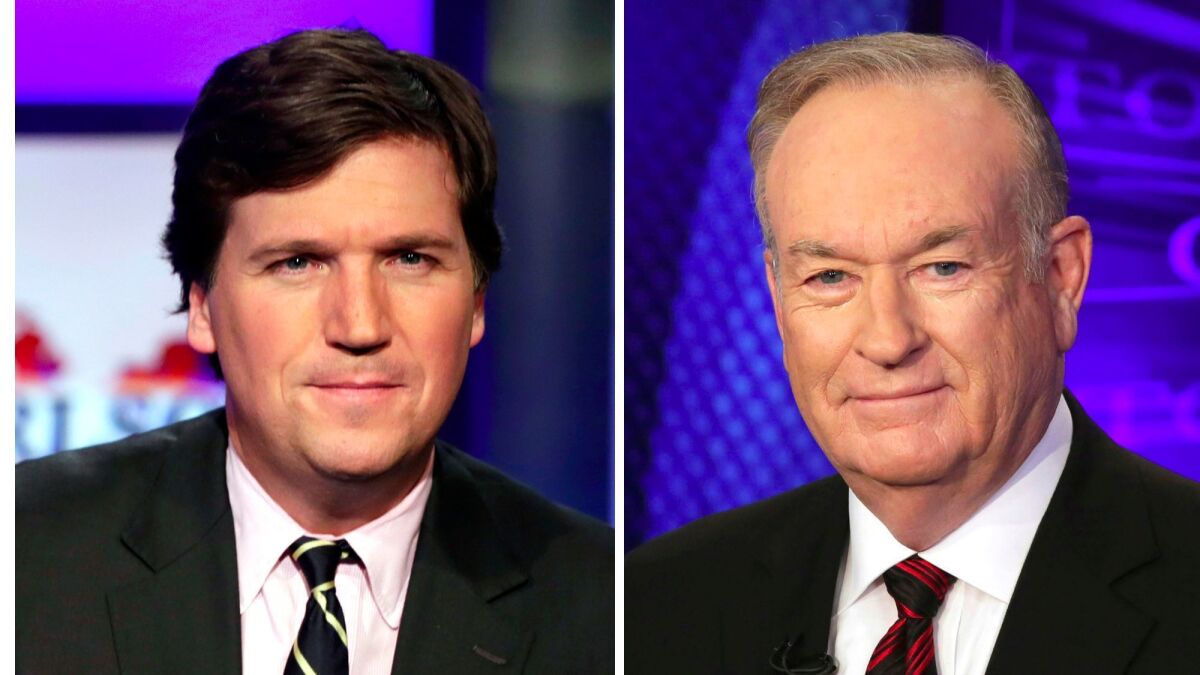 Life without popular host Bill O'Reilly has brought lower ratings to Fox News, but it's been far from a disaster for the top-rated cable news channel.
Fox News has seen a 13% year-to-year decline in viewers since Tucker Carlson took over the hour held down by O'Reilly, its biggest prime-time star, who was fired April 19 over sexual harassment claims leveled against him.
However, Carlson, who on April 24 took over the 8 p.m. Eastern time slot held down for two decades by O'Reilly, has retained most of the 25-to-54 age group coveted by advertisers, according to Nielsen ratings.
In his first two weeks as O'Reilly's replacement, Carlson is averaging 2.75 million viewers, down from 3.17 million viewers during the same period in 2016. Most of those losses are among viewers ages 55 and up. Among the 25-to-54 demographic, Carlson is only down 2%.
Carlson's move into the hour after O'Reilly's departure has also meant the return of advertisers into the time period. After it was revealed that O'Reilly and Fox News had paid $13 million to settle claims by women who said they had been sexually harassed or verbally abused by the anchor, big-ticket sponsors left the show in droves.
Although no network likes to see ratings decline, the results could have been worse after losing a major star such as O'Reilly, who had a strong following among Fox News viewers.
Dan Hill, chief executive of Washington, D.C., strategic communications firm Hill Impact, said it's not a big surprise that Fox News is weathering the lineup change and the ugly scandal that prompted it because there is no serious competition for viewers who want conservative commentary in prime time.
"If there was another conservative news option, they might be feeling the pain," Hill said.
Hill also said loyal Fox viewers may be circling the wagons in response to the negative stories about the network.
"It's almost like the more detractors there are on the left, the more it emboldens their core audience," Hill said. "Their viewers believe people are going after Fox because it's telling the truth — it's part of an attack on what the right believes."
But Fox News may face competition. Some media observes believe that Sinclair Broadcast Group, which recently agreed to acquire Tribune Media and its 42 TV stations, may eventually try to launch its own news service that politically skews to the right of Fox News.
Carlson's ratings are off from the lofty levels that O'Reilly and Fox News reached in the weeks after President Trump's inauguration — O'Reilly had nearly 4 million viewers on some nights. But CNN's ratings have dropped off as well, a sign that the novelty of Trump's unpredictable performance in the White House is becoming less of an attraction. MSNBC's ratings have remained flat since O'Reilly was last on the air April 11.
MSNBC is being sustained by viewers anxious about the president's policies. Those viewers are spending more time watching the channel's liberal commentators in prime time.
MSNBC viewers watched for an average of 310 minutes in prime time in April, up 82% over last year. That put MSNBC ahead of Fox News Channel's 282 minutes, which was up 16%. CNN is down 5% to 110 minutes.
Rachel Maddow, MSNBC's 9 p.m. Eastern anchor, was the most-watched prime-time anchor among the 25-to-54 audience in April.
Twitter: @SteveBattaglio
---
Inside the business of entertainment
The Wide Shot brings you news, analysis and insights on everything from streaming wars to production — and what it all means for the future.
You may occasionally receive promotional content from the Los Angeles Times.