John Lasseter will leave Disney and Pixar at the end of the year, studio says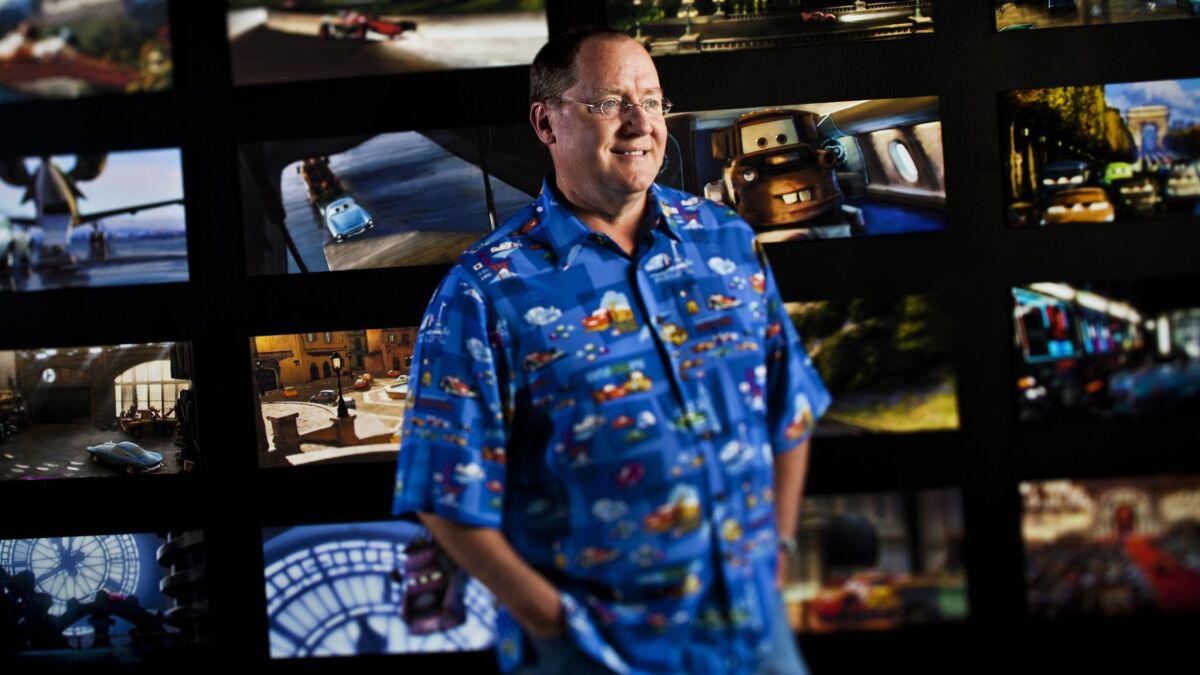 In a dramatic unraveling of one of the most storied careers in animation, Walt Disney Co. is ending its relationship with John Lasseter, the chief creative officer of Pixar and Disney Animation Studios, after allegations that he engaged in inappropriate workplace behavior.
Disney said Friday that Lasseter will leave the company at the end of the year and will assume a consulting role until then, a precipitous fall for one of the most influential figures within the Burbank-based entertainment giant.
"John had a remarkable tenure at Pixar and Disney Animation, reinventing the animation business, taking breathtaking risks, and telling original, high quality stories that will last forever," said Walt Disney Co. Chairman and Chief Executive Robert Iger, in a statement. "We are profoundly grateful for his contributions, which included a masterful and remarkable turnaround of The Walt Disney Animation Studios."
Lasseter, who has been on a leave of absence from Disney since November, spearheaded numerous Pixar hits including the "Toy Story" and "Cars" movies. In a career that seemed to have no limits, Lasseter, 61, ascended the corporate ranks and transformed Disney's vast animation business into a juggernaut for the digital age.
But while the entertainment industry heaped praise on him, some female employees who worked at Pixar alleged that they endured a corporate culture in which women were frequently marginalized and subjected to crude boys-club behavior. They said Lasseter and other senior creative leaders were protected from the repercussions of their conduct.
"The last six months have provided an opportunity to reflect on my life, career and personal priorities," Lasseter said in a statement. "While I remain dedicated to the art of animation and inspired by the creative talent at Pixar and Disney, I have decided the end of this year is the right time to begin focusing on new creative challenges. I am extremely proud of what two of the most important and prolific animation studios have achieved under my leadership and I'm grateful for all of the opportunities to follow my creative passion at Disney."
Disney executives have wrestled for months over what to do with Lasseter. Lasseter has been immensely valuable as a creative leader of Disney's lucrative animation business and his influence has been felt throughout the company, including the theme parks, where he oversaw such attractions as Cars Land at Disney California Adventure theme park. Yet, in the wake of the Harvey Weinstein sexual misconduct scandal and the #MeToo movement, failing to respond decisively to complaints against Lasseter could have backfired and tarnished Disney's standing among female employees.
The Lasseter announcement comes just one week before the opening of Pixar's "Incredibles 2," the sequel to the 2004 hit movie "The Incredibles." The new release is expected to be one of the biggest movies of the summer.
Lasseter was visibly absent from the studio's Hollywood premiere this week. But his shadow loomed. Director Brad Bird addressed the elephant in the room to reporters on the red carpet: "Truly, we only know what you know. John was very involved with this film. 'Incredibles' never would have been made at Disney if John hadn't defended us when we were kind of in our early days. So we don't know anymore than you know."
Disney Animation is scheduled to release "Ralph Breaks the Internet: Wreck-It Ralph 2" in November. The movie is generating strong audience interest.
A native of Whittier, Lasseter launched his animation career as a student at the California Institute of the Arts, where his talent quickly became apparent. Upon graduation, he landed a job as an animator at Disney, developing a passion for computer-generated images. He moved to Pixar in 1984 and has stayed with the company since.
Disney acquired Emeryville, Calif.-based Pixar in 2006 in a $7.4-billion deal. Under Lasseter's creative aegis, Pixar churned out Oscar-winning hits including "Ratatouille," "Wall-E," "Inside Out" and last year's "Coco." But the studio also stumbled with "The Good Dinosaur" and "Cars 3," which were widely regarded as inferior works in the Pixar canon.
Lasseter also took over creative responsibilities at Disney Animation Studios, which released hits such as "Frozen" and "Wreck-It Ralph" under his leadership.
When he took his leave of absence, Lasseter issued a written memo to the staff in which he apologized to "anyone who has ever been on the receiving end of an unwanted hug or any other gesture they felt crossed the line in any way, shape or form. No matter how benign my intent, everyone has the right to set their own boundaries and have them respected."
At the time, Disney said in a statement: "We are committed to maintaining an environment in which all employees are respected and empowered to do their best work."
Disney Animation held a "day of listening" in early February to enable its workers to talk back to management, according to one person with knowledge of the event. It remains unclear whether Pixar held a similar session.
A person close to the studio who was not authorized to comment said Jennifer Lee, co-director of "Frozen" and Pete Docter, the co-director of "Up" and "Inside Out," are frontrunners for larger leadership positions at Disney Animation and Pixar, respectively. Both are in their 40s.
Rich Moore, who directed "Wreck-It-Ralph," is believed to have taken over some of Lasseter's duties at Disney Animation during his absence and could also be in contention for a promotion.
The collapse of Lasseter's career at Disney represents the ignominious end to an illustrious chapter in the world of digital animation.
"After Walt Disney, no single person has had a bigger impact on Disney animation than John Lasseter," said Tom Sito, a former Disney animator and professor of animation at the University of Southern California. "He basically made the concept of computer generated film viable."
Despite his track record, many people in the animation industry expected Lasseter to leave the studio following his leave of absence. "A lot of people in the industry thought if they had brought him back, it would have been a bad move," Sito said. "Emotions were still running high, especially among female employees of Disney and Pixar."
Nine former female employees who worked at Pixar told The Times about their experiences with Lasseter and other senior male executives, in which they described unwanted touching by Lasseter.
"I think his leaving is a healthy indication for the industry," said one former employee.
The larger animation industry beyond Disney has also had a reckoning with sexual misconduct in recent months. In October, Nickelodeon fired "Loud House" showrunner Chris Savino following accusations of sexual harassment from female co-workers.
Lasseter is likely to spend his retirement attending to his winery business, according to people familiar with his situation. They said Lasseter is looking to expand his holdings after some of his wine properties in the Napa Valley were destroyed in the recent fires.
Times Staff Writer Christina Schoellkopf contributed to this report.
---
UPDATES:
4:40 p.m.: This article was updated with reaction to Lasseter's exit.
This post was originally published at 3:05 p.m.
---
Inside the business of entertainment
The Wide Shot brings you news, analysis and insights on everything from streaming wars to production — and what it all means for the future.
You may occasionally receive promotional content from the Los Angeles Times.