NBC's Megyn Kelly blasts Fox News and Bill O'Reilly over sexual harassment claims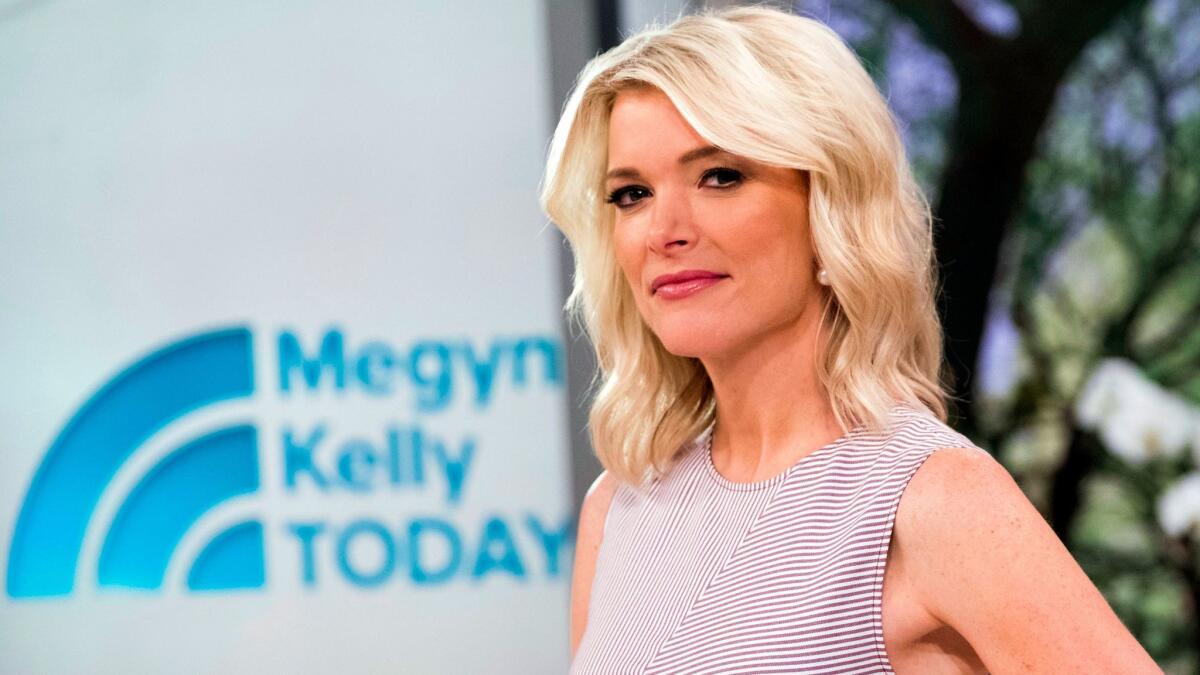 NBC "Today" host Megyn Kelly used her program Monday to take on her former employer, Fox News, over the disclosure that the network signed former host Bill O'Reilly to a $25-million contract in February after he had paid $32 million to settle a sexual harassment claim.
Kelly opened her show by noting how she complained to Fox News about O'Reilly, who had disparaged her publicly for writing about her own experiences with sexual harassment at Fox News in her memoir, "Settle for More."
"The abuse of women, the shaming of them, the threatening, the retaliation," Kelly said in her remarks to her audience. "The silencing of them after-the-fact. It has to stop."
Kelly's book included an account of how former Fox News chief Roger Ailes had made sexual advances toward her early in her tenure at the company. Ailes, who died in May, was fired in 2016 after former Fox News anchor Gretchen Carlson filed a harassment lawsuit against him.
Kelly was among a number of female Fox News employees who came forward with allegations against Ailes during an internal investigation.
O'Reilly did not mention Kelly by name, but blasted his then-co-worker for writing about the harassment during a Nov. 15 appearance on "CBS This Morning."
"I'm not interested in, basically, litigating something that is finished that makes my network look bad," O'Reilly said.
In response, Kelly said she sent an email to then-Fox News co-presidents Bill Shine and Jack Abernethy to complain about O'Reilly's remarks, which she believed discouraged women from coming forth with sexual harassment complaints.
"I wrote, in part: …'Perhaps he didn't realize that his exact attitude of shaming women into shutting the hell up about harassment on grounds that 'it will disgrace the company' is in part how Fox News got into the decade-long Ailes mess to begin with. Perhaps it's his own history of harassment of women which has, as you both know, resulted in payouts to more than one woman, including recently, that blinded him to the folly of saying anything other than 'I am just so sorry for the women of this company who never should have had to go through that,'" Kelly said.
Kelly said Shine replied that he would "deal with" O'Reilly on the matter. But O'Reilly did not back down on his program that night.
"He was permitted with management's advance notice and blessing to go on the air and attack the company's harassment victims yet again," Kelly said.
Six weeks after the exchange, Kelly announced that she was leaving Fox News, where she hosted a prime-time program, for NBC News, where she now hosts the third hour of "Today."
Kelly also told her "Today" audience that Fox News communications chief Irena Briganti leaked damaging stories about her because she did not speak out in support of Ailes after Carlson filed suit against him.
Briganti "is known for her vindictiveness," Kelly told viewers. "To this day, she pushes negative articles on certain Ailes accusers, like the one you're looking at right now."
Briganti was defended by 21st Century Fox in a statement. "Irena is a valued colleague and she has our full support," the company said.
A spokesperson for O'Reilly denied any wrongdoing involving the $32-million settlement with former Fox News legal analyst Lis Wiehl, first reported by the New York Times on Saturday, and said no complaints about O'Reilly's behavior had been made to the network's human resources unit during his tenure.
Kelly's commentary, unusual for a network morning program, is a sign of how much scrutiny is ahead for Fox News over offering O'Reilly a new contract just after O'Reilly settled with Wiehl. Fox News parent 21st Century Fox has stated the company was aware of the settlement but not the financial terms, which were confidential.
O'Reilly, long the highest-rated personality on the cable news network, was fired in April following a harassment complaint by Wendy Walsh, a psychologist who appeared as a frequent guest on his program. Walsh's complaint came after the New York Times reported Fox News had made a total of $13 million in payouts to five women who asserted they were sexually harassed or verbally abused by the host over the last 16 years.
Twitter: @SteveBattaglio
ALSO
Weinstein scandal puts nondisclosure agreements in the spotlight
38 women have come forward to accuse director James Toback of sexual harassment
How Harvey Weinstein used his fashion business as a pipeline to models
---
UPDATES:
1:15 p.m.: This article was updated with a statement from 21st Century Fox.
This article was originally published at 11:15 a.m.
Inside the business of entertainment
The Wide Shot brings you news, analysis and insights on everything from streaming wars to production — and what it all means for the future.
You may occasionally receive promotional content from the Los Angeles Times.