Former CBS CEO Leslie Moonves isn't entitled to $120 million in severance, board finds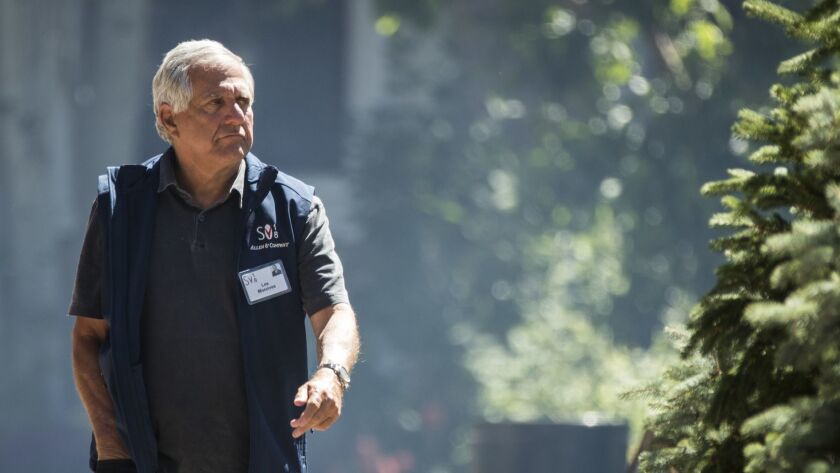 After an exhaustive four-month investigation that rattled CBS to its core, the company's board of directors said Monday it was stripping former Chief Executive Leslie Moonves of his $120-million severance over allegations of sexual misconduct.
The board said it had grounds to fire Moonves for cause after he committed "willful and material misfeasance" and failed to cooperate fully with the company's investigation.
The decision completes a spectacular fall from the pinnacle of power for a man who, just a few months ago, was widely considered the most successful executive in television. He becomes the highest-profile media executive to watch his career — and his once-sterling legacy — collapse under the weight of sexual harassment allegations unearthed in the #MeToo era.
The scandal has unnerved investors and raised troubling questions about CBS' leadership and corporate culture.
Moonves, who was forced to resign Sept. 9, is expected to fight the findings. His lead attorney offered a glimpse into Moonves' legal strategy.
"The conclusions of the CBS board were foreordained and are without merit," attorney Andrew J. Levander said in a statement. "Consistent with the pattern of leaks that have permeated this 'process', the press was informed of these baseless conclusions before Mr. Moonves, further damaging his name, reputation, career and legacy. Mr. Moonves vehemently denies any non-consensual sexual relations and cooperated extensively and fully with investigators."
CBS is trying to move past the sordid affair, but that might not be possible, analysts said.
"It sounds like they are in for a long fight," said Carl Tobias, a professor at the University of Richmond School of Law in Virginia. "There's a lot of money at stake, and his reputation is at stake, so he may think: `Why not fight it?' "
Investigators interviewed more than 350 people in a review that expanded to include scrutiny of the company's overall culture, sweeping in other executives' conduct at CBS News and beyond. CBS last week settled a lawsuit filed by three female employees who claimed they were sexually harassed by the network's former morning news anchor Charlie Rose, who was ousted a year ago. In September, CBS News fired Jeff Fager, the former executive producer of "60 Minutes," after he sent a threatening text message to a CBS News correspondent who was reporting on the matter.
CBS' board, which met several times over the last week, made clear that it felt Moonves' alleged inappropriate actions were troubling and serious.
The investigators reportedly heard testimony that Moonves "received oral sex from at least four CBS employees under circumstances that sound transactional and improper" because there was no hint of romance or a relationship between the CEO and the underlings, according to a draft report that was leaked to the New York Times. He also allegedly destroyed evidence to try to salvage his reputation and preserve his claim to the $120 million in severance.
"Mr. Moonves will not receive any severance payment from the company," CBS' board said.
The board, in its statement, noted investigators did not uncover evidence of widespread problems at the New York-based company. "Harassment and retaliation are not pervasive at CBS," the board said.
Still, the investigators determined that preventing harassment and retaliation did not appear to be a corporate priority. And they found weaknesses throughout the organization, including with its human resources division and in training, development and diversity initiatives.The atmosphere caused some workers to refrain from reporting inappropriate conduct.
"Employees also cited past incidents in which HR and the company did not hold high performers accountable for their conduct and protect employees from retaliation," the CBS board said in its statement.
The board did not detail specific incidents that contributed to its findings.
CBS' acting Chief Executive Joseph Ianniello said in a memo to staff that it was "good to have the investigation behind us" but added that "this does not mean our work is done, or that we don't have significant improvements that will continue to be made."
Activists who called for Moonves' firing praised the board's action.
"This decision shows that across corporate America, the tides are turning, and the new norm is that if you abuse women, you will lose your job and your golden parachute," Shaunna Thomas, co-founder and executive director of the women's group UltraViolet, said in a statement. "While CBS still has a long way to go to fully rid itself of the toxic culture of abuse that Moonves perpetuated, this is a strong step in the right direction."
Moonves was not immediately available for comment.
Over the years, the 69-year-old executive helped shape events that would become part of American pop culture, including NFL Super Bowls, Masters golf tournaments and the high-profile ousting of actor Charlie Sheen from the sitcom "Two and a Half Men."
Moonves was instrumental in the creation of such hits as "Friends," "E.R.," "CSI: Crime Scene Investigation," "NCIS" and "The Big Bang Theory," and he grudgingly served as a longtime foil of David Letterman, CBS' former late night talk show host, as the two had a stormy relationship.
The strong-willed executive, who began his career as an actor, assumed control of a moribund TV network in 1995 and molded CBS into America's most-watched television service. He innately understood the value of hit programming, and demanded that cable operators pay to carry CBS station signals — helping ensure a revenue stream that has become crucial to the survival of broadcast TV. He recognized the value of older shows in CBS' library, such as "I Love Lucy" and "The Mary Tyler Moore Show."
Moonves also was one of America's highest-paid executives. Last year he collected a compensation package valued at nearly $70 million. Much of that was from CBS stock, which he guided to great heights. Forbes has estimated Moonves' wealth at $700 million.
CBS announced last week that it would divide $20 million, which had been part of Moonves' proposed severance, among 18 groups (including the Producers Guild of America, Women in Film Los Angeles and Time's Up) that would work to promote workplace safety and the elimination of sexual harassment.
CBS shares closed down 2.6% Monday, to $46.82. Shares are down 18% this year.
Most the allegations against Moonves were decades old — long before he ascended to chief executive of CBS Corp. in 2006 following the corporate breakup of CBS and Viacom Inc.
The board launched its review in early August, just days after the New Yorker published an article that contained six women's allegations that Moonves forced himself on them in business settings when they were looking for work, or had jobs, in the entertainment industry. The probe was led by the New York law firms Debevoise & Plimpton and Covington & Burling.
After the article, more women stepped forward. Phyllis Golden-Gottlieb, now 82, said Moonves invited her to lunch and then forced her to perform a sex act in the mid-1980s. A noted USC endocrinologist, Dr. Anne Peters, reportedly told investigators that Moonves exposed himself to her during a medical exam in 1999.
Veteran talent manager Marv Dauer provided investigators with text messages he exchanged with Moonves over the last year in which the executive encouraged Dauer to keep quiet about an allegation from one of his clients, actress Bobbie Phillips.
And CBS confirmed last week that it had paid actress Eliza Dushku a $9.5-million settlement after she was written off the Monday night drama "Bull." Dushku had complained about sexually charged comments made by the star of the show, Michael Weatherly. He apologized for the remarks.
But a series of press leaks could give Moonves a legal opening to try to recover some of his $120-million severance package that has been held in a trust account since he resigned.
Moonves' legal team may argue that CBS' board, and the two law firms, violated the confidentiality of witnesses who participated in the investigation, including Moonves.
"The board has some exposure here, too," Tobias, the law professor, said. "Women were experiencing these problems and yet the board didn't uncover these issues. It's a delicate and complicated situation…. Maybe there is some settlement that could be reached that would satisfy everyone rather than prolong the agony."
Twitter: @MegJamesLAT
---
Inside the business of entertainment
The Wide Shot brings you news, analysis and insights on everything from streaming wars to production — and what it all means for the future.
You may occasionally receive promotional content from the Los Angeles Times.