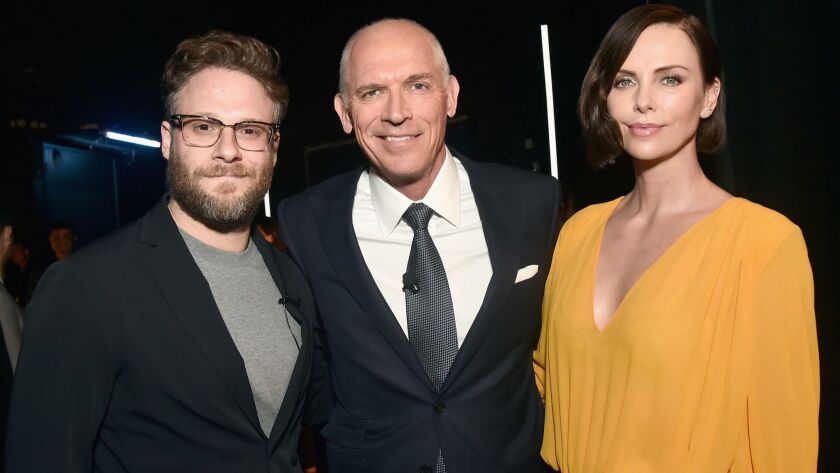 Lionsgate said it has made a "significant investment" in Seth Rogen and Evan Goldberg's production company, Point Grey Pictures.
Santa Monica-based Lionsgate and Point Grey, run by Rogen, Goldberg and James Weaver, also formed a joint venture to produce films, TV shows and digital content for the studio's various divisions.
Financial terms were not disclosed.
Lionsgate executive Joe Drake, who joined the studio as head of its motion picture group in 2017, described the deal as part of a new film strategy to make the company a "home for artists to thrive." He made the announcement at CinemaCon, the annual trade show for exhibitors in Las Vegas.
Lionsgate is "putting the full weight of our studio and all its capabilities behind their creative ambitions, providing a creative space they control where artists can thrive," Drake said. "Together we have big expectations and can't wait to see what they build."
Drake has spent the last year making significant changes to the studio after a period of struggles for Lionsgate's film business, which is known for franchises including "Hunger Games" and "John Wick." The company laid off several dozen workers this year as part of a realignment of its film business.
Lionsgate also has a significant TV production business and owns the pay-cable channel Starz.
Drake has had a long relationship with Point Grey, working with the comedic team on movies including cancer comedy "50/50" as well as films such as "This is the End," "Neighbors" and "The Disaster Artist."
Lionsgate's CinemaCon presentation to exhibitors concluded with a screening of Hollywood-based Point Grey's upcoming romantic comedy "Long Shot," starring Rogen and Charlize Theron. (It also previewed films such as "John Wick: Chapter 3 — Parabellum" and the Rian Johnson crime film "Knives Out.")
Rogen, Weaver and Goldberg joined Drake onstage to heap praise on the executive and also give increasingly over-the-top compliments about his looks, graceful aging, sense of style and height.
"I heard he hand stitches every one of his three-piece suits," Rogen joked. "We're thrilled about our deal with Lionsgate, because we get to hang out with the tallest, best-smelling and baldest man in all of Hollywood."
Twitter: @rfaughnder
---