'Hunger Games' rides. Virtual reality 'Twilight.' How Lionsgate is pushing into the theme parks business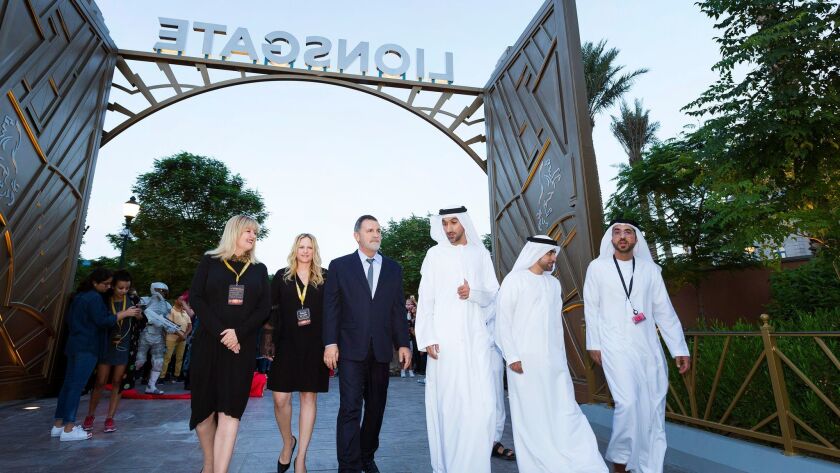 Half a decade after "The Hunger Games" catapulted Lionsgate into the ranks of the major studios, the company is betting its young adult franchises will make it a major player in the theme park business.
The Santa Monica-based film and TV studio has high hopes for Lionsgate-themed parks in South Korea and China set to debut in the next several years. By the end of 2020, the studio says, its stable of indoor and outdoor attractions should bring in about 20 million visitors.
The studio is hoping its budding theme park business will help turn Lionsgate into an international household name and boost its film brands abroad, assuring that its franchises live outside the multiplex.
"One of the things we're really doing is building out the Lionsgate name," said Jenefer Brown, who leads an eight-person Lionsgate team focused on theme parks and live entertainment. "We're canvassing the globe with these large-scale projects so that five years from now, people will know the Lionsgate brand in the location-based entertainment space."
Like Katniss Everdeen fighting the Capitol, Lionsgate faces a daunting task in a theme park industry long dominated by titans such as Disney and Universal.
Lionsgate executives are confident they can compete by tapping fast-growing international markets including China, and by catering to the teens and young adults who flock to the studio's films. The audience for the "Hunger Games" and "Twilight" movies represents a prime demographic for theme park operators looking to sell food, drinks and merchandise, experts said.
"It's not Mickey Mouse, and it's not Superman and Batman, but those franchises have their appeal," said Martin Lewison, a theme park expert and business management professor at Farmingdale State College in New York. "The majority of people who go to theme parks with lots of thrill rides are teenagers, so I can see how that would be attractive to people in that space."
Lionsgate opened its first "Hunger Games"-themed land in Dubai's new Motiongate park in October — including a "Hunger Games" roller coaster and flight simulator.
Next year, the studio will open Lionsgate Entertainment World, a 237,000-square foot development in Hengqin, China, that will be the studio's first indoor theme park. The building, part of a larger entertainment complex, will feature a virtual reality motorcycle simulation ride based on the "Twilight" vampire movies.
Lionsgate's first outdoor park is expected to make its debut in South Korea in 2020 in the tourism hub of Jeju Island, where the company has partnered with Hong Kong-based developer Landing International Development. The project will boast a re-creation of the "Hunger Games" opulent Capitol, complete with a restaurant based on President Snow's mansion. The park is also set to have a horror-themed area with attractions based on "Saw" and "Cabin in the Woods."
"You'll literally feel like you've stepped inside the world of the films in each zone you go into," Brown said.
Suzanne Collins, the author of the "Hunger Games" book series, said she is pleased with the way the studio is adapting the franchise for theme parks.
"They have been remarkably creative, smart and sensitive to the themes and concerns of the property, and it's been exciting to watch how innovative they can be while protecting the integrity of the franchise," Collins said.
Unlike the established giants, Lionsgate doesn't plan to own and operate theme parks, which are costly and risky ventures. Instead, it will license its characters and work with third parties to mine its catalog of film franchises.
Lionsgate collects a cut of ticket sales and merchandise revenue. The studio projects that its location-based entertainment business will generate $250 million in profit during the next 10 years.
Others — including "Walking Dead" channel AMC Networks — have followed similar licensing strategies to carve out a niche in theme parks. The most successful example is Universal Studios' Wizarding World of Harry Potter, based on the films by Time Warner Inc.'s Warner Bros. film studio. That attraction, which opened in Universal Orlando Resort in 2010, significantly boosted attendance.
And the space is becoming more competitive. Disney opened an ornate land based on James Cameron's "Avatar" franchise last year at its Animal Kingdom park in Florida. Disney on Tuesday announced it would invest $2.4 billion to grow its Disneyland Paris park.
"For any business that has to create some return for shareholders, there's no doubt they look at giants like Fox, Disney and Universal, and they're probably jealous," Lewison said.
Lionsgate's foray into the theme parks space has had setbacks. The studio had previously agreed to license "Hunger Games" and other film properties to a company that wanted to build a big, technologically advanced theme park near Atlanta. But that $750-million project was scrapped in 2016 after the developer struggled to raise financing.
The studio's latest U.S. projects are more small-scale, including a newly opened Las Vegas escape room based on the "Saw" movies. Next year, Lionsgate is planning to debut an indoor space in New York's Times Square called Lionsgate Entertainment City, with a "Mad Men" restaurant and lounge. A similar project is planned for Madrid, and the company is considering additional locations in the U.S. and Europe.
"The U.S. market is fairly saturated for theme parks, so it's not where the biggest opportunities exist for us," said Kerry Phelan, head of global franchise management for Lionsgate. "International was a much bigger opportunity."
In addition to the big names such as "Hunger Games," Lionsgate is milking some of its more obscure movies for its licensed theme parks.
"Gods of Egypt," for example, was a pricey flop at the domestic box office in 2016, but Lionsgate is betting that its relative popularity overseas will justify a virtual reality ride in the planned Chinese park. The Sylvester Stallone and Arnold Schwarzenegger action movie "Escape Plan" is getting an escape room game as part of the Lionsgate project in Hengqin. There's also a stunt show inspired by the "Expendables" movies.
"Internationally, people can't get enough of 'The Expendables,'" said Lionsgate worldwide marketing President Tim Palen, whose job includes overseeing the theme park business. "In China, Sylvester Stallone is a god, for real."
Lionsgate has wanted to get into the theme park business since the "Hunger Games" franchise took off in 2012. Encouraged by Chief Executive Jon Feltheimer, Palen created an early presentation of ideas for attractions to pitch to established theme park owners.
"We did have those meetings, and people all said some version of 'you're crazy,'" Palen said.
Lionsgate's theme park strategy took shape in 2014 when Brown joined the company from Thinkwell, where she led projects for Warner Bros. and others. Phelan, a former DreamWorks Animation executive, joined the same year.
Part of the challenge was figuring out how to use Lionsgate's library creatively, while staying true to source material. Dubai's Motiongate park features a live dance show based on the "Step Up" series, not the most obvious candidate for a theme park idea.
The company is working on concepts based on the Keanu Reeves action movie series "John Wick" and the Starz cable show "Ash Vs. Evil Dead."
"We have these multibillion-dollar franchises that resonate with people who go to theme parks," Brown said. "We have the intellectual property that speaks to that audience."
---
UPDATES:
9:45 a.m.: This article was updated with a comment from "Hunger Games" author Suzanne Collins.
This article was originally published at 5 a.m.
---
Inside the business of entertainment
The Wide Shot brings you news, analysis and insights on everything from streaming wars to production — and what it all means for the future.
You may occasionally receive promotional content from the Los Angeles Times.