Megyn Kelly is off the air as NBC News weighs her future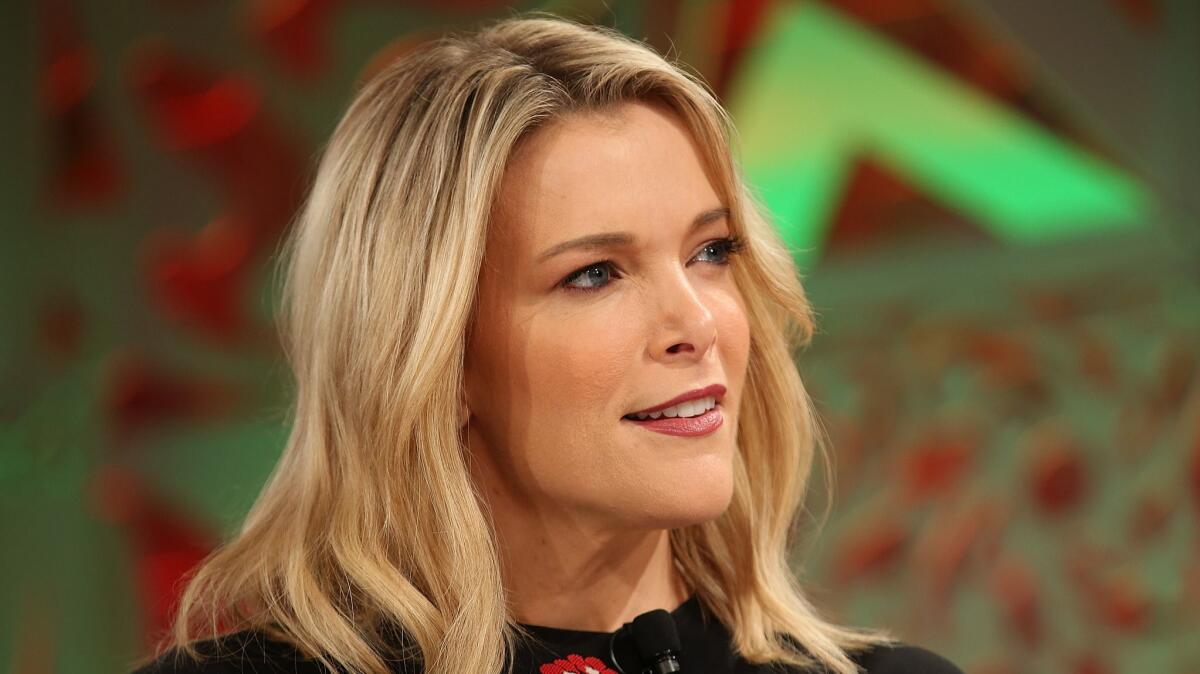 The future of Megyn Kelly's tumultuous and costly run at NBC News appeared to be in doubt Thursday as she did not appear on her morning program "Megyn Kelly Today."
Kelly's absence came a day after she apologized for her on-air comments about using blackface on Halloween. "Given the circumstances, 'Megyn Kelly Today' will be on tape the rest of the week," a network representative said in a statement.
The abruptly scheduled rerun and announcement immediately led to speculation that Kelly is leaving NBC. Such an outcome would represent a spectacular flameout for one of TV news' rising stars — and a humbling retreat for a network that spent heavily to lure Kelly from Fox News.
Kelly's spokesman Davidson Goldin said she had heard nothing early in the day from NBC. But two people familiar with the discussions said conversations about her future had already begun with Kelly's attorney.
NBC News previously announced that Kelly would be part of the network's coverage of the midterm elections on Nov. 6. But the news division has not responded to queries.
In recent weeks, NBC News executives and Kelly have been talking about ending her morning program and giving her a new role in hard news coverage.
That prospect, however, appeared increasingly dim this week after her comments — in which she questioned why the use of blackface on Halloween was inappropriate — generated a major backlash on social media and anger among her NBC News colleagues.
NBC aggressively covered Kelly's flare-up on "NBC Nightly News" on Tuesday and again Wednesday on "Today" in a segment that was followed up with harsh condemnation from two of the program's African American regulars, Al Roker and Craig Melvin.
NBC News Chairman Andy Lack also criticized Kelly on Wednesday at a division-wide meeting that had been scheduled before the flare-up occurred.
Even before the controversy, NBC News would have been hard-pressed to come up with a new position for Kelly that could justify her high salary.
A show on MSNBC appears to be a non-starter. The cable news network is a favorite among politically progressive viewers who would likely balk at the addition of Kelly, who made her bones at the right-leaning Fox News.
Several people inside NBC who were not authorized to discuss the matter publicly believe the Friday talks with Kelly are likely to center on how much money she will get to depart. Kelly has $48 million left on her three-year deal, the highest salary in television news, according to one person familiar with the situation.
Kelly's program has won kudos for providing a platform for many sexual harassment victims who came forward during the #MeToo movement, including those who have made allegations against her former colleague Matt Lauer, the fired "Today" co-anchor.
To the consternation of her network bosses, Kelly called for an outside investigation of the company after NBC News issued an internal review that largely exonerated the network's executives' handling of their fallen star's transgressions.
Kelly joined NBC News in April 2017, after becoming a breakout star as a prime-time host on Fox News where she spent 12 years and demonstrated an independent streak among the mostly conservative lineup on the Rupert Murdoch-owned cable network.
But Kelly's popularity at Fox News — where personalities can thrive with polarizing viewpoints — failed to connect with the "Today" show audience that tends to view the program's co-hosts as family members.
NBC News gave Kelly her own studio with a live audience for her 9 a.m. hour, which saw year-to-year ratings losses of 26% after she took it over.
Tourists who showed up each morning at Rockefeller Plaza in Manhattan, where the 7 to 9 a.m. flagship "Today" program has a street-level studio, had to be induced with Starbucks gift cards and other giveaways to come watch Kelly's program. Publicists representing guests who appeared on "Megyn Kelly Today" were asked to bring people along to fill seats.
Before joining "Today," NBC gave Kelly a news magazine program that competed against CBS' "60 Minutes." But it was pulled after eight episodes in the summer of 2017.
Kelly's expected departure from NBC has raised speculation that she could return to Fox News, where she turned down an offer of $25 million a year before leaving. But Fox News has remained a dominant audience favorite since her departure and indicated there is no desire to have her back.
"We are extremely happy with our entire lineup," a Fox News representative said in a statement.
Megyn Kelly apologizes for blackface comments »
Twitter: @SteveBattaglio
---
UPDATES:
4:43 p.m.: This article was updated to include more details on Kelly's tenure at NBC.
This article was originally published at 7:50 a.m.
Inside the business of entertainment
The Wide Shot brings you news, analysis and insights on everything from streaming wars to production — and what it all means for the future.
You may occasionally receive promotional content from the Los Angeles Times.