CBS Chief Executive Leslie Moonves accused by six women of misconduct dating back to the 1980s, according to report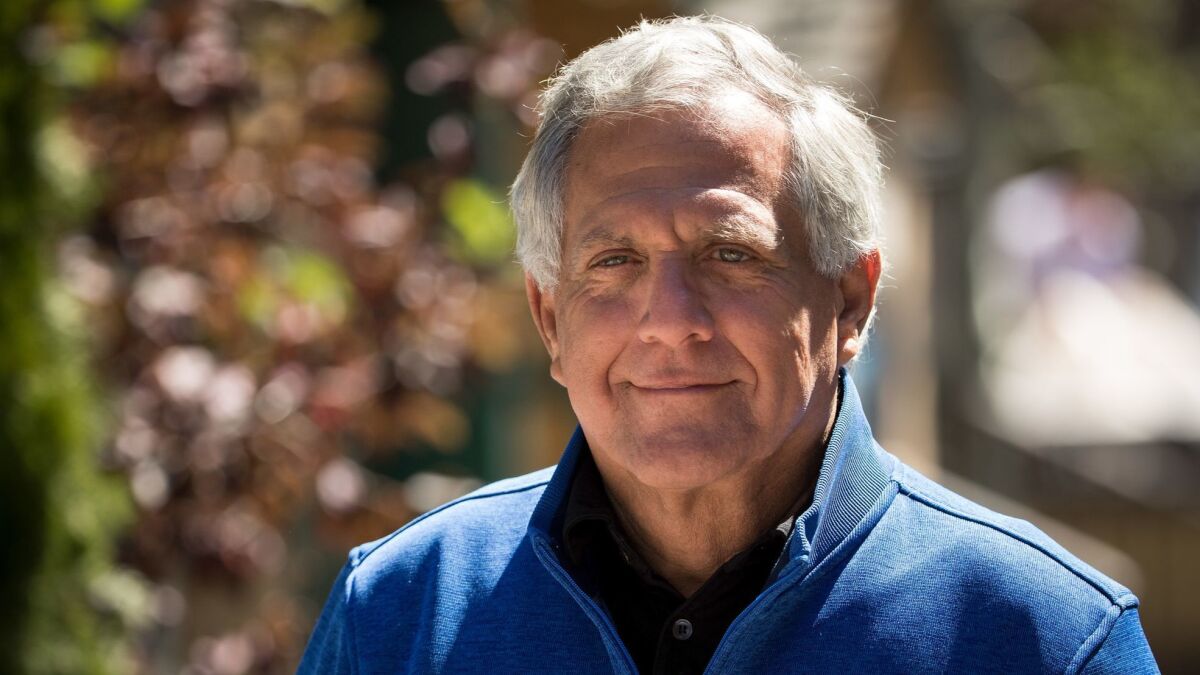 CBS Corp. Chief Executive Leslie Moonves has long been larger than life in Hollywood: the master showman who saved CBS from irrelevance, the savvy programmer with a knack for putting together hit shows and building the venerable network into a TV juggernaut.
But on Friday Moonves no longer controlled the script. CBS stock plunged on rumors that a bombshell report would be published that alleged he sexually harassed multiple women more than a decade ago.
The article, published Friday afternoon by the New Yorker magazine, said six women had accused Moonves of sexually harassing them and that their careers suffered after they rebuffed his advances.
Even before the story came out, CBS' independent directors announced the company had launched an investigation of any inappropriate behavior. The directors said they plan to support Moonves and his management team as the investigation proceeds.
"All allegations of personal misconduct are to be taken seriously," CBS' independent directors said in the statement, which didn't specifically mention Moonves or the report. "The Independent Directors of CBS have committed to investigating claims that violate the company's clear policies."
The allegations will likely hamper Moonves' ability to lead the company and, should he fall, he would become the highest-profile executive whose career came to an abrupt end by allegations of unwanted sexual advances.
"If the claims turn out to have merit, then we would expect that Moonves would almost certainly be forced to step down from the CEO role and the board," media analyst Doug Creutz wrote in a note to investors. "This puts Moonves, the company, and the stock in a very difficult position."
Moonves was on a tightrope even before the claims surfaced. Since May, Moonves and other members of CBS' board have been locked in a bitter dispute with CBS' controlling shareholder, Shari Redstone, who has agitated for big changes at CBS and has pressed for a merger with Viacom Inc., which her family also controls.
CBS said there have been no reports of sexual harassment during Moonves' long tenure. Moonves quickly offered his own statement:
"Throughout my time at CBS, we have promoted a culture of respect and opportunity for all employees, and have consistently found success elevating women to top executive positions across our company," Moonves said. "I recognize that there were times decades ago when I may have made some women uncomfortable by making advances. Those were mistakes, and I regret them immensely. But I always understood and respected — and abided by the principle — that 'no' means 'no,' and I have never misused my position to harm or hinder anyone's career."
CBS stock fell 6% to $54.01. CBS stock is down 8% this year, in part due to frequent rumors that journalists, including New Yorker writer Ronan Farrow, were looking into allegations of Moonves' alleged conduct.
The New Yorker report, written by Farrow, detailed accounts of four of the women who described "forcible touching or kissing during business meetings." The incidents allegedly occurred in the 1980s, 1990s and in 2006. Two of the women alleged that Moonves "physically intimidated them or threatened to derail their careers." The women said Moonves became "cold or hostile" after they rejected his advances and that they believed their careers were damaged.
"He has gotten away with it for decades," writer Janet Jones was quoted in the article. She alleged that she had to push Moonves away after he forcibly kissed her at a work meeting in 1985. "And it's just not O.K."
Actress Illeana Douglas, 53, who has appeared in HBO's "Six Feet Under" and such films as "Goodfellas," alleged that Moonves pinned her on a couch and began "violently kissing her" during a meeting in his office in 1997 when she was cast in a network pilot. She lost her job on the show, and said Moonves told her she would "never work at this network again."
CBS said that Moonves acknowledged trying to kiss the actress, but denied assaulting her.
Moonves, 68, has been a titan of television for nearly three decades. Before joining CBS in 1995 as the company's entertainment president, Moonves ran Warner Bros. television, where he developed such blockbuster shows as "ER" and "Friends." Prior to Warner Bros., Moonves had a successful run at Lorimar Productions, a hit-making machine behind some of television's biggest shows in the 1980s, such as "Dallas" and "Knots Landing." Moonves arrived at CBS when the network was struggling by relying heavily on such mainstream fare as "Murder She Wrote" and "Touched by an Angel."
Steadily, Moonves helped rebuild the network, introducing such shows as "Survivor," "CSI: Crime Scene Investigation," "NCIS," and "The Big Bang Theory." He became chief executive of CBS Corp. in 2006 when controlling shareholder Sumner Redstone divided his empire into two publicly traded companies, CBS and Viacom Inc.
Moonves has been married to Julie Chen, who hosts the CBS' daytime show "The Talk," since 2004. He married her shortly after his divorce from Nancy Wiesenfeld, his wife of more than 25 years, had been finalized.
"Leslie is a good man and a loving father, devoted husband and inspiring corporate leader," Chen wrote in a statement on Twitter. "I fully support my husband."
The controversy comes amid a particularly bitter public fight between Moonves and Redstone. She has overseen the family's voting stake in CBS and Viacom since 2016, when her father, Sumner, became ill.
The board members seemed to suggest — but did not state — that they believed Redstone was planning to use the report to discredit Moonves. Some within CBS believe that Redstone might have played a role in the article by contributing information.
"The timing of this report comes in the midst of the company's very public legal dispute," the CBS directors said.
Redstone flatly denied that she was involved.
"The malicious insinuation that Ms. Redstone is somehow behind the allegations of inappropriate personal behavior by Mr. Moonves or today's reports is false and self-serving," Shari Redstone's spokeswoman, Sara Evans, said. "Ms. Redstone hopes that the investigation of these allegations is thorough, open and transparent."
Damaging revelations could roil the company at a difficult time when legacy media is struggling to adapt to the digital age. A weakened Moonves could give Redstone added ammunition to force a change at CBS or allow a merger with Viacom, which owns Nickelodeon, MTV, BET, Comedy Central and the Paramount Pictures.
"This (a) sets up a very messy succession scenario and (b) greatly increases the likelihood that the Redstones prevail in their fight, with a probable outcome of [Viacom CEO] Bob Bakish eventually presiding over a recombined CBS/Viacom," Creutz wrote.
The New Yorker article also delved into the broader culture of CBS and its vaunted news division, which fired news anchor Charlie Rose in November after eight women who worked at his PBS talk show told the Washington Post he had groped them, exposed himself or spoke to them inappropriately. PBS also canceled his nightly talk show, "Charlie Rose." Managers were made aware of Rose's conduct, according to the Post, but CBS News said its human resources department never received a harassment complaint about Rose until after his termination.
Friday's story alleged Jeff Fager, the former chairman of CBS News and current executive producer of "60 Minutes," behaved inappropriately toward female colleagues and allowed harassment to occur in the division. Fager strongly denied the allegations in the New Yorker report.
"CBS is very mindful of all workplace issues and takes each report of misconduct very seriously," CBS said in a statement. "We do not believe, however, that the picture of our company created in The New Yorker represents a larger organization that does its best to treat its tens of thousands of employees with dignity and respect."
Farrow and the New York Times were awarded a Pulitzer Prize in April for their work that documented widespread sexual misconduct against disgraced movie mogul Harvey Weinstein that sparked the #MeToo movement. Since the Weinstein allegations were first uncovered, there have been a cascade of investigations and reports that have prompted resignations, reassignments and the side-lining of key figures, including including Pixar Animation's former chief creative officer, John Lasseter, and movie producer Brett Ratner.
"We are seeing vigorous discourse in our country about equality, inclusion and safety in the workplace, and CBS is committed to being part of the solution to those important issues," CBS said.
Twitter: @MegJamesLAT
---
UPDATES:
5:05 p.m.: This article was updated with more details about the allegations.
3:20 p.m.: This article was updated with information from the New Yorker article and a statement by Moonves.
12:30 p.m.: This article with updated with a statement from a representative of Shari Redstone, analyst commentary and more information about CEO Leslie Moonves' career.
10:20 a.m.: This article was updated with additional information about the New Yorker report.
This article was originally published at 9:30 a.m.
---
Inside the business of entertainment
The Wide Shot brings you news, analysis and insights on everything from streaming wars to production — and what it all means for the future.
You may occasionally receive promotional content from the Los Angeles Times.