MoviePass faces criticism — again — for making customers upload photos of tickets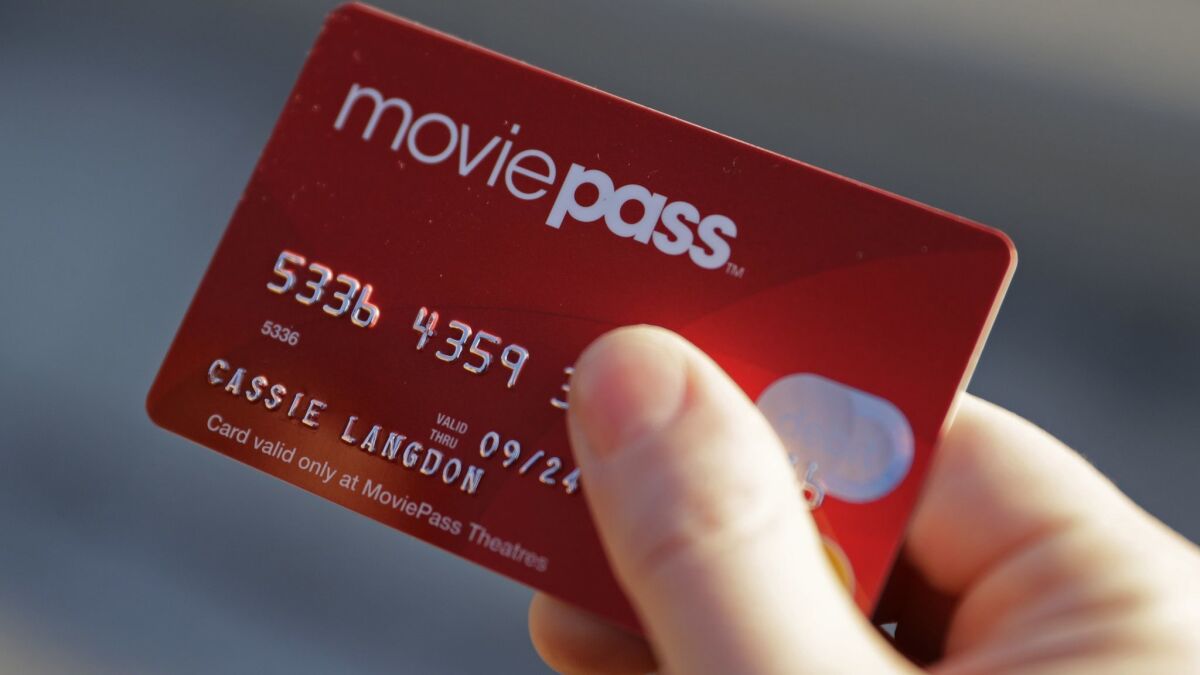 MoviePass, the controversial subscription service that lets people see multiple movies in theaters for a monthly fee, is facing another backlash from customers over its policies.
On Friday, the New York-based service upset some customers by demanding they take photos of the movie tickets they buy with the company's debit cards, as part of what the company described as "beta testing" of its service.
Select MoviePass users, most of whom pay $9.95 a month for the option to see up to one movie a day, received emails from the company saying their accounts would be canceled if they did not submit photos of their tickets when prompted by the MoviePass phone app.
"Starting over the next few days, each time you purchase a movie ticket with your MoviePass card, you will be asked to upload a photo of your ticket stub," the company told subscribers in an email obtained by The Times, which was also posted to social media.
"This feature will help us better track user behavior and ensure that subscribers are abiding by our terms of use," the email continued. "If you fail to submit your ticket stub more than once, your account will be canceled and you'll be ineligible to sign up for a new MoviePass account."
The company did not specify what "terms of use" violations it was testing, but many observers have noted that the service could be vulnerable to abuse.
MoviePass users receive a red debit card in the mail after they sign up. When they're close enough to a theater, they can select their movie and showtime through an app, and MoviePass loads the full price of the ticket onto the card.
Multiple movie industry and theater executives, speaking privately at this week's exhibition industry conference CinemaCon in Las Vegas, said some customers have been using the loaded cards to buy things other than movie tickets. Scalpers also could use the card to buy movie tickets and sell them for a profit. It's not clear, though, how uploading a ticket photo would prevent scalping.
MoviePass did not immediately respond to requests for comment.
Several customers balked at the email, and vented on social media. One user complained that it wasn't fair that the company would threaten subscribers with cancellation for failing to upload photos.
MoviePass has tried ticket verification before. Still, multiple customers tweeted their complaints to MoviePass' social media account. MoviePass responded to some users on Twitter by apologizing for "any inconvenience," but offered little detail on the purpose of the testing.
It's not the first time MoviePass has angered people with its customer service and other business practices.
MoviePass recently eliminated its all-you-can-watch offering for new subscribers. The company currently lets new users watch only four movies a month, charging nearly $30 for three months of use. The company called the change a limited-time promotion, bundled with a three-month trial of streaming music service iHeart Radio. But executives, speaking to reporters at CinemaCon, would not commit to bringing the original offer back.
In another controversial change, MoviePass recently stipulated that customers can no longer see the same movie more than once.
The company first dropped its price to $9.95 a month in August, sparking a wave of sign-ups for the service, which now counts 2 million users. But the company was sharply criticized for not quickly sending cards to new subscribers. CEO Mitch Lowe also caused a social media firestorm with comments about the amount of data the company is collecting from its users.
"It's definitely a negative pattern with this company," said Jeff Bock, an analyst with Exhibitor Relations, who also received the email. "The No. 1 rule of business is: Don't infuriate your customers. It doesn't make sense. The problem is they're not being transparent at all."
The elimination of the unlimited movie program may be a sign that the original deal was too good to last, as many analysts and industry insiders have predicted. AMC Theatres has called the model "unsustainable," and many theater owners worry that MoviePass will get people accustomed to ultra-cheap tickets.
MoviePass, owned by publicly traded New York data firm Helios & Matheson Analytics Inc., has been hemorrhaging cash. In a recent regulatory filing, Helios & Matheson disclosed that its independent auditors expressed "substantial doubt about our ability to continue as a going concern." A recent filing said the company has been losing roughly $20 million a month since September.
The problem is that MoviePass pays theaters the full price of each ticket consumers buy with the app and card. When there's a big movie, like this weekend's "Avengers: Infinity War," MoviePass' losses accelerate — and this summer has a lot of big movies coming up.
"The question is: Can they survive the summer?" Bock said. "Of course they don't want people to go every day because they will. MoviePass has got to be worried about that."
Twitter: @rfaughnder
Inside the business of entertainment
The Wide Shot brings you news, analysis and insights on everything from streaming wars to production — and what it all means for the future.
You may occasionally receive promotional content from the Los Angeles Times.