NFL faces challenging field as new season kicks off, but it's still TV's top attraction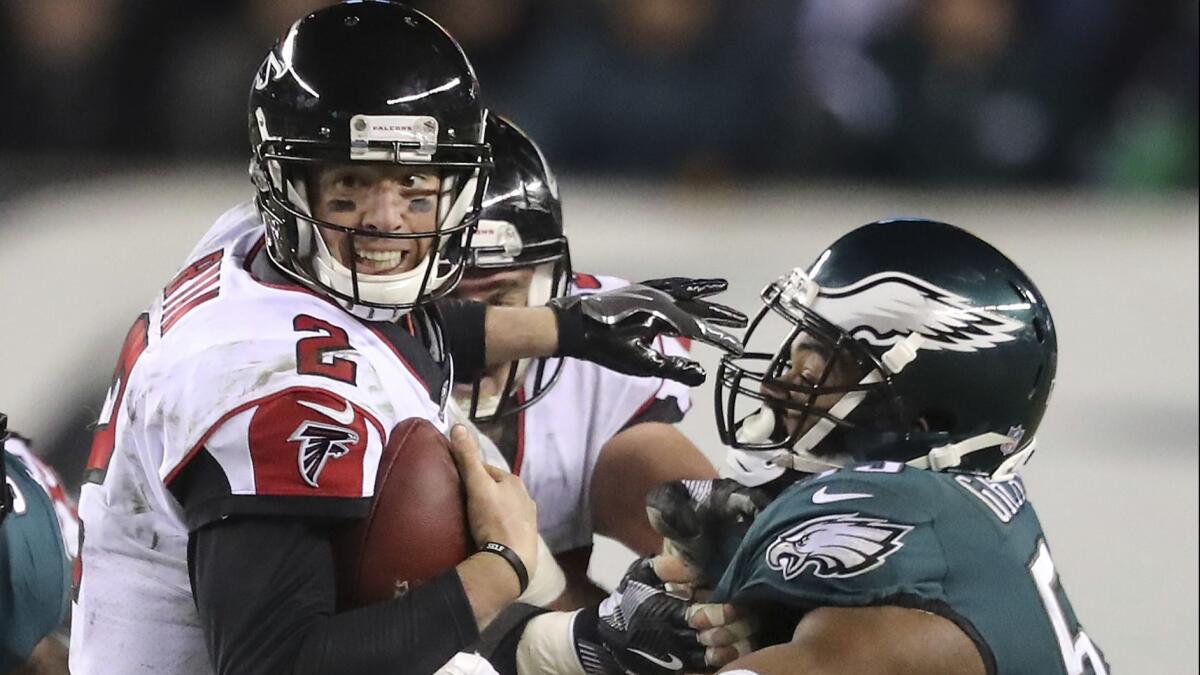 Ratings for the National Football League are smaller than they were three years ago. But they are still a lot bigger than everything else on TV.
That's been the ongoing story for the league and its TV-rights holders, and they are sticking to it as they enter a new season Thursday when the Atlanta Falcons face the Eagles in Philadelphia on NBC.
Along the road to next year's Super Bowl, there will again be close scrutiny of how viewership is affected by shifting viewer habits, controversy over player protests during the national anthem and ongoing concerns about on-field concussions, which have led to a decline in participation in youth football.
Even longtime CBS Sports lead play-by-play announcer Jim Nantz isn't certain that his 2-year-old son will play the game when he's older.
"It's too early to make that decision," Nantz said in an interview during his network's NFL media day in New York. "My wife, the daughter of a high school football coach — she'll tell you 'no.' We'll wait and see. They are trying to make the game safer, that is undeniable."
The NFL is an important source of income for major networks that broadcast the games, bringing in significant advertising revenue and fees from cable and satellite companies that carry them. NBC, CBS and Fox each spend around $1 billion annually in rights fees, while ESPN pays $1.9 billion for "Monday Night Football."
Overall viewing for the NFL across all TV networks was down about 10% in the 2017 regular season, following an 8% drop the prior year, according to Nielsen data. Super Bowl LII was the most watched program of 2018, with 103.4 million viewers, but it experienced a year-to-year decline of 7% — and the smallest audience since 2009. NBC's "NFL Sunday Night Football," the top show in prime time, averaged 18.2 million viewers, down 10% from the previous year, prompting further concern about waning interest in America's most popular sport.
Such viewership declines matter because they affect how much advertising revenue networks collect. Though ad revenue for the NFL has declined far less than the ratings, spending on network telecasts of NFL regular-season and playoff games dropped 4% to $3.56 billion last season, according to data from Standard Media Index.
Last season, every network had to supply free commercials or "make-goods" to compensate for the shortfall in the ratings, which meant there was less ad inventory to sell than expected. This year, network sales executives are being a bit more conservative in their audience estimates.
Industry analysts cite an array of explanations for the viewership declines, chief among them the sweeping changes in viewer habits that are disrupting the entire TV industry. Viewers have many more options for their leisure time, from streaming TV shows to playing games.Younger viewers in particular are more content to watch highlights on their mobile devices than sit through a three-hour game.
"It's illogical to believe that any form of TV entertainment is going to be able to grow ratings in this environment," said Rich Greenfield, media and technology analyst for BTIG. "From anything that has substantial distribution, you're going to just struggle with the fact that everybody is going to have pressure on ratings."
It wouldn't surprise me if the ratings bounce back this year. I'm hoping that they do.
— CBS Sports President Sean McManus
Also, networks have done research that indicates that some fans, especially older ones, were turned off by players who chose to kneel during the playing of the national anthem at the start of games as a way to protest police brutality in urban communities. It's likely to become an issue again this season, as the protests remain a hot topic on President Trump's Twitter feed.
Despite the challenges, network executives say the demand for commercial time in the telecasts remains strong. Ad Age recently reported that 30-second spots on Fox's "NFL Thursday Night Football" are going for $563,000 each, topping last year's prices. During the Super Bowl, which will air on CBS, advertisers will pay as much as $5 million for a 30-second spot.
"Even though the ratings have been down the last few years, it's still very attractive to advertisers," said CBS Sports Chairman Sean McManus. "It wouldn't surprise me if the ratings bounce back this year. I'm hoping that they do."
McManus added that the issues facing the NFL haven't "diminished the interest that advertisers have and it hasn't diminished our revenue to any significant level at all."
Audience levels have declined even more precipitously elsewhere in the TV landscape. Broadcast networks are experiencing double-digit declines for many of their biggest prime-time hits as more people watch them online or on demand.
As a result, the NFL's strength as a TV attraction is more potent than it was a decade ago. In 2017, NFL telecasts accounted for 71 of the 100 most-watched shows of the year. Ten years earlier, the NFL occupied 22 spots out of the top 100.
And advertisers still covet live TV events such as NFL games because there are fewer opportunities to reach consumers who increasingly are watching scripted shows on streaming services and ad-free premium cable channels, said Mike Mulvihill, executive vice president for research, league operations and strategy at Fox Sports.
"Because of the movement of scripted consumption to ad-free environments, I think our position as a seller of advertising is actually the strongest it's ever been," Mulvihill said.
The NFL is responding to the growing number of viewers who watch video on mobile devices by making its local-market broadcasts available for free for all carriers. The league's previous mobile deal was exclusive to Verizon Wireless customers. The NFL's TV-rights holders — CBS, Fox, NBC and ESPN — have all gained the mobile rights to their national telecasts, which they can offer on their apps or streaming platforms.
"We need to reach everybody," said Brian Rolapp, chief media and business officer for the NFL.
The league and network executives believe the stars on the field are aligning in a way that will mitigate further audience declines. Fan interest in this year's rookie crop, which includes first-round draft picks Saquon Barkley of the New York Giants and Sam Darnold of the New York Jets, is expected to help, along with the emergence of San Francisco 49ers quarterback Jimmy Garoppolo.
"If big markets don't perform, that has a material impact on NFL ratings," Rolapp said. "If you don't have competitive teams in New York, San Francisco, Dallas and Houston that can have an impact."
Having the league's biggest stars stay healthy also helps. "There are the ratings for the Green Bay Packers with Aaron Rodgers and there are ratings for the Green Bay Packers without Aaron Rodgers," Rolapp said. "That actually really matters."
Twitter: @SteveBattaglio
Inside the business of entertainment
The Wide Shot brings you news, analysis and insights on everything from streaming wars to production — and what it all means for the future.
You may occasionally receive promotional content from the Los Angeles Times.