NPR union members will ask SAG-AFTRA to authorize a strike vote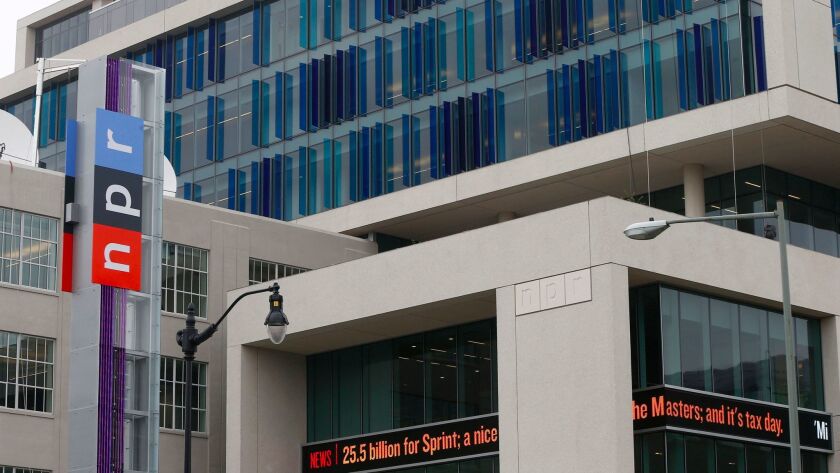 The 400 National Public Radio employees covered by SAG-AFTRA have voted to ask the union's national board to seek permission to hold a strike vote while negotiations on a new contract continue.
If the board agrees to the request Saturday, a strike vote by members of the bargaining unit can happen Monday, according to Becky Sullivan, a producer for NPR's "All Things Considered" who is a union member. A strike authorization vote doesn't mean that the union will in fact strike, but it does give union leaders leverage in contract negotiations.
The contract with the SAG-AFTRA member employees of the nonprofit national radio service based in Washington that provides the daily national news programs "Morning Edition" and "All Things Considered" expired June 30. A two-week extension that was given to continue negotiations with the help of a federal mediator was scheduled to end at midnight Friday.
SAG-AFTRA has said NPR management is seeking lower minimum salaries for new hires and more flexibility in allowing union work to be contracted out to its 600 member stations, most of which use employees who are not covered by the bargaining unit.
Sullivan said progress is being made on the negotiations, which continued Friday, but there were still significant differences on the major issues.
In a statement, an NPR representative said it continues to negotiate in good faith and is looking for a deal that will "make this organization economically sustainable for the long-term — and, importantly, enable NPR to invest more resources in expanding audiences, adding newsroom staff to meet that growth and support current staff, and innovating its multi-platform journalism."
If there is a strike, managers at NPR will be faced with how to keep their programs on the air. The union's membership includes the hosts of "Morning Edition" and "All Things Considered," who would have to walk out in the event of a job action. In previous labor standoffs involving radio and TV talent, managers have taken over hosting duties themselves.
The bargaining union maintains that NPR's demands come at a time when the service is seeing its audience grow on terrestrial radio and through podcasting.
NPR had eight of the top 20 podcasts as ranked by the measurement service Podtrac in May, and reached an audience of 12.8 million unique users through the programs playable on digital devices. Sponsors have been eager to underwrite the NPR podcasts because they attract listeners who are younger than those who regularly tune into NPR radio stations.
NPR does face the threat of losing its federal funding because the Trump White House's proposed 2018 federal budget calls for eliminating the allocation for the Corporation for Public Broadcasting, which currently receives $445 million annually.
CPB administers funding to public TV and radio outlets. Local public radio stations that get the bulk of that funding use the money they receive to buy programming from NPR.
In an interview with Los Angeles Times last month, NPR President Jarl Mohn said local news coverage provided by NPR member stations has created goodwill with members of Congress on both sides of the aisle who see the value of the outlets in their communities. While Mohn is hopeful that will help preserve the funding in the federal budget, it's not a given.
Mohn is also planning to intensify efforts to help stations get greater financial support from local donors so that the service can become less dependent on public funding.
Twitter: @SteveBattaglio
ALSO
AT&T veteran, John Stankey, is expected to lead entertainment operations after Time Warner takeover
'The Walking Dead' stuntman John Bernecker dead after on-set accident
Penthouse battles over rights to 'Caligula' and Omni magazine
On-location production in Los Angeles dips in second quarter
---
Inside the business of entertainment
The Wide Shot brings you news, analysis and insights on everything from streaming wars to production — and what it all means for the future.
You may occasionally receive promotional content from the Los Angeles Times.