SAG-AFTRA elects incumbent Gabrielle Carteris as president following a bitter campaign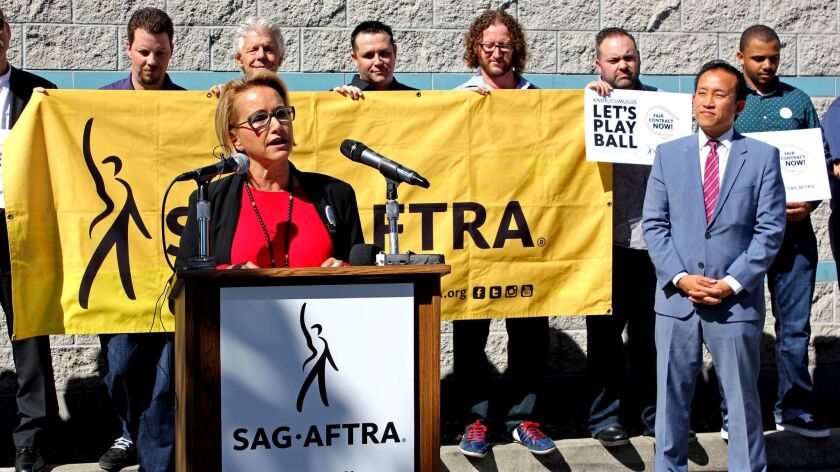 Actors know how to do drama and this year's SAG-AFTRA election did not disappoint.
Following an acrimonious campaign in which rival factions engaged in name calling and social media attacks — with one side even threatening to lodge a federal complaint — SAG-AFTRA members Thursday elected incumbent President Gabrielle Carteris to a new two-year term.
Carteris won comfortably, receiving 14,674 votes, or a little more than 50% of the returned ballots. Esai Morales came in second with 8,145 votes, or 28% of returned ballots.
The election revived longstanding divisions within the 160,000-member union and served as a referendum on the recently negotiated film and TV contract with the major Hollywood studios.
Carteris had staunchly defended the deal, which was ratified by members in August and included modest pay raises, increases in pension and retirement contributions and bigger residuals for content streamed on Netflix and other platforms.
Morales, however, said the contract fell short. He gained support for his candidacy from some notable actors, including Martin Sheen, Frances Fisher, Alfred Molina, Rosanna Arquette, Matthew Modine and Vincent D'Onofrio.
Meanwhile, Carteris garnered backing from A-listers including George Clooney and Bryan Cranston.
"It's an incredible experience to be able to serve and work with the members," Carteris said in an interview Friday. "It's a role I would not have imagined for myself 20 years ago."
SAG-AFTRA elections tend to bring out candidates who engage in passionate and at times accusatory rhetoric. The factions within the guild have been fighting for years over issues including the 2012 merger between the two performers' unions as well as the 2000 commercials strike.
The elections "have been very dramatic with mud-slinging and accusations of election fraud," said David Smith, associate professor of economics at Pepperdine Graziadio Business School. "Having a campaign platform that is centered on shaking things up can be good, but too much acrimony will only further the divisions within the union."
Carteris said she would continue to work for the good of all members.
"In a democracy, we have many different voices and I embrace that diversity," she said.
Carteris starred in the popular '90s TV series "Beverly Hills, 90210." She later segued into SAG-AFTRA, where she held various positions before ascending to the presidency in 2016, following the death of actor Ken Howard.
But her re-election campaign involved bitter exchanges between the union's Membership First faction, which backed Morales, and those loyal to Carteris, who heads the more moderate Unite for Strength wing of the guild.
In recent days, the Membership First faction threatened to file an election fraud complaint with the U.S. Department of Labor against Carteris, who was also running for a seat on the local L.A. board. The group said it would file a complaint if Carteris gives away her seat to another member of Unite for Strength, saying that such an act would constitute election fraud. Carteris declined to comment on the allegation.
Carteris' supporters have accused Morales of failing to attend numerous meetings in his role as vice president of the union's L.A. chapter.
His foes have also used Facebook and Twitter to denounce the actor for what they consider homophobic language when he included the word "nelly" in a Facebook post. Morales has denied that he used the term in a derogatory way.
Morales didn't respond to requests for comment.
The actor starred in the 1987 movie "La Bamba" and the ABC series "NYPD Blue." He currently has a supporting role in the new Netflix series "Ozark."
In the weeks leading up to the contract vote, Morales urged members to vote against it, saying the contract inadequately addressed a number of issues including travel expenses and residuals.
Carteris said the contract, which followed a strike authorization vote from members, achieved long-term gains, including a more than 300% increase in content streamed on platforms such as Netflix and Amazon.
"It was one of the most challenging negotiations we've seen in decades," she said. "It was about the evolution of our industry and how it's shifting. [It] was so much bigger than getting raises."
The screen actors union said ballots were mailed to about 144,000 eligible voters on July 25; 28,988, or more than 20%, were returned.
Among other candidates for president, Pete Antico received 4,114 votes, Robert B. Martin Jr. 1,207 votes and Marilyn Monrovia 715 votes.
Members of SAG-AFTRA also elected Jane Austin to a two-year term as secretary-treasurer. Austin, who works as a stunt performer, was also re-elected as president of the guild's local L.A. branch. Mike Hodge was re-elected as New York president.
ALSO
When musicians want their songs in TV shows, movies and streaming sites, they go here
Nostalgia TV makes a comeback. How Hulu and Netflix are breathing new life into old TV shows
Hollywood musicians are backing a new bill that seeks to stop runaway film scoring
---
UPDATES:
4:15 p.m. This article was updated with comments from Carteris and other details.
This article was originally published on August 24 at 7:55 p.m.
---
From the Emmys to the Oscars.
Get our revamped Envelope newsletter, sent twice a week, for exclusive awards season coverage, behind-the-scenes insights and columnist Glenn Whipp's commentary.
You may occasionally receive promotional content from the Los Angeles Times.