FCC chief Ajit Pai has 'serious concerns' about Sinclair-Tribune deal; Tribune stock dives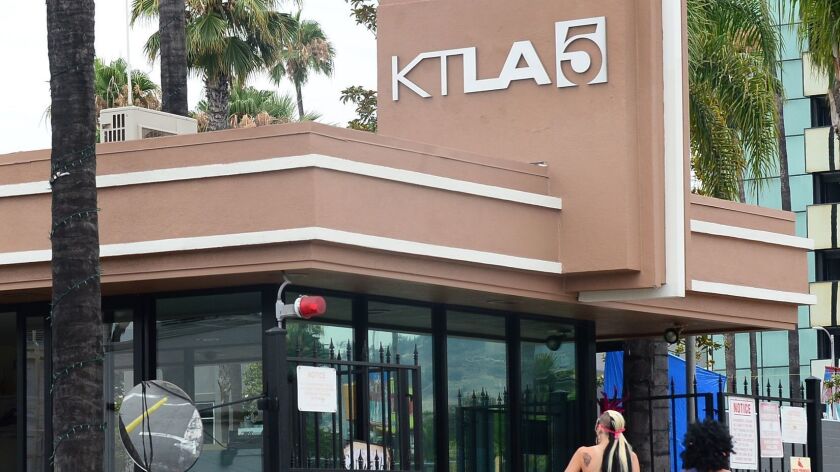 Sinclair Broadcast Group is known for its on-air TV commentators who express staunch support for the Trump White House and its policies.
But the Maryland-based TV station owner's favorable treatment of the Republican administration is apparently no guarantee of regulatory approval for its proposed $3.9-billion acquisition of Tribune Media's 42 stations.
On Monday, Federal Communications Commission Chairman Ajit Pai threw some cold water on the closely watched deal, raising "serious concerns" about how Sinclair planned to divest some of the TV stations in order to meet the government's ownership regulations. In a draft order, Pai took the unexpected step of asking an administrative judge to review the legality of the proposed divestitures.
"The evidence we've received suggests that certain station divestitures that have been proposed to the FCC would allow Sinclair to control those stations in practice, even if not in name, in violation of the law," Pai said in a statement.
Pai's comment is the first time the FCC, largely seen as friendly toward TV station consolidation and deregulation, has raised a public concern over the transaction, suggesting that he may be more open to tightly enforcing antitrust law than many industry observers predicted.
The chairman's statement is seen as a major blow to Chicago-based Tribune Media, which saw its stock tumble nearly 17% to $32.12. Shares of Sinclair fell nearly 12% to $29.10. Tribune shareholders are counting on getting $43.50 in a combination of cash and stock from Sinclair.
Sinclair, already the largest owner of TV stations in the United States, with 192, sought to become a nationwide player with the planned acquisition of Tribune Media. The Baltimore company announced in May 2017 that it planned to buy Tribune Media's 42 television stations in 33 markets, including Los Angeles station KTLA Channel 5.
In an effort to pass regulatory muster, Sinclair announced in April that once the acquisition was completed, it would sell 23 stations to comply with regulations that limit TV station ownership to outlets that reach 39% of U.S. households. However, some of those stations, which include Tribune Media flagship WGN in Chicago, would in effect remain under the control of Sinclair even with the new ownership, Pai contended.
The legitimacy of the WGN ownership transfer was among the issues questioned by Pai, according to people familiar with the matter who were not authorized to comment publicly. Sinclair is planning to sell the station to Steven Fader, a car dealership owner with ties to Sinclair Executive Chairman David Smith.
Other deals likely to get scrutiny are the sale of stations in Dallas and Houston to Cunningham Broadcasting, which also is closely connected to Sinclair.
The so-called side-car deals are a way for TV station group owners to stay under the government's ownership caps, but still retain control over the operations of the outlets they divest. Sinclair has been known to make such deals in order to complete previous acquisitions.
Pai, a Trump appointee, has been widely portrayed as being friendly to the proposed merger. He favors broadcast deregulation and oversaw a rule change regarding the coverage of UHF TV outlets, which allowed companies to own more stations. The inspector general's office is investigating Pai over whether the rule change was timed to benefit Sinclair.
But people who do business with Sinclair and did not want to comment publicly said the company may have overplayed its hand in believing its friendly attitude toward an administration with pro-deregulation views would give it a free pass on its Tribune deal.
"I think they thought he was going to loosen up on actual enforcement and this shows that he's not," said David Balto, an antitrust lawyer who served in the Federal Trade Commission. "He's not willing to expand the regulatory regime as was done in the Obama administration. But when it comes to the actual cases before him, it looks like he's going to call balls and strikes, very similar to the way his predecessors did."
Tribune Media did not comment on Pai's statement.
Sinclair said in a statement issued Monday night that it's "shocked and disappointed" by Pai's hearing order. The company said it has not misled the commission about its relationships to the buyers of the stations it plans to divest. "We are prepared to resolve any perceived issues and look forward to finalizing our acquisition of Tribune Media," the company said.
Sinclair wants to expand its portfolio of TV stations in order to take advantage of emerging over-the-air broadcast technology. The coming improvements will allow stations to offer higher quality signals to viewers watching on TV and send programming and other data directly to mobile devices, enabling them to deliver targeted advertising messages.
Sinclair has maintained that it needs the Tribune stations to have the clout to compete with technology behemoths such as Google. There has also been speculation that Sinclair could use its expanded platform to launch a conservative programming service to compete with Fox News Channel.
But the family-controlled company has generated unwanted attention — and opposition to its deal — with its must-run segments that integrate politically conservative commentaries and news segments into its local TV station newscasts. Smith, described as a right-wing libertarian, has a long history of using his stations to promote his own political views.
In April, the practice was dramatically illustrated in a video created by the website Deadspin that showed anchors at Sinclair stations across the country reciting identical scripts with phrases often used by the president when criticizing mainstream news organizations. President Trump, who viewed Sinclair stations as a friendly forum during his 2016 campaign, has praised the company, calling it "far superior to CNN and even more Fake NBC."
But while Sinclair has been portrayed as a conservative platform, opposition to the deal has come from both sides of the political spectrum — and praise of Pai's decision to give it further scrutiny could ultimately kill or alter it substantially.
The Communications Workers of America, which has led a petition drive to stop the deal, again called for the companies to abandon it. "The merger does not serve the public interest, would violate the Congressionally mandated 39 percent national audience cap, reduce competition, harm localism, eliminate jobs, and diminish viewpoint diversity."
Similar criticism came from Newsmax, a conservative news website and video service that also petitioned against the deal.
"Clearly this decision is based on the facts and law — specifically that Sinclair has not complied with requirements set forth by the FCC to promote diversity, localism and competition," said Newsmax Chairman Chris Ruddy. "Republicans, Democrats and those that are concerned about the concentration of media power should join me in commending Chairman Pai for his independence and integrity."
Tribune Media is the former parent company of the Los Angeles Times. The Times, along with the other newspapers owned by Tribune, were spun off into a separate company in 2014. The Times was acquired last month by Dr. Patrick Soon-Shiong.
If the deal with Sinclair were to be scrapped, Tribune Media probably would find another buyer, as its ownership of stations in the top three markets of New York, Los Angeles and Chicago still make it a highly prized property.
Twitter: @SteveBattaglio
---
UPDATES:
5:30 p.m.: This article was updated to include reaction to the FCC order.
This article was originally published at 9:30 a.m.
---
Inside the business of entertainment
The Wide Shot brings you news, analysis and insights on everything from streaming wars to production — and what it all means for the future.
You may occasionally receive promotional content from the Los Angeles Times.